Ken Smith is one frustrated oil sands labour leader. The giant wildfire that forced Fort McMurray's evacuation came as the Unifor Local 707A president was in the middle of contract negotiations, fighting to save bitumen mining jobs despite the tough times for oil companies.
But he found himself fleeing the flames along with thousands of others. Negotiations to protect the 3,450 Suncor workers he represents were put on hold.
"I really can't talk right now," he said in an interview from his truck May 3. "We are literally in bumper to bumper traffic. It's a disaster. I've never seen anything like it, nor want to."
The burly 55-year-old truck mechanic, who used to drive an 850-tonne hauler the size of an "apartment building," had been ordered to evacuate, along with everyone else.
Weeks earlier, The Tyee had interviewed Smith in the once-booming oil city about the impact of the lowest global oil prices in a generation on workers.
Even before the fire, the region had been bleeding thousands of jobs. The Canadian Association of Petroleum Producers says about 40,000 industry jobs have vanished, as well as another 70,000 indirect jobs. Plunging oil prices resulted in the "the worst capital investment drop" ever, the association says.
The results could be seen everywhere in Fort McMurray.
Almost new furniture was left at the city's dump as out-of-province workers left in a hurry. A laid-off Suncor engineer was trying for a low-paid job at an electronics store. And the city's notorious traffic jams were noticeably lighter.
'Better to get out now'
Young oil workers, like Nova Scotia's 19-year-old Christian Strader, were giving up on Fort McMurray. "Better to get out now before things get worse," he said, before leaving town for a new job in the Northwest Territories.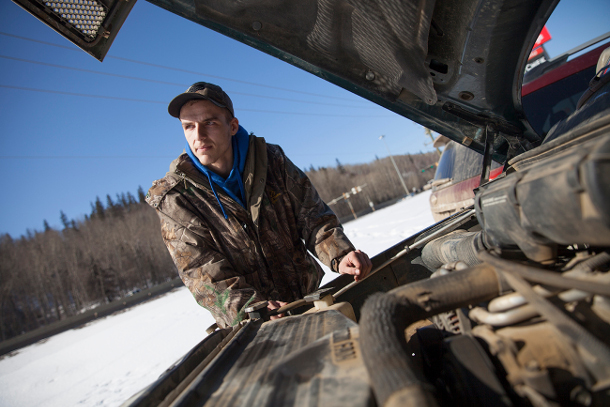 By mid-May, two weeks after the evacuation, Smith was among 4,000 oil workers brought back to the region -- many on Suncor planes -- to restart bitumen operations. The fires had reduced production at the oil sands by 1 million barrels per day. The region was still thick with smoke. 
It was a brief return. When reached on May 17, Smith was on the move again, as the wildfire, nicknamed The Beast, turned toward the oil operations, advancing at 30 to 40 metres per minute.
"I can't talk right now," he said. "The fire is getting close to our oil sands. We just arrived, and now we're leaving."
Finally, on June 1, The Tyee caught up with an exhausted Smith, who had just returned to his home. His insurance adjustor was due to arrive any minute to assess smoke damage. Smith's house was not among the 1,929 destroyed, but nearby neighbourhoods Beacon Hill and Abasand looked like war zones, with not a home left standing on many streets.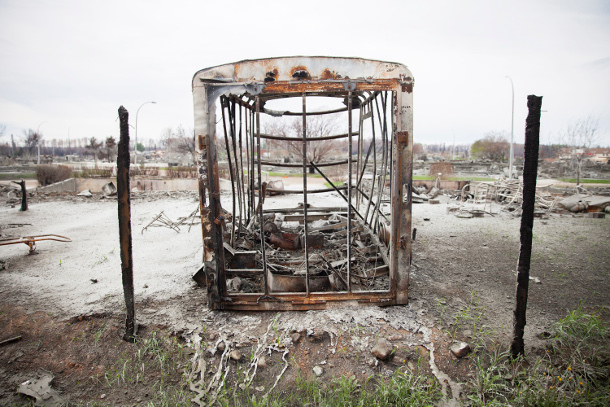 The fire was almost inevitable, Smith said.
"Anytime that civilization creeps into these areas, the fires start, we put them out. We manage the forest," he said. More fuel piles up on the forest floor every year. "This forest fire was probably 30 years overdue." Hot weather and strong winds created the perfect conditions, he said.
Smith didn't mention climate change, although global warming is linked to worsening wildfires in boreal forests.
It's a touchy topic in Fort McMurray. Some reports noted the irony of global warming playing a role in a disaster in a community that exists to extract fossil fuels.
That deeply offended one Fort Mac tweeter who lost his home to the fires.
"Would you use the term ironic to describe hurricane Sandy because of its proximity to New York, New Jersey and its massive carbon footprint? Certainly not," he wrote. Climate change is a global problem, and requires everyone to look at their own consumption, he said. The solution isn't just a cut in oil sands production.
Fort McMurray broke two temperature records at the start of the wildfire emergency on May 3 and 4, when the mercury hit 32.6 and 31.7 Celsius, Environment Canada confirmed. An El Nino heat wave is believed to be a factor.  
'Just Transition' needed to well-paying jobs
But Smith said global warming isn't about spikes in temperature. It's about the gradual warming of the planet by tiny increments each year. "That's why, in Paris, we were talking about two degrees over an extended period of time."
Paris is where I met Smith last December at the COP21 United Nations climate summit, when he surprised a Canadian crowd by standing up, as an oil sands worker, for a transition to a low-carbon economy.
Oil workers "get it" about global warming, Smith said, but if a shift away from fossil fuels is required, it should be done gradually in a way that "doesn't leave oil workers behind."
Smith argues for the principle of a "Just Transition." Unions like Unifor want training to help workers into well-paying jobs in new, cleaner industries. 
In March, at the premiers' summit in Vancouver, I asked Prime Minister Justin Trudeau if he felt the industry needed a federally supported "Just Transition" Plan.
"Obviously there are families in Alberta, Saskatchewan, Newfoundland and Labrador who are facing real struggles because of the fall in oil prices." he said. "But that's why we have a government, and governments across the country, to give them support, by making changes to EI... to [give] them the support they need in the short term, while we build solutions to the medium and long term."
'A future is what we're looking for'
Smith scoffed at the idea that expanded Employment Insurance programs are enough.
"I still don't see EI as a solution to a shrinking oil industry," he said. "If the jobs are not in place at the end of it, it's a only stepping stone to welfare and social assistance, as people fall out of the job market altogether."
"Just Transition means transitioning to a new job," Smith said. "Not transitioning from being a worker, to being someone who's idle, and doesn't work anymore. That's not what we want. Bridge us with EI, but bridge us to something."
"A future is what we're looking for."
Smith wants Ottawa to focus on creating new industrial and manufacturing jobs so workers leaving the oil industry, or any other sector, can move to jobs that provide a comparable standard of living.
He envisions more solar and wind power in Canada, but also more oil refineries.
"Taking our raw bitumen to tidal waters, and shipping it to other countries, that then refine it, and do not follow the same environmental regulations that Canada follows, I think it irresponsible on our part," Smith says.
"We should refine it here in this country, to provide jobs and to do so in the most environmentally friendly way, so the global environmental impact is under our control."
Suncor has used the oil price downturn to buy control of even more oil sands operations and expects to ramp up to full bitumen production by the end of June.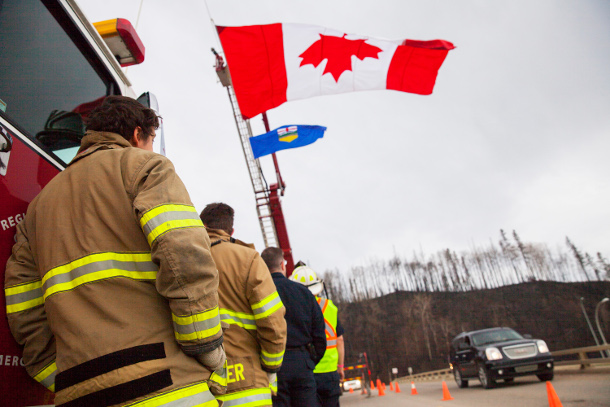 Suncor CEO Steve Williams has said the corporation will be a climate leader by developing technologies to reduce methane and carbon dioxide emissions so it can become "the last oil sands company standing" as the sector shrinks in the decades ahead.
But the urgency for Smith's union members and other oil sands workers is increasing as some investment analysts believe Canada's oil sands will not survive a prolonged low oil price.
Smith said this week that contract negotiations would resume shortly. There will likely be more pressure for layoffs as a result of the fire.
But for now, he says, his members' jobs are safe.