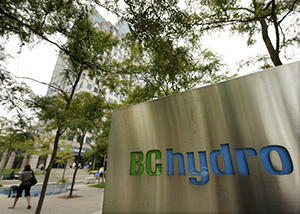 Adopting measures to make BC Hydro bills more affordable for people with low incomes would make good business sense for the utility, according to testimony to the British Columbia Utilities Commission from a prominent expert on North American utility pricing.
"My objective in B.C. was to look for some ways to what I call 'rationalize' the way BC Hydro works with and treats its low-income customers," said economist Roger Colton in a telephone interview. That would be good for those customers as well as for the Crown corporation, he said.
Based in Belmont, Massachusetts, Colton is a principal with the firm Fisher, Sheehan & Colton and has consulted on utility issues in several American states and Canadian provinces.
"Increasingly in the United States electricity utilities are adopting affordability programs for low-income customers," Colton said. "I've been doing this stuff for 25 or 30 years now. There was a lull, but just in the last few years there have been either states or provinces that have moved to introduce low-income affordability programs."
He cited Ontario, New York, Colorado, Illinois, Pennsylvania and Maine among the jurisdictions that had introduced a variety of measures to make electricity more affordable for customers with low incomes. More than 30 of the 50 states have some form of affordability program in place, he said.
Affordability, not rank, matters: Colton
Colton's B.C. testimony was part of a 341-page document the B.C. Public Interest Advocacy Centre filed May 9 with the BCUC on behalf of seven anti-poverty and seniors' groups.
The recommendations are designed to help 170,000 families in B.C. who live below the low-income cut-offs set by Statistics Canada, around $32,000 a year for a family of four depending on what size community they live in.
The utilities commission is reviewing the design of BC Hydro's rates with a mandate from the provincial government that includes evaluating the current rate structures to ensure they are fair and is hearing from many interveners as part of that process.
The minister responsible, Bill Bennett, told The Tyee in February that BC Hydro rates are already affordable since they are the third lowest in North America, even after recent rate increases.
"The fact that it's less expensive, [that] rates are less expensive than elsewhere, doesn't say anything about affordability," Colton cautioned. The question is whether people with low incomes are able to pay their hydro bills, he said. "Whether it's the third lowest or the third highest, there are people in British Columbia who can't afford to pay their electricity bills."
The Tyee previously reported on testimony to the BCUC from individual ratepayers, some of whom said they faced a choice between paying their utility bills and being able to afford food, and from advocates who said it is common throughout the province for people to struggle to afford their utility bills.
Three ideas for low-income help
Colton makes three main proposals to make BC Hydro rates more affordable for people with low incomes.
He recommends introducing an essential services block that would give customers who qualify a discount of four cents per kilowatt hour on the first 400 kilowatt hours of electricity they use each month. Doing so would better reflect what it costs to serve low-income customers, who BC Hydro has acknowledged are cheaper to serve than other customers, he said.
The reduction would knock $16 a month off the bill for a low-income BC Hydro customer.
Colton also recommends creating a crisis intervention account funded with a 25 cent per month charge to all BC Hydro accounts. The estimated $5.4 million a year that would be collected could be distributed to customers who are about to have their power disconnected due to nonpayment or who owe amounts they are unlikely ever to be able to pay, he said.
Finally, he suggests various changes in the terms and conditions of service, including preventing BC Hydro from disconnecting people's power between November and the end of March. "The termination of service during British Columbia's cold weather months is an inherently dangerous activity," Colton testified, noting the health impacts are well known. "The standard utility practice in cold weather jurisdictions is to provide shutoff protections during these cold weather months."
He also recommends waiving security deposits, making more flexible payment arrangements, eliminating late-payment fees, and excusing reconnection fees for low-income customers.
Colton said on the phone that of the programs in place elsewhere, the best are ones that cap the utility rate at an affordable level based on a household's income. The guideline is usually to cap the cost for gas and electric combined at no more than six per cent of a household's income, he said.
His recommendations for B.C. are ones that can be made within the existing service model and are designed to be clearly within the utility commission's jurisdiction, he said. "They all work independently, but they all work better if they work together."
Tony Pullman is the treasurer at the Together Against Poverty Society and a former BCUC commissioner. BC Hydro rates have been steadily rising while minimum wage and social assistance rates have seen little or no increase, he said.
The proposed changes would make a difference for the many people who are surviving on shockingly low incomes in the province, he said. "It's probably a couple hundred dollars a year, which is a lot, believe you me."
BC Hydro's rebuttal evidence is due in early July and oral hearings are set for August.