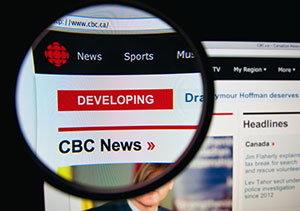 A member of the Canadian Broadcasting Corporation's board of directors has resigned from his position to seek the presidency of the Conservative Party of Canada, The Tyee has learned.
Brian Mitchell, a Montreal lawyer, confirmed that he resigned Sunday after eight years on the government-funded broadcaster's board of directors and its pension board of trustees.
Meanwhile, a CBC watchdog group said Mitchell's move, and the number of other appointees with political ties, show why there is a need for a new board appointment process for the public broadcaster.
Mitchell said he's running in order to help rebuild the Conservatives after they were voted out of office last October.
"I think the party needs me," Mitchell said. "The party needs my experience and my help and my loyalty."
Mitchell is a former treasurer of the Progressive Conservative Party of Canada, which merged with the Canadian Alliance to become the Conservative Party of Canada in 2003.
He then served as party vice-president before an unsuccessful previous bid to become party president in 2005.
He was appointed to the CBC board of directors by former prime minister Stephen Harper in 2008.
Board too close to politics?
Mitchell was also one of nine members of the 11-member board identified as a Conservative party donor in a list published by the CBC watchdog Friends of Canadian Broadcasting.
The group's spokesman, Ian Morrison, said that while Mitchell did the right thing by stepping down to seek the party presidency, the situation again highlights how the CBC's board can be too easily loaded up with those close to political interests.
Such appointments can cause a problem even after a party is ousted, Morrison said, explaining how the Liberals must now rely on a board appointed by their political enemies to spend a $675-million cash injection to the CBC in coming years.
Morrison said that the Liberals have also done their share of appointing political friends to the CBC board in the past, and argues that many Canadians want change.
Polling conducted for Friends of Canadian Broadcasting by Nik Nanos last September showed 49 per cent of Canadians feel the prime minister's ability to appoint members to its board gives the government too much influence over the CBC.
"We would like to see the current board structure abolished by an amendment to the Broadcasting Act and replaced with a new structure," Morrison said.
He said a new structure must include a "merit-based" appointment process, such as one promised by the Liberal party during last year's election campaign.
Then, the Liberals said in a statement about the party's plan for fostering Canadian culture that they would increase funding for the CBC and work to make the board less vulnerable to political appointments.
"In line with our Open Government plan, the process for CBC/Radio-Canada Board of Directors appointments must be reviewed, to ensure merit-based and independent appointments," the campaign statement read.
A year ago, then third-party leader Justin Trudeau told Friends of Canadian Broadcasting in an interview that the existing board's silence on Conservative cuts to the CBC budget also signalled a problem with partisan appointees.
Morrison said he hopes that any changes to how board members are chosen will bear certain principles in mind.
"I read 'merit-based' as meaning people with experience, knowledge and perspective that would be appropriate for the board of the largest cultural board in the country," he said. "I read 'independent' to mean not a bunch of party hacks."
Party affiliation a non-factor: Mitchell
But Mitchell said he's never accepted the idea that political ties prevent someone from acting objectively on a government-appointed board.
When he was appointed to the CBC board in 2008, he noted, it had few Tory appointees.
"When I came on to the board it was full of Liberal appointees," he said. "Some of them, who I happen to know, did a fantastic job."
He said the CBC has many challenges to tackle in the coming years, such as the decline of broadcast audiences, and there's room for those with a variety of political ties to bring their experience and expertise to the table.
Morrison conceded that it's possible for appointees to put aside their party affiliation and respect the oath they took to adhere to the Broadcasting Act, which sets out integrity goals for the CBC.
But he said it couldn't be expected that all appointees behave "as saints," and that a board made up almost entirely of appointees with ties to one party still presents a risk.