"Unity" and "renewal" fell from a lot of lips at the New Democratic Party's federal convention in Edmonton this weekend. But renewal is not an easy process. It can often be messy.
Issues of age, labour's role in the party, grassroots alienation and regional differences, energy policy, and of whether pragmatism or idealism should guide the party's next campaign, are now all open for debate. And throughout the convention, delegates demonstrated a concerted energy to attack the issues it has identified as holding it back.
The decision by 1,800 delegates to retire Tom Mulcair as leader in 24 months opens the possibility for redefinition and rededication. With the leadership and the party's direction for the future both on the table, the debates could bring possibility or devastation. Either way, it will be a long two years. Here are six key areas where the party must find agreement.
1. Age
Young New Democrats spoke out early in the convention against keeping Mulcair as leader.
"Youth were really troubled by Tom now 'talking left,'" said Stefan Aljivas, outgoing policy director for the federal youth council. "Because he really did seek a mandate to move the party to the centre in the last election."
Youth delegates cited their unhappiness with the central party's removal of several nominated candidates during the election, and its campaign moves to the middle on issues like whether to run a deficit or legalize marijuana. And despite the party's unprecedented campaign review, many youth still felt unheard, noting that the document had referenced their issues only once.
Largely blaming the campaign's failure on the party's pivot to the centre, the same demographic of young New Democrats are leading advocates of a return to the party's leftist roots and a grassroots approach to developing policy and campaign platforms.
2. Labour
No fewer than five union leaders, including Unifor's Jerry Dias and Ken Georgetti, the former president of the Canadian Labour Congress (CLC), were vocal in support of Mulcair's continued leadership.
"He spoke to issues of concern to me as a labour delegate," said Randy Gatzka, a delegate with the United Steelworkers, after Mulcair's Sunday speech. And later, it was the same union's national director, Ken Neumann, who moved from the convention floor that the choice of new leader be delayed for two years, effectively extending Mulcair's term.
But labour was not united. Georgetti's successor at the head of the CLC, Hassan Yussuff, sharply criticized Mulcair for betraying the party's left-wing values. And individual labour delegates may have been less inclined to back their union leader's choices anyway. Due to federal rules on party donations, union delegates now pay their own way to convention, loosening the connection to union leadership.
Divides in the labour movement may deepen as the party debates its commitment to the pro-renewable energy Leap Manifesto over the next two years. Public sector unions, with memberships largely in health and education, may have less of a problem with the manifesto than those representing energy workers (but see more on this below).
3. Grassroots alienation and regional divides
Exposed by the party's campaign review was a deep sense of distance between on-the-ground campaigners and the central party office.
During last year's campaign, NDP central party officials in several cases substituted their preferred candidates for ones that had been chosen locally, removing some for what were deemed to be controversial positions.
For the former co-chair of Mulcair's leadership campaign in Alberta, it was a decisive issue. The nominating process "was removed from the hands of local associations," said Mimi Williams. "That was a real concern."
And the party's national efforts need to pay more attention to work on the ground, urged Janis Irwin, who ran as an NDP candidate last year in the riding of Edmonton-Griesbach. Despite two years of preparation and a lot of volunteer energy, she lost.
"It showed the power of the national campaign," Irwin said, "and how much it can overshadow the local campaign." She called on the national leadership to respond better to local candidates' needs during future campaigns.
Candidates who did win in October tended to support Mulcair, suggesting they face some relationship rebuilding to do with general party members who were ready for change.
4. Energy
Dismissing a direct appeal from Alberta's NDP Premier Rachel Notley, delegates to the federal convention voted to have a party conversation considering whether to adopt the so-called Leap Manifesto.
Developed by a loose group of progressive activists including filmmaker Avi Lewis, the manifesto calls for a "leap to a non-polluting economy" powered entirely from renewable sources by 2050, together with a bundle of other objectives including higher corporate taxes, a guaranteed annual income, withdrawal from trade agreements that limit governments' authority, and cuts to Canada's military.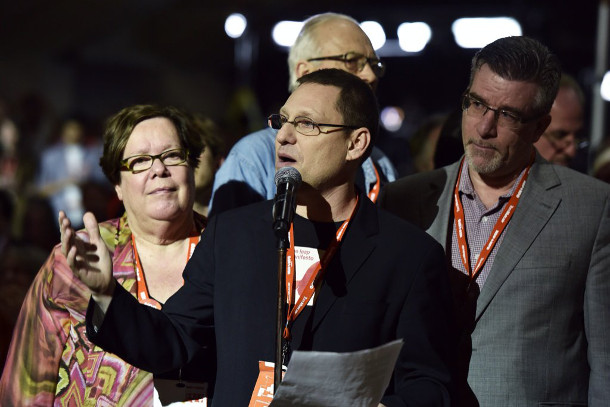 The most controversial point is the call to end all pipelines. The manifesto has been signed or endorsed by individuals, First Nations and public interest groups across Canada.
Views on the manifesto ranged from Alberta Environment Minister Shannon Phillips who called it a betrayal, to many young New Democrats' whole-hearted support and calls for endorsement.
Although Premier Notley did not echo Phillips' harsh words, she did draw attention to the complications of implementing the manifesto.
"I'm asking you to always remember that hundreds of thousands of Canadians work in resource industries, here and across Canada," Notley told the crowd.
And in a press conference Monday, she reiterated that her provincial party would never implement aspects of the Leap Manifesto regarding energy infrastructure.
Lewis defended the manifesto, telling delegates that it "insists on a transition to a clean energy economy, and participation by workers themselves."
Linda Duncan, the party's only MP from the province, acknowledged the difficulties of the manifesto but welcomed the debate over energy resources. "We've been fighting for decades to have a dialogue about Canada's energy future," she said. "Maybe this is a messy dialogue, but at least it's getting attention."
5. Progressive or pragmatic
"We did stray from our values, and we pivoted when we didn't need to," Irwin complained. Her view was echoed by those calling in Edmonton for leadership renewal and in the party's own campaign review.
In many ways, Mulcair embodied the dilemma. "Which Tom is it?" asked delegate Julia Maksymetz, former co-chair of NDP Concordia, before the leadership results were announced. "Is it the one who was in the 2015 election? Or is it the Bernie Sanders-type persona he's trying to portray [now]?"
Mulcair's ousting suggests the party took the criticism to heart. But what happens when the next campaign puts the same temptation before the party?
For many, the answer may come down to salesmanship.
"We got out-'left'ed by strategy," said Jason Rockwell, a delegate from Alberta. "Trudeau's message resonated. He's just a better salesperson, and we need a new salesperson."
6. The leader
All these questions will need to be confronted as the party searches for the next leader. Who New Democrats choose will be emblematic of how they've answered them.
With youth a forceful voice in calls for renewal and a return to progressive politics, leadership candidates with support from young New Democrats may be strong contenders. And several delegates mentioned it's time for a woman to return to the helm of the party.
Manitoba MP Niki Ashton has brought a voice for youth and women to Parliament. As an MP for northern Churchill, she's also worked to bridge regional divides.
Nathan Cullen, a B.C. MP since 2004, ran for the party's leadership in 2012 and remained loyal to Mulcair through the weekend. Nonetheless, delegates could be heard mentioning his name as a possible replacement. Cullen said he needs to time to contemplate the decision.
Romeo Saganash, MP for Abitibi-Baie-James-Nunavik-Eeyou, in Quebec, is another possibility. He too contested the leadership previously, withdrawing from the 2011 race due to illness in his family. He would bring diversity and an indigenous presence to the leadership.
A new leader needn't come from inside the party's caucus. Jack Layton was not an MP at the time he was elected as leader in 2003.
Many New Democrats were devastated when Megan Leslie lost her seat in Parliament for Halifax last October. When she took the microphone in Edmonton, applause rang through the convention hall. Her popularity could help the party rebuild after its shutout in Atlantic Canada, and at 42 she fits the trend toward younger leaders.
"We have some great people who didn't win, who may want to come back and inspire us," said Allyson Marsh, a delegate from Halifax.
And while she conceded that "leadership votes have the potential to be very detrimental to a party, it's easy to break off into factions and infighting," Marsh remained optimistic.
"It's time for us to come together under the ideals of the NDP, to remember the great things we did as opposition and use that as something that can be a catalyst going forward," she said.
Perhaps surprisingly, for a party so fresh off a shattering loss, the delegates in Edmonton displayed energy for the task ahead.
"I hope the leadership question leads to party unity," said Ben Diaz, a delegate from Ottawa. "I hope after this, the party is able to focus on its strengths, and rebuild for the next election."