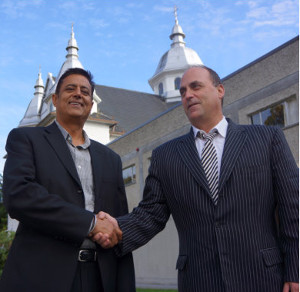 Metro Vancouver's housing market is hot, but this market's hot and holy.
If you're looking for a church or temple or mosque, Leonardo DiFrancesco and Rav Rampuri are your guys. They claim to have sold about 75 per cent of Metro Vancouver's religious buildings and have been at it for 21 years. Formerly known as the Holy Realtors, they run ChurchRealtors.com.
Religious groups have been challenged by the booming price of land in the region. Some congregations have owned a place of worship for decades, but no longer need the large space as they are shrinking.
And then there are the growing congregations that want a bigger space than what they've got; developers who want to buy church land and convert it into housing; and church plants who are looking for a home of their own, but are currently renting everything from theatres to schools.
From the congregations with cash, the developers behind demolitions, the prayers behind purchases, DiFrancesco shares with The Tyee a look into this divine world of real estate.
The Tyee: Tell us how you got started selling religious buildings.
Leonardo DiFrancesco: There was a Pentecostal church in Burnaby Heights that was interested in selling, and we sold it to a Taiwanese gentleman. He wanted to have a Taiwanese Christian group in there, and he also bought the house next door.
From there on we sold churches: churches on Keefer, churches in Port-Coquitlam, churches on Vancouver's west side, churches in Burnaby. We've sold about 50, 60 churches. We've listed another 20 or 30 and they've never sold.
We've sold every type of faith, from Buddhists to Jehovah's Witnesses, Pentecostals to Evangelicals. Muslims, Sikhs, Hindus, basically every monopoly of church there is.
What's the market like compared to when you started?
Churches are extremely high priced and extremely rare. Lately the market's crazy. Developers are scooping them up. We used to have six or seven churches for sale at a time. Now, nobody has six, seven churches for sale. We get one, and it's gone. It's the same thing as the housing market. As long as the price is reasonable, they go really fast.
Today, it's hard to find one that's under two million. A lot of groups are going out to Surrey and Langley.
So who's buying and who's selling?
About 80 per cent we have sold to other congregations. We've sold a Hindu temple to a Muslim group, a Jehovah's to a Christian, a Buddhist to a Christian. We've sold to all different faiths.
Who's selling are groups that have been around for many years. Their congregations are getting old. They may have had two or three hundred people 60 years ago, but now there's only about 50 people left. They have nice, big buildings but they have to sell because they can't keep up the building anymore.
Have you had an occasion when a developer's come in to purchase a building that was unaffordable for the average group?
We had one church for sale just off of Commercial Drive. It was a beautiful church, but nobody wanted to pay for it. We ended up selling it to a developer for $4 million, who went in there, tore the church down, and made big bucks putting townhouses in there. They got a million dollars per townhouse.
What's different selling a religious building compared to selling a house?
Everyone wants top dollar for their property. You can't sell a church like you sell a house because churches have different levels of people you have to go through. Once you get an offer from a church, there's often a vote on it. Once that vote's accepted, it has to go to a higher level. And then they have to go to the highest organization that's sometimes in another country.
So how long can it take to close a sale?
One church we sold for $7 million took us five years to sell. It was the oldest church in Burnaby [St. John the Divine, built in 1899], on Kingsway near Boundary. The City of Burnaby didn't want the church to be torn down. It was a mess, but the city wanted to keep it alive. So we renovated the church and brought the church back to its original structure over a hundred years ago, and Burnaby allowed us to subdivide the land for a church and also a 24-room senior care facility.
We had to go to a lot of meetings, meet with the mayor, things like that. It was beautiful inside, and they got to keep the oldest church in Burnaby. That took five years, but another church took us a week to sell.
What makes a religious property desirable?
You need three components to get top dollar. One is the size of the sanctuary. The next is parking. And then a kitchen or a cafeteria, where they have assemblies or Christmas parties. Churches have food banks to feed the hungry, so they want something multi-purpose. If they have the sanctuary, the parking, and the kitchen, you can get a heck of a lot of money for a churches.
Can you tell us about a deal where faith played a big part in a group's decision?
Me and my partner were sitting in the pastor's office and -- I kid you not -- the entire congregation was praying in the sanctuary. You could hear them praying and singing out loud. It was quite amazing, just to wait and see what kind of response they'd get. They were waiting for some kind of sign from a higher power.
An hour later, the board members came in and sat down. Nobody said a word. We were just sitting there with a multimillion dollar deal on the table. And then the pastor came in and said, "Where's the pen? We're going to sign."
Do groups care who they sell their building to?
We had one church that was sold for about $2-3 million undervalue. Sometimes it just happens. Sometimes it's not about the money because they have someone they want to bring in there.
And some groups don't want to sell to one of a different faith. It's really difficult sometimes because religion is about politics.
Do you have some favourite buildings?
On Hastings and Gore, we sold a church that was owned by the Salvation Army, and that was where Jimi Hendrix played on stage.
And I like the Buddhists' -- there are little candles, little statues, with everything meaning something different.
Do you have groups that are renting right now but are looking for a permanent home?
I've got one Christian Korean group that's dying to buy and we had the Columbia Theatre for sale in New Westminster. We thought we might be able to get a church group in there. It's got a nice big theatre, with lots of seating capability and parking in the back, but they just couldn't get the money.
We have some groups really hungry for Vancouver's west side. There's one big congregation that wants to spend at least $15 to $20 million, but I can't find them nothing. They're frustrated because -- I kid you not -- money's not the issue for them."
What are some places besides Metro Vancouver where religious properties are undergoing interesting conversions?
California's got tons of churches that are turned into houses. In New York City, I had someone call me 10 years ago and they pushed down an old church building and turned it into a night club. We've never had anything like that in Vancouver. Over here, churches are turned into homes.
How do you feel personally seeing an old building with history come down?
I don't like it. Me and my partner would like to sell them to groups to keep the churches alive, but it's out of our control.
This interview has been edited for clarity and length.