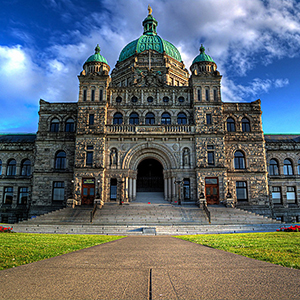 Mike de Jong sat on information about an investigation into drug safety research for seven weeks as British Columbia health minister and left his successor to reveal what would become a damaging scandal, newly released documents show.
And the documents confirm that Margaret MacDiarmid, who took over the health ministry from de Jong, was told to announce the RCMP had been asked to investigate even though that had not happened.
The documents shed more light on the bungled firing of drug safety researchers over allegations of contracting irregularities and inappropriate data access in the ministry's pharmaceutical services division (PSD).
Eight people were eventually fired. Most have since been exonerated and rehired or paid financial compensation. One, Roderick MacIsaac, killed himself after he was fired. The scandal damaged drug safety research and has cost taxpayers millions.
The documents, released under freedom-of-information, show a briefing note on the situation headlined "Internal Review and Investigation of PSD staff" was created for de Jong on July 16, 2012.
The note suggests the government was preparing to go public or worried about a leak to the media. It included an eight-point list of recommended responses to questions. The note also said the Public Service Agency had a draft copy of a review done by labour ministry staff after a March 28, 2012, complaint to the Auditor General's office about irregularities in the drug safety research office.
But the investigation remained a secret. The briefing note for de Jong was updated Aug. 27, 2012. The update had a more urgent tone and additional details, including the claim that the RCMP had been contacted and the line: "We are committed to being as open and transparent as possible."
It provided more talking points for de Jong. "Government is currently reviewing a complaint in respect… (Censored in the FOI release) within the research and evidence development section of the Ministry of Health's pharmaceutical services division," it said. Data access and contracting privileges had been suspended for people involved in the division and senior ministry staff met with University of Victoria and University of British Columbia about the contracts.
'Bigger and uglier than I understood': Health deputy
Emails released under FOI show that behind the scenes health deputy minister Graham Whitmarsh was growing increasingly concerned about the issue.
After reading a draft of the internal investigation report, Whitmarsh sounded an alarm to senior bureaucrats on Aug. 9, 2012. In a heavily censored email to four bureaucrats, including assistant deputy ministers Lindsay Kislock and Manjit Sidhu, Whitmarsh demanded answers. "When, to who and what was reported? Was anything done?"
Whitmarsh was more emphatic in a later email. "I am going to arrange another meeting as I am concerned that this is bigger and uglier than I understood," he wrote.
But things were changing in government. On Aug. 29, 2012, Kevin Falcon resigned as finance minister, citing family reasons.
On Sept. 5, 2012, Premier Christy Clark shuffled her cabinet. De Jong was named finance minister and MacDiarmid took over health.
The FOI release reveals that five days earlier MacDiarmid was already being prepared to deal with the scandal. The briefing note was updated for her on Aug. 31, 2012. The new version, headlined "Internal Investigation - MoH," included 15 recommended responses to questions about the scandal.
MacDiarmid held a news conference the day after taking over as health minister, saying four people had been fired and three suspended. She didn't reveal names.
She followed the directions in the briefing note and said the RCMP had been asked to investigate, "after we found evidence of inappropriate conduct, contracting and data-management practices." Internal RCMP documents released in 2015 say the province's team of internal investigators, led by Wendy Taylor, did not report the incident to the RCMP until Sept. 12, 2012. Two years later, the RCMP had not received any evidence from the province, so there was no investigation.
Eight people were eventually fired: Ron Mattson, Malcolm Maclure, Rebecca and William Warburton, Robert Hart, Roderick MacIsaac, Ramsay Hamdi and David Scott.
Hart and Maclure were reinstated. The Warburtons' settlement was announced in late 2015. Mattson settled a lawsuit in 2014. Hamdi and Scott filed union grievances. MacIsaac, a co-op student, died of suicide after his firing.
MacIsaac's family asked the BC Liberal government for a public inquiry into the botched investigation. Instead, the government appointed Ombudsperson Jay Chalke last summer to conduct a probe behind closed doors.
In a June 23, 2015 teleconference with reporters, de Jong said "ministers assume a political accountability" for what goes on in their ministry, but personnel investigations are done at arm's length. He said that, after leaving the Health Ministry, he was disappointed a proper investigation didn't happen, but opposed the concept of an open, public inquiry.
"We've been through a variety of processes and what is the question that is to be answered by an inquiry that generally speaking will involve the expenditure of millions upon millions of dollars?" de Jong said.
Whitmarsh was among three deputy ministers fired without cause after the BC Liberals won the 2013 election. He was paid $461,000 in severance.