The Trudeau government's newly announced reforms to pipeline environmental assessments still fail to consider the impact of almost 90 per cent of resulting greenhouse gas emissions, climate experts have told The Tyee.
The government announced a new interim assessment regime Wednesday, saying it will restore public confidence in much-criticized National Energy Board reviews.
The major change will see a pipeline's upstream emissions included in the assessment. For a pipeline from Alberta's oil sands, for example, the greenhouse gases produced in mining and processing the bitumen will be included in the environmental assessment review. 
But critics say government will still not be considering the much greater downstream emissions as pipeline products are processed and burned in vehicles, factories and power plants.
A recent analysis by Simon Fraser University climate economist Mark Jaccard found these emissions represented up to 89 per cent of greenhouse gases from the Kinder Morgan Trans Mountain pipeline expansion. 
University of British Columbia climate policy expert Kathryn Harrison says Ottawa is effectively exporting the climate change problem to other countries by ignoring downstream emissions.
Harrison said under international reporting norms the downstream greenhouse gas emissions are the responsibility of the end-user country. "But the fact is, we're contributing to that, and we're making money from it." 
Canada is taking a narrow "legalistic" approach to deciding what climate emissions to consider, she said. "Ideally, I think we'd consider the full global impact. But I do think there is a logic to only considering the components that happen within Canada, because that's what Canada is legally accountable for under the Paris climate agreement."
Pipeline peace? Think again
Reaction from other enviro watchdogs was mixed.
Canada committed to efforts to limit global warming at last month's Paris climate conference, noted John Bennett, with Friends of the Earth in Ottawa.
"You can't say you're committed to keeping emissions below 1.5 degrees, and then not count downstream emissions when you're assessing the project," Bennett said. "They're trying to fool themselves or Canadians that we can deal with climate change, and not deal with the fact that we're pumping fossil fuels out of the ground."
Bennett said if the Liberals hoped this announcement would achieve "pipeline peace," they're wrong.
Still, said Kai Nagata of the Dogwood Initiative, the Liberal reforms are "a great step forward" over Harper-era pipeline reviews and the "end of the dark days of the National Energy Board." The new rules will mean methane emissions from fracking sites in B.C. will be considered when assessing pipelines to move natural gas to proposed LNG terminals, for example.  
Jaccard's "wells to wheel" analysis of Trans Mountain expansion points out that pipeline operation accounts for less than two per cent of associated greenhouse gas emissions.
Upstream emissions account for 9.6 per cent, or 7.7 million tonnes of CO2e annually, reflecting the extra bitumen production the project would enable
Pipeline operating emissions equal 1.4 per cent, or 1.1 million tonnes of CO2e annually
Downstream emissions equal 89 per cent, or 71.1 million tonnes of CO2e annually, from refining, distributing and burning bitumen outside Canada.
The reforms leave other countries to account for the greenhouse gas implications of their oil sands and LNG imports.
Jaccard, in an emailed statement, said that's a reasonable approach.
"I am potentially fine with each country on the planet focusing on the emissions that occur in its legal territory (ie not looking downstream)," he wrote. "Ultimately this is how we address the climate challenge. Maybe some importing country will import the oil, convert it to hydrogen and bury the carbon, having zero emissions."
But Jaccard said the Paris climate agreement would still make many proposed pipelines uneconomic. The target of holding global warming to less than two degrees will reduce demand for oil sands bitumen, he said.
'We all have to seek the pathway'
Environment and Climate Change Minister Catherine McKenna announced the changes in Ottawa. "We need to get our natural resources to market in a sustainable way," she said.
But during a media briefing, McKenna was asked twice by The Tyee why Canada was ignoring downstream emissions. She didn't answer the questions.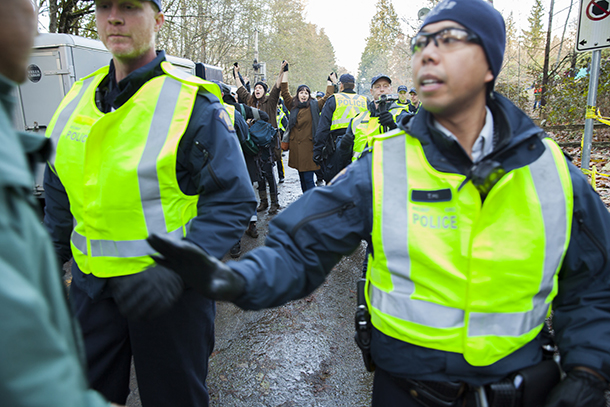 ForestEthics' Canadian director Karen Mahon said it's not good enough to say the importing countries are responsible for accounting for the downstream carbon emissions.  
"Most countries don't have rigorous enough targets, including the U.S., where most of our oil will be consumed," she said from Vancouver. "We all have to seek the pathway to take ultimate responsibility to what we are contributing to this global problem."
The federal changes will apply to pipeline reviews currently under way, including the Kinder Morgan Trans Mountain pipeline expansion and TransCanada's Energy East proposals. Each will be delayed by months as a result, though neither project will be asked to "go back to square one," in their reviews, said Minister McKenna.