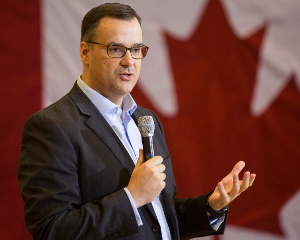 Despite widespread backlash from faculty, students, and the public, former Conservative industry minister James Moore's appointment as chancellor of the University of Northern British Columbia is a done deal.
"The decision has been made and we want to move forward from this and learn from everybody that's contributing their thoughts," said Ryan Matheson, vice-chair of UNBC's board of governors, which made the final decision on Moore's appointment.
Described as a voluntary figurehead role, UNBC's chancellor hands students their diplomas at convocation ceremonies and participates in university fundraising activities. Moore is UNBC alumnus, graduating with a degree in political science from the Prince George-based university in 2001.
A petition to rescind the appointment has generated over 1,700 signatures as well as outcry from faculty, staff, students and the Canadian public.
The petition's author criticizes Moore's actions, as well as the actions of his former party and employer, for undermining university values. Those acts include muzzling scientists, closing government libraries and stoking anti-Muslim sentiment.
'I wouldn't accept my degree from him': student
Moore did not seek reelection this fall, but stumped for the Conservative party. Opponents of the chancellor appointment say Moore's campaign involvement indicates his support for the party's values.
Those values conflict with everything the university stands for, said senate vice-chair and faculty rep Paul Siakaluk, "like diversity, freedom of speech, pursuit of knowledge, sharing of that knowledge."
Matheson disagrees: "I don't think if he truly believed in those things that were part of his former employer group and party that he would have accepted the nomination," he said, adding UNBC has received plenty of off-the-record endorsements for Moore's appointment from faculty at other universities, politicians from all parties, and students.
Moore takes over the role in May 2016 just in time to hand out degrees at the spring convocation ceremonies. But he may have a smaller audience than usual.
As senate faculty rep Siakaluk would normally stand on the stage during convocation with the rest of the senate, but the psychology professor says he won't be up there if Moore is chancellor.
"I wouldn't accept my degree from him," said Angela Kehler, senate student rep set to graduate in 2016. "Mr. Moore endorsed slashing of environmental regulations, the axing of the long form census, and muzzling of scientists which go against universities in general and UNBC in particular, as Canada's Green University."
Kehler questioned the appointment process, too. "There are only two student reps and a few faculty reps on the board [of governors], which means we were underrepresented in this decision making process."
'Respectful' conversation welcome: Matheson
UNBC put out an open call for chancellor nominees last December, 18 months before current chancellor John MacDonald's tenure was up. That open call ended Jan. 12 but further nominations from within the university came until the summer. Matheson would not say who else was nominated.
In August, UNBC's alumni association put "a name forward" for chancellor, Matheson said, which went through the university president and senate before receiving final approval from the board of governors. Faculty and student reps on the senate and board of governors could provide input, but there was no wider community consultation on the nominees.
Siakaluk and fellow senate members against the appointment are pushing for the Dec. 9 senate meeting agenda to include space for the public to have their say on Moore's appointment.
It isn't clear what difference, if any, that will make to Moore's appointment. But Matheson hopes the "respectful" conversation will continue even though the final decision has been reached.
The Tyee reached out to Moore for comment Tuesday but did not receive a response before publication.
Matheson says Moore is open to talking with anyone concerned about his appointment, "And make sure we're working together towards a better university."