The new Liberal government has made both ambitious environmental and infrastructure promises. Today, housing advocates will tell it how to help kill both birds with one stone.
Advocates have earned the ear of new environment minister Catherine McKenna, set to speak today at a press conference called by the Canadian Housing and Renewal Association that will link climate and housing solutions.
The choice of location for today's event is significant: atop the award-winning Beaver Barracks project in the heart of McKenna's Ottawa-Centre riding.
Completed in 2012 on municipal land that had sat vacant for decades, the five-building complex added 254 units to Ottawa's rental stock, 150 of those either below-market rent or rent-geared-to-income. One-tenth of the suites are wheelchair accessible, and 15 per cent was set aside for supportive housing in partnership with local social welfare agencies.
But more unusual than Beaver Barracks' social goals are its environmental ambitions. It's Canada's largest project using geothermal energy for heating and water, for one thing. Architects added special thermal barriers to stabilize the climate within, one of the first developments in the country to test the technology. Its roof is made from plant-based material for insulation and drainage, and its windows are triple-glazed.
Overall, Beaver Barracks has slashed energy use by roughly 40 per cent compared to similar buildings, shortlisting it for a World Habitat Award.
The innovation continues with tenant engagement. "Behaviour trumps design," said Ray Sullivan, executive director of non-profit Centretown Citizens Ottawa Corporation, which runs the facility.
"You can design a green building, but if the residents and staff are not behaving in a sustainable way, you could lose whatever you might have gained through design," he said.
Some behaviour-changing tweaks are built-in at Beaver Barracks: a case in point being the lack of garbage chutes. Buildings that have those conveniences, Sullivan said, "actually discourage recycling, when it's easier to go down the hallway in your slippers and dump everything down a hole in the wall."
The corporation also asks tenants to sign a "green commitment" to adapt their lifestyle in some way, such as composting, cutting back on their water use, or cycling instead of driving. Rather than bristle at those expectations, Sullivan reports, most tenants welcome them.
Typical, he says, is what one subsidized resident told him soon after moving in: "'I've always tried to live as green as I can. But because I was limited by my poverty, I couldn't fit those values into my lifestyle. I can't afford a fancy green condo, but living here finally helped align my values with my means.'"
The 'easiest, fastest, cheapest' carbon cut
The Canadian Housing and Renewal Association, the country's largest group advocating for affordable housing (and, full disclosure, a partner with Tyee Solutions Society for a forthcoming public event on the subject) sees Beaver Barracks as a perfect example of solving two problems at once.
Tim Ross, CHRA's interim executive director, thinks so. "Just ahead of the climate change talks in Paris, we want to highlight the role social housing investment and [the] affordable housing sector can play in helping reach Canada's climate change goals," he said. "We can help move multiple government priorities forward."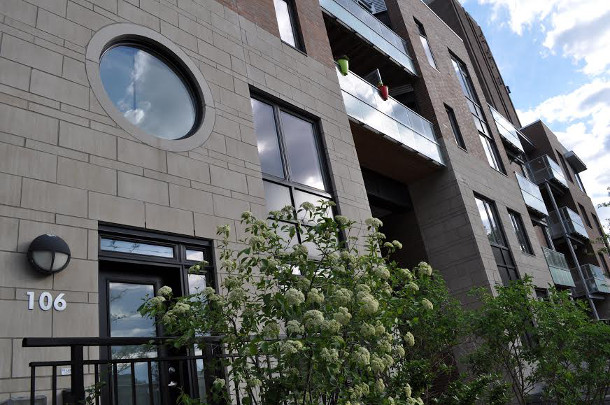 Indeed, the latest data shows that Canadian residential buildings pumped out 46 million tonnes of carbon dioxide in 2013 -- three-quarters of what Alberta's oilsands operations do, and more than the country's entire natural gas sector.
Construction, too, is a big contributor to our carbon footprint. That sector released as much carbon dioxide as all domestic flights and marine travel combined, nearly 6.5 million tonnes in 2013.
Renovating and retrofitting Canada's existing social housing and co-op buildings -- many of which have fallen into disrepair because of dwindling federal support -- is one way to scale back residential greenhouse emissions now, Ross said, and also avoid future emissions from constructing replacement units.
"By investing in this important social infrastructure," he added, "we can extend its useful life and provide affordable housing to low- and moderate-income Canadians, and at the same time become more energy efficient."
According to a 2015 report by the Royal Architectural Institute of Canada Centre for Architecture, the energy used in the country's buildings could be slashed by between 20 and 30 per cent in the next quarter-century, without requiring any new technology.
"Buildings represent the low hanging fruit of combating global warming," said the report, submitted to the Alberta Climate Change Panel. "Green buildings are the easiest, fastest, cheapest and most effective means of addressing global warming."
Ottawa wouldn't be the first government to discover climate-conscious housing. British Columbia already requires all new developments it funds to be certified to LEED Gold standard, the top multi-unit residential green building standard on the continent. Last year, the province was home to 40 such high-efficiency buildings.
In Quebec, meanwhile, a staggering 450 co-op and affordable housing units have been LEED-certified, thanks to that province's rules requiring energy efficiency, and significant grants encouraging even higher standards.
For CHRA's Tim Ross, housing done well is a linchpin into multiple goals besides climate mitigation, including such traditional concerns as poverty-reduction, but also current challenges like successfully settling and integrating 25,000 Syrian refugees.
"You can't even begin to seriously address these important federal objectives without having a robust and adequate supply of affordable rental housing," he argued. "But after almost three decades of divestment from affordable and social housing, we have a lot of catching up to do."