The cost of housing coupled with unemployment and poor wages is sending more Canadians to food banks, according to a charity organization dedicated to fighting hunger in the country.
Food Banks Canada released its annual report Hunger Count Tuesday in Ottawa today, showing a 1.3 per cent increase in food bank use by Canadians over the last year.
But the more concerning issue, said the group, is that food bank use shot up 26 per cent when the 2008 financial crisis hit and is holding in place rather than returning to pre-crisis levels.
Executive director Katharine Schmidt said part of the problem is the aftermath from the 2008 financial crisis still hanging over Canada and the crash in oil prices is hitting Alberta hard.
"Overall, it's the economic climate," Schmidt said. "We've not seen job creation of some of those quality high-paying jobs that we've been losing."
On top of that, high rents across Canada have some people spending 70 to 80 per cent of their income on housing, leaving them only a couple hundred dollars a month with which to purchase food.
Schmidtsaid a lack of affordable housing prevents these Canadians from moving to cheaper accommodation.
Western provinces have been the hardest hit, according to the report.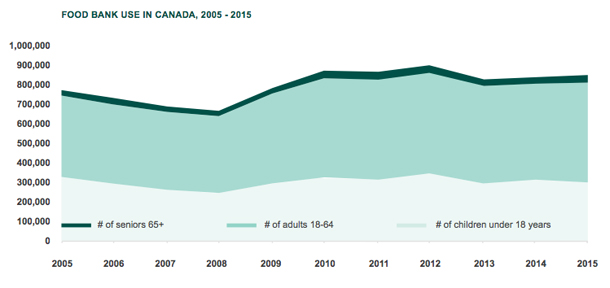 It says more than 850,000 people across Canada use the food bank each month. Seven per cent of those are pension earners and 16 per cent get their primary income through work.
Forty-six per cent are on social assistance, while another 18 per cent are on some form of disability.
Less food for those who need it
Most banks can only supply a family or person for three to five days a month, and the stress on food banks has become so great that some are forced to give less food.
"People who are relying on food banks are only getting a portion of their food from the food banks, because there's only so much there as far as support they can give," Schmidt said. "There are pretty significant gaps out there."
According to Schmidt, solutions include investment in affordable housing, jobs training, the introduction of a basic livable income, and increasing access to traditional foods.
The last suggestion would especially help those in Canada's northern territories, where food costs have been a major concern, she said.
But Schmidt said she was optimistic the new government in Canada will address the challenge, given that Prime Minister Justin Trudeau included tackling poverty in the mandate letter for the minister of Families, Children and Social Development, Jean-Yves Duclos.
Duclos was mandate to lead a poverty reduction strategy and improve low-income seniors' security, among other tasks.
That has drawn praise not just from Schmidt, but also from Megan Hooft of Canada Without Poverty.
"It's not like in the past where you had to fight to talk about poverty issues or food security issues -- poverty is out there right out of the gate," Hooft said, noting that Canada's social safety net has been diminished in recent years. "To me that's very impressive, to see it's recognized as a priority issue."
Canada Without Poverty has developed a model plan to fight poverty, and the Liberals have already promised to take steps they list, such as changing the age of eligibility for Old Age Security back to 65.
Hooft said the organization has had some "back and forth" with the Liberal party over poverty issues and said she is hoping to hear from them again for input.