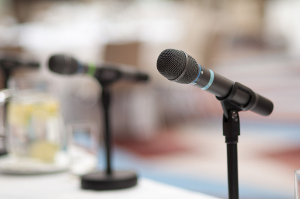 At an election debate about science and technology on Sept. 23, the consensus quickly emerged that Stephen Harper's Conservative government is trouble for people who care about knowledge and public policy decisions based on evidence.
"I think everyone in this room knows we're seeing a war on science that is unprecedented, dangerous and deeply ideological," said Tim Kane, the Liberal candidate in Saanich-Gulf Islands.
The Green Party candidate for Victoria, Jo-Ann Roberts, said, "This is not just a war on science. It's information and knowledge that's under siege."
"[Stephen Harper's] war on science is everywhere to be seen, and the victims are everywhere in our system," said Murray Rankin, the NDP incumbent in Victoria. "It's kind of like we've gone from the age of enlightenment to the dark ages, and friends, we've got to get back on track in this country."
The evidence cited by the various candidates included the cancelling of the long-form census, the muzzling and firing of government scientists, the gutting of institutions like the Institute for Ocean Sciences, and the cutting of money for research.
There was, however, nobody on the stage to defend the Conservative government's record. Organizers from the University of Victoria Students Society said they asked each of the four parties to send a representative from one of the four ridings on Southern Vancouver Island, but no Conservative agreed to participate.
"There's going to be violent agreement among the three of us," said Rankin at the outset of what was often a three-on-zero pile on. "The Conservatives haven't got the courage to come face the electors and justify what they've done to science policy."
Overlooked topic
Lead organizer Aerin Jacob, a 35-year-old post-doctoral fellow in geography who studies biodiversity, said the evening's topic was an important one that's frequently overlooked in political debates.
"I'm really concerned there's never been a question about science in a federal leaders' debate going back to 1968," she said in an interview.
She said she hoped the debate in Victoria, attended by a diverse crowd of some 400 people, would lead to some concrete answers from the parties. "It hits you at a gut level. We need to have the best available information in order to better our lives and take care of our planet."
Or as debate moderator Bob McDonald, the host of the CBC radio science show Quirks and Quarks, put it, "Science is one of the last institutions we have that actually looks for the truth."
Aside from the many headlines in recent years about the government muzzling scientists and ignoring evidence on everything from climate change to crime, there's evidence that Canada is falling behind its peers internationally.
In a study released Sept. 23, Statistics Canada found the country's gross domestic spending on research and development is expected to decrease by 0.7 per cent from 2014, the third annual decline in a row.
The government statistics agency compared Canada's spending on research and development as a share of its gross domestic product to other industrialized countries. Among the G7 group of seven rich countries, Canada ranked fifth.
Canada was also well below the average among Organization for Economic Co-operation and Development countries. As a share of GDP, Japan, South Korea and Israel all spend more than twice as much as Canada on research and development.
Vigorous agreement
During nearly two hours of debate and questions from the audience, the three candidates mapped out their positions, many of which overlapped.
Rankin said the three parties agree on restoring the long-form census, adopting a bill of rights to unmuzzle scientists and creating a parliamentary science officer -- a position like the parliamentary budget officer -- to give independent scientific advice and make sure evidence is taken into account.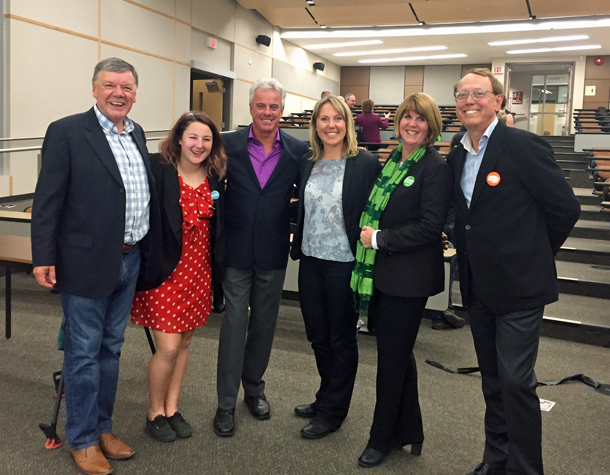 They also agreed on mandatory labelling of food containing genetically modified organisms, participating fully in international climate change talks, supporting renewable energy and creating incentives to encourage private investment in research and development.
Rankin said the NDP would directly fund research better than the Conservatives have. "The granting agencies have to finally be given the funding that's been cut over the last dark decade."
Kane said he couldn't provide full details of what the Liberals would do because they haven't been released by his party yet, but the centrepiece of their plan is investing in knowledge infrastructure.
Roberts said Green Party leader Elizabeth May introduced a bill in the House of Commons to make all publicly funded research available to the public. It failed to pass, but May hopes to reintroduce it after the election, she said.
The Conservatives have been repressing scientists, and you have to wonder why, Roberts said. "It's because they want to change public opinion. We need to change that culture, that atmosphere."
'Fundamental rethink' needed: organizer
To meet climate goals and keep global warming under two degrees Celsius, Roberts said much of Canada's remaining oil needs to stay in the ground, "including the oilsands." She later clarified, "I didn't say we'd stop all oil coming out of the ground. I said we stop expanding."
The NDP's Rankin said it is just as bad for parties and candidates to automatically oppose projects as it is to automatically support them. "Science is about evidence, and we need to make sure all the reviews of projects in the oilsands, or pipelines, are based on evidence and not ideology," he said.
Kane expressed a couple positions that are unlikely to be in the national Liberal platform. Leader Justin Trudeau has rejected forming a coalition with any other party if there's a minority government after election day, but to much applause Kane said he thinks, "We would coalesce with the NDP, in some way, shape or form."
When asked about the movement encouraging individuals and institutions to sell their investments in fossil fuel companies, Kane said, "I would go one step further with that and look at investments made by the Canada Pension Plan Investment Board to ensure they are divesting of fossil fuels as well."
Organizer Jacob said she was pleased by the debate turnout and that she's looking forward to hearing more concrete commitments from the parties ahead of election day. "I think what's needed is a detailed examination of their science platforms," she said. "We want to engage people and we have to give them information in an open and transparent manner, and in a timely manner as well."
In the United States, for example, the National Oceanic and Atmospheric Administration has a policy where scientists are free to talk with the media any time they want, and are also welcome to express their views as citizens. While the candidates in Wednesday's debate all discussed allowing scientists to talk about their work, Jacob said, "I want to hear more specifics on what it means to unmuzzle."
Jacob said she hasn't yet decided where to put her vote. While promises about funding and free speech are important, she said she's looking for someone with a vision. "We need a fundamental rethink of how we support and use science in this country."
*Story corrected Sept. 25 at 9:30 a.m. to fix an editing error.