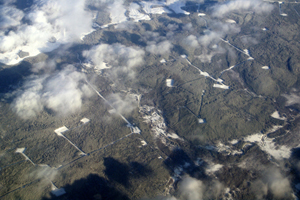 Progress Energy, an arm of the Malaysian oil company Petronas, temporarily shut down operations at a wellsite after a 4.5 magnitude earthquake hit an area 114 kilometres northwest of Fort St. John on Aug. 17.
B.C.'s oil and gas regulator said the earthquake was likely caused by hydraulic fracturing but "has yet to determine the cause of the event." Progress Energy reported the tremor on Monday. No damages were reported to the regulator.
"The Commission is working to obtain a reasonable event depth from local seismic-monitoring data and is collecting more information about the event as part of its investigation," B.C. Oil and Gas Commission spokesman Allan Clay told The Tyee.
David Sterna, Progress Energy's director of external affairs, said the company has since resumed operations with approval from the regulator, and that "despite certain media speculation, it is too early to determine whether Monday's seismic activity was a natural occurrence or related to hydraulic fracturing activities."
Natural Resources Canada recorded the earthquake's magnitude as 4.6 -- which, if confirmed by researchers, could make it the largest industry-caused tremor ever recorded in North America. Several smaller tremors were also recorded in the same vicinity.*
The epicentre of the earthquake occurred three kilometers from a site where Progress Energy was conducting a multi-stage frack into the Montney Shale, a large swath of land stretching across northeast B.C. into northwest Alberta.
In B.C., any fracking operation that measures a magnitude 4.0 tremor or greater within a three kilometre radius of the drilling pad must report the event to the regulator and suspend operations. Alberta operates a similar "traffic light" system for earthquakes in the Duvernay Shale around Fox Creek, Alberta.
That region, which has experienced industry-made quakes for two years, saw a 2.6 tremor in early August.
The shale gas industry injects fluids and sand at high pressure into deep and shallow wells to crack open difficult oil and gas deposits. The injections create a network of cracks that can also connect to water zones, other industry wellsites and faults.
The reactivation of these faults can then trigger an earthquake, sometimes days after the fracture treatment, scientists say.
BC tremors on record
According to a 2014 BC Oil and Gas Commission report, the shale gas industry triggered 231 earthquakes in northeastern British Columbia between August 2013 and October 2014. None of the quakes resulted in injuries, but several caused damage to horizontal wellbores.
Researchers do not know the full impact of the industry-caused shaking on aquifers or migrating gases in the earth due to limited monitoring.
Some quakes were large enough for locals to "experience a few seconds of shaking" on the ground in seven areas of the province on top of the Montney Shale.
The events, many of which occurred in clusters or swarms, show that fracking technology can be unpredictable.
University of Western Ontario seismic hazard expert Gail Atkinson, the leader of a research effort called the Canadian Induced Seismicity Collaboration, recently said that researchers "cannot predict the likelihood or magnitude of such events from specific planned operations because we do not have enough data on the complex natural rock systems, nor do we have validated predictive models."
Last month, Progress Energy refused to release to The Tyee a copy of a company presentation on industry-caused earthquakes that it gave at a public meeting organized by the BC Oil and Gas Commission.
At the time, spokesman Sterna said, "As a practice, we do not provide copies of presentations to the media or any third parties."
Sterna said then that earthquakes caused by fracking at wells operated by Progress Energy in the Montney region had mostly been under a magnitude of 2.0, "with none of these events being detectable from the surface without the use of sensitive detection equipment. Events over 4.0 must be reported to the [Commission]. To date, there has been one recorded event of that magnitude in an area that we operate in."
In 2014, the company's operations triggered a 4.4 magnitude event at a site 84 kilometres northwest from this week's earthquake, according to BC Oil and Gas Commission spokesman Clay.
New studies by provincial and federal scientists show that the shale gas industry, which the B.C. government hopes will eventually supply proposed liquefied natural gas terminals with fracked gas, has caused more than a thousand earthquakes in northeast B.C. since 2006 and changed the region's seismicity.
The earthquakes, ranging in magnitude from 1.0 to 4.3, include seven events higher than 4.0 and more than 20 events that shook buildings and moved furniture in places like Fort St. John.
Typically, only earthquakes above a magnitude above 3.0 can be felt on the ground, and tremors just larger than 4.0 can cause minor damage. A great earthquake, capable of extensive damage, typically measures a magnitude of 8.0.
A recent presentation by Dan Walker, senior petroleum geologist for the BC Oil and Gas Commission, identified public safety, property damage, well bore integrity (the shaking can cause wells to leak methane) and aquifer contamination as genuine hazards from industry quakes.
*Story updated Aug. 24 at 6 p.m.