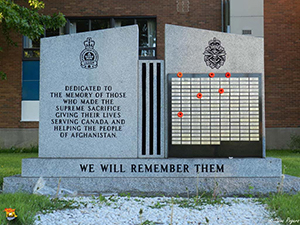 A group of Canadian military veterans said they were denied access to a Stephen Harper event held at a legion in New Brunswick Monday morning.
Fabian Henry of the organization Marijuana for Trauma said that he and six other veterans heard Sunday night that Conservative leader Harper and Veterans Affairs Minister Erin O'Toole were coming to the No. 4 Branch of the Royal Canadian Legion in Fredericton.
His organization has four branches across the country. It is run by veterans aiming to help vets with post-traumatic stress disorder ease their pain with marijuana treatment.
Henry rounded up some other veterans, most of whom served in Afghanistan, and headed to the event to "shake a hand or do something to talk about veterans affairs issues."
But when they arrived, some "guys in suits" said that was out of the question.
"We weren't even allowed in the building," Henry said. "We were standing outside thinking we were going to get in to at least listen to what was happening or voice any concerns. That didn't happen."
Instead the group went around the back of the building and watched Harper get off the bus, go inside for 15 minutes, then get back on the bus and leave without acknowledging their presence.
The Conservative party said in an email that Harper was talking to veterans inside of the building.
'It was a private function'
Henry said he understands security for the prime minister, but that his group is not political and has never heckled or caused a ruckus at a veterans affairs event.
He said the organization is not out for blood and has spoken to O'Toole in the past, so the minister is aware of them.
"I messaged the minister last night to ask for five minutes," Henry said. "I just wanted to ask him one thing -- if we could talk someday about holistic care."
The Royal Canadian Legion New Brunswick Command said it was not involved in the event other than renting out the space to the Conservatives for the appearance.
Provincial secretary Cynthia Saunders said the legion had nothing to do with it.
"It was a private function by invitation only, they rented the hall," Saunders said. "When it's a private function we have no control of who's on the invitation list... that's how all private functions work."
'I was actually going to say thank you'
The stop came the same day as Harper announced he intends to increase the country's force of reserves and extend benefits for veterans who have been wounded.
Henry said he is upset about the situation, but still intends to speak to the minister whenever he can.
"I was actually going to say thank you for covering the costs of Canada's therapy for veterans. That's one of the good things they're doing," he said. "But there are a lot of improvements to be made."