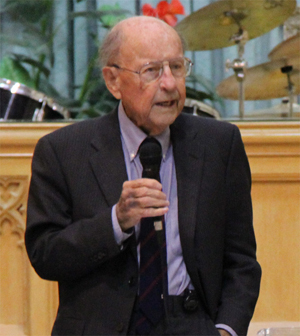 A centre-right political party says it has had enough of Stephen Harper and will run candidates this election in ridings where a Conservative candidate barely won in 2011, in hopes of siphoning off enough votes to allow for a Liberal or NDP win.
The Progressive Canadian Party was started in 2004 by former Progressive Conservative party members who were upset at their party's merger with the Canadian Alliance to form the modern Conservative Party of Canada in 2003.
The party's leader is Sinclair Stevens, a former Progressive Conservative minister under Brian Mulroney.
Stevens said the plan is to offer conservatives who are also unhappy with Harper's performance another right-of-centre option, with the aim of explicitly taking away Conservative party votes.
He said the strategy is not something his party has ever tried before.
"Our feeling is that if we have a credible candidate, they may take enough votes so that the Conservative won't make it," Stevens said. "That may sound like we're supporting the Liberals, but our feeling is -- in this case -- the Liberals are better than Stephen Harper."
Putting Canadian troops in Afghanistan in what he described as particularly dangerous areas, the amount of debt Canadians are accumulating to get an education, and Harper's economic performance are a few reasons Stevens said the Conservatives must go.
He added that Harper seems to care more about corporations than Canadians, as partly evidenced by the prime minister's running of a deficit rather than raise Canada's exceptionally low corporate tax rate.
"The fact that he dropped [corporate] taxes down to 15 per cent and shaved two points off the GST is the only reason that he runs a deficit," Stevens said. "He claims he's anxious to get into a surplus position, but the fact is he's been in a surplus position for years."
Targeting 15 ridings
Stevens said his party is looking for candidates in 15 Ontario ridings where the Conservatives eked out a win in the 2011 election.
They are located largely around Toronto and Kitchener.
The targeted ridings are mainly those the Conservatives won by fewer than five percentage points, such as Etobicoke Centre where Tory Ted Opitz was elected by just 26 votes in 2011.
The Progressive Canadian Party currently only has about 500 members, but Stevens said it will push for more now that the election is underway.
He said he spoke to someone interested in running as a candidate in Waterloo this week, and the party is searching for candidates via word of mouth and networking.
Nelson Wiseman, a University of Toronto political science professor, said whether the Progressive Canadians' plan works won't be known until the election is over.
But in a minority government situation, those 15 seats could be crucial, he said.
Wiseman said he isn't assuming the party will have an impact, but there is a possibility it could take votes from Conservative candidates if it can get the word out about its Progressive Conservative roots, which could give it credibility.
"The challenge is virtually no one knows who they are," he said. "But whatever votes they do get will probably come from the Conservatives."
Though it makes sense to target ridings that were close last election, Wiseman said that doesn't mean they will be close this year.
He added that right-of-centre voters may find the party's name unattractive.
"When you hear or see the word 'progressive,' it strikes you as left-of-centre, which suggests it might take votes from other parties," he said.