Like many Vancouver residents, Noah Choy was looking for a home for his family. Someplace with a sense of community. Spots for kids to play. A place he and his wife could call their own with more room for their one-year-old than their small condo in Kitsilano.
He found his answer in River District, a planned community just south of where Choy grew up in Champlain Heights. The 130-acre development is what's called a "brownfield" site -- former industrial land near Kerr and Marine Drive where, in the last century, sawmills received logs floated in along the Fraser River.
Now shiny condos dot the banks of the Fraser. Marketed as "Vancouver's last waterfront community," River District will eventually feature 7,000 new homes, a community centre and shops and schools in an area three times the size of Granville Island. Scheduled to be fully complete in 2017, the development is already home to 225 families.
Choy's was one of the first. He and his wife, a high school teacher and an accountant respectively, bought their town home as a presale and have lived in it since 2012. He spends a lot of time outdoors with his kids on the development's parks, playgrounds and trails. "I like it," Choy says. "It's worked out so far for us."
The appeal of River District hasn't been lost on either Vancouver developers or its city government. Both are eyeing other former industrial sites for their potential to be re-purposed in a variety of ways.
But what looks like a happy solution to families facing the Choys' dilemma could be putting the whole city's future in a bind, according to groups pushing its economic interests, such as the Port and Metro Vancouver.
Industry groups complain that as "light" uses like commercial retail fronts and showrooms move into former industrial neighbourhoods, rents go up, vacancies are harder to come by and more traditional businesses are priced out. Meanwhile, where industry and older housing are mixed, existing residents fear the loss of even more of the city's dwindling supply of affordable shelter.
Inevitably, there's not much industrial land left. Which is why in land-crunched Vancouver, brownfields are the final frontier for residential and commercial real estate development.
Hot markets
With the country's highest housing costs and a new and unwelcome fame as the world's second-hardest place to meet the rent, the pressure is on geographically-limited Vancouver to get creative with what little land is left.
Another major development on industrial land is Marine Gateway at Cambie Street and Marine Drive. It's a mix of residential and commercial space, including a movie theatre and a T&T Asian supermarket. The Canada Line SkyTrain and a number of buses also stop there, and Marine Gateway is expected to become a high-density, high-traffic hub in south Vancouver.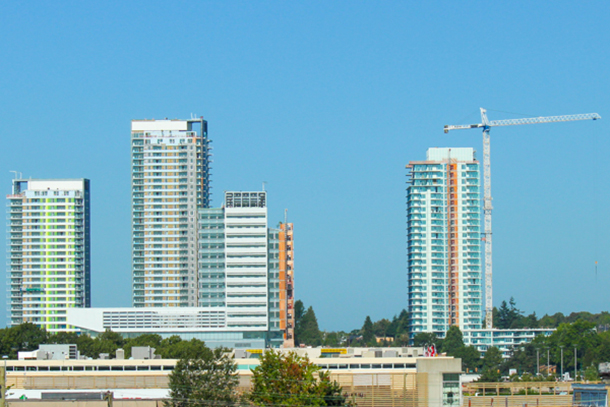 But many of the industrial areas getting new attention are on the north slope of East Vancouver. A pocket of Mount Pleasant -- east of Main Street, south of Olympic Village -- is "one of the hottest markets in Vancouver," says Struan Saddler, a vice-president with Avison-Young who specializes in industrial land. The area is zoned as light industrial, and includes auto repair shops, bakeries, breweries, offices and studios.
"It's where the future is going," Saddler says.
The City of Vancouver is also eyeing industrial land. It owns five sites near River District, earmarked for an unannounced number of affordable housing units. It also hopes to redevelop the False Creek Flats, east of Main Street but close to downtown, into a hub for more jobs and transit. Mountain Equipment Co-op's woodsy new office is located there, as is the site for the upcoming relocation of St. Paul's Hospital.
Port land prospects
John Neate tries to stay ahead of the curve and be in up-and-coming areas before everyone else, even if there are special challenges. One of his first JJ Bean coffee outlets opened in 1996 in one of Vancouver's then-scrappy industrial areas -- on Powell Street by Victoria Street.
"It was a very rough neighbourhood when we first moved in," says Neate. He remembers rocks being thrown through his store's windows. But he has put another of his expanding chain in an industrial area since, at Railway and Jackson Streets.
As an entrepreneur, he says, he's followed a strategy of looking for space where his staff were living -- even in pricklier areas, and buying buildings whenever he could, to "get in there before it gets too expensive."
"I've always believed -- for my business and for the city -- if you're not growing, you're dying," he says. "I'm a big believer in cities changing. Most of what I've seen is for the better."
New businesses are coming to port-side areas near Powell Street, bringing a "funky" factor that caught the attention of Jordan MacDonald. A former real estate broker, MacDonald recently started Caulfield Rock, a development and investment company, to purchase a three-storey building in the area with a few retail units and live-work artists.
MacDonald likes the affordable French food at nearby Bistro Wagon Rouge, and the craft beer at Parallel 49, which he thinks attract a mix of people to the neighbourhood: "You see people in suits, you see people covered in tattoos with their dogs, you see everyday people in shorts and T-shirts -- it's all walks of life.
"I think there's going to be an eastward migration of businesses, which makes for a real hip scene," MacDonald added. One of his tenants is a screen-printing boutique.
MacDonald is not the first developer to prospect the area. Three blocks away is the Terminal City Iron Works property, where The X-Files and the latest Superman were filmed. It has been sold for redevelopment. A two-minute drive away on East Hastings Street, another 82-unit condo project is planned.
There's no branded name for the area yet, but MacDonald is proposing "Port Town," as its close to the port.
Meanwhile "Railtown," approximately the first seven blocks east of Main Street on and around Railway Street, is considered a more affordable alternative to Gastown. Gastown office rent is about $24 to $34 per square foot and retail is about $35 to $60, according to Avison Young. High-tech businesses, fashion houses, studios and restaurateurs have been moving into similar spaces in Railtown for rents 20 to 40 per cent lower.
The hot waterfront syndrome
Many of the developed world's hottest cities have seen industrial waterfront lands abandoned and then gobbled up. One famous example is London's Canary Wharf. Formerly one of the busiest ports in the world, it's now a major business district.
It's not new here either. What was a working industrial ferry terminal and rail yard in downtown Vancouver's Coal Harbour two decades ago, now holds its convention centre and premium-price condo towers. Today's Granville Island and False Creek South neighbourhoods stand on former industrial land, as do the condos ringing False Creek's Expo lands.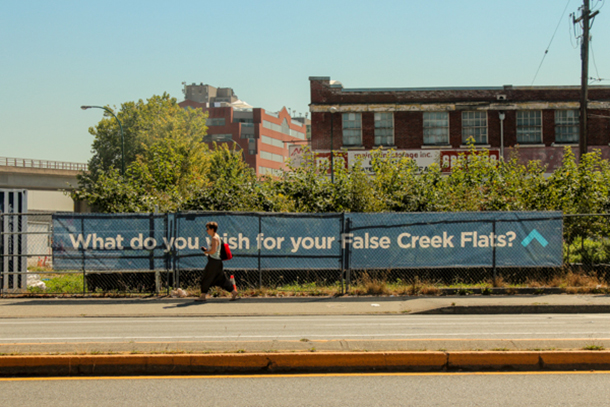 But there's a fear now that development enthusiasm for former industrial areas might get too hot.
"We think we live in a post-industrial city and think we don't need industry," says Peter Hall, an associate professor of geography and urban studies at Simon Fraser University. "That's just wrong."
Hall's research on port regions stems from growing up and living in two -- Cape Town and the San Francisco Bay -- before moving to a third, New Westminster. He cautions against looking to industrial land to "solve real problems we have in the housing market."
New properties might be coveted for being near the water, but that's also where the best industrial land is, Hall notes, because it tends to be well connected to rail and marine as well as highway access. He says housing can be built almost anywhere, but industry isn't as flexible.
Hall believes it's in the city's interest to keep industrial land cheap to attract investment. Targeting that same land for commercial, mixed or residential development drives up the price of land available for industry. "It's a self-fulfilling prophecy," he says. "When developers decide pieces of industrial land are in play, it becomes a part of the speculation cycle."
The dispossessed
Roanna Zee has lived in her East Vancouver neighbourhood near the port for over seven years. She didn't give her age, just saying she's "not part of the younger ones."
Zee and her partner rent. Their rent hasn't gone up, but she fears it will in the near future as development intensifies. She's concerned what that will mean for those already struggling to make ends meet. Affordable housing in Vancouver is hard enough to find now, and the streets around the port are home to many artists, low-income residents, middle-class families and longtime businesses.
"Just looking at Vancouver's history and how quickly the old is forgotten and the new is embraced, we can only assume that attitude will fill this area," Zee says. She does her part by supporting local businesses.
It's happening already in Railtown, according to Wes Regan, executive director of the Hastings-Crossings Business Improvement Association. Regan says rents in that area began going up as soon as it started to become popular for entrepreneurs.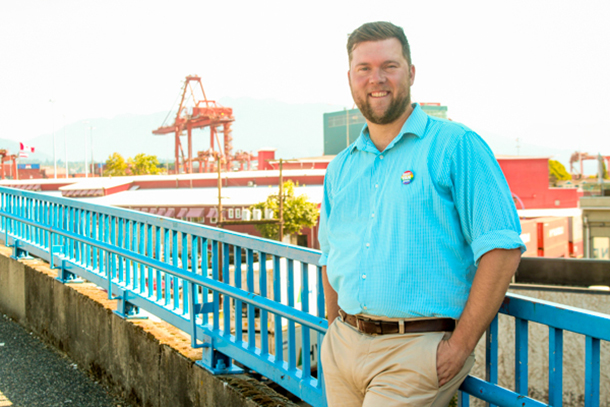 Regan is concerned for his neighbourhood's low-income individuals, but also sees opportunity. He hopes incoming employers will offer some of those residents culturally appropriate jobs, or pick up on the sympathetic culture of many existing mom-and-pop businesses that, he's heard from poorer residents, will run a tab or offer cheaper coffee to someone who needs it.
It's important to "make community a personal thing," Regan says. "We can't allow blanket gentrification. We want the retail mix to reflect the social mix for the neighbourhood."
For his part, SFU's Hall wants Vancouver to "hold the line" against the conversion of industrial land, especially land in critical port and transportation corridors.
In a city closed in by water and the mountains with nowhere left to expand, Vancouverites can probably expect the fight over industrial land to get a lot hotter before it cools down.