Kendra Morgan drives slowly along a serene, freshly-paved road that cuts through wetlands, stopping at Chilliwack's new tunnel for migrating Western toads.
The structure was completed in late June underneath a section of Elk View Road as part of the Fraser Valley Conservancy's Ryder Lake Amphibian Protection Project.
"They're smaller than a dime," said Morgan, project coordinator for the conservancy, of the young amphibians affectionately dubbed "toadlets."
Locals have a hard time seeing the pebble-like toad babies on the three roads that cross between the wetlands where the toads breed, and the woods where they live.
For the toadlets, as well as similar at-risk species like Northern red-legged frogs, a cross-pavement quest can quickly turn deadly.
That's why researchers like Morgan are testing out the new underground tunnel for the travelling toads.
A human-made solution to urban-wildlife conflicts, it's one of over 100 similar "ecopassages" built since Alberta researchers began experimenting with national wildlife crossing structures in the 1980s.
Toad problems
Under normal conditions, up to 99 per cent of juvenile Western toads do not survive to adulthood, and deaths due to heavy traffic in the area are overwhelming the remaining one per cent.
Amphibians have thin skin, which makes them vulnerable to toxins. But they also offer excellent clues to overall environmental health and human health to come.
"They can be classified as indicator species," said Morgan. "[A] canary in the coal mine kind of idea."
Western toads are listed as a species of special concern in British Columbia due to significant declines in populations, making them at risk of endangerment.
In 2007, concerned landowners around Ryder Lake approached the Fraser Valley Conservancy about what they could do to reduce the deaths.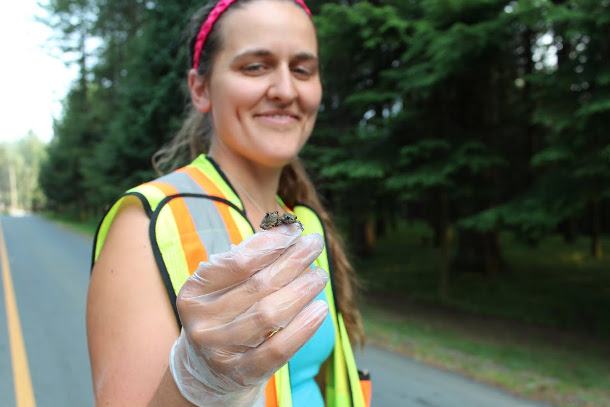 In 2008, the conservancy organized volunteers into ice cream bucket "toadlet brigades" to carry the toadlets across roads.
About 40,000 were saved that year, but not without issues of toad direction-disorientation and incidental tramplings.
Many toads were seen hopping back the wrong way, while conservancy members developed toad tunnel vision after several hours of rescue, causing accidental deaths.
The Fraser Valley Conservancy began conducting road surveys in 2010 to determine the toads' most used routes.
At the time, funds were not available to build the tunnel. So to reduce the number of toad deaths, the conservancy redirected traffic through road closures in 2010 and 2011, and suggested alternate routes for local traffic from 2012 to 2014.
"The road was moving in a sea of black," said Morgan of the many migrating toads, adding that it became clear a more permanent, sustainable solution was needed.
Tunnel vision
For the Fraser Valley Conservancy's work, Morgan used research from Ucluelet's SPLAT (Some Poor Little Amphibians Trampled) Project, an amphibian roadkill mitigation effort.
After studying peak amphibian crossing points along highways, SPLAT biologists began adding plastic fences in areas with high volumes of amphibians, then trapping them to carry across in the morning.
The B.C. Ministry of Transportation built a crossing structure in 2011 north of the junction between Ucluelet and Tofino based on SPLAT surveys. The Habitat Conservation Trust Fund and Environment Canada funded monitoring to gauge how well it worked.
"We've seen enough evidence that Northern red-legged frogs will move through these culverts quite easily and readily, and expect the same will be true for Western toads," said SPLAT founder Barbara Beasley.
This past year, the Fraser Valley Conservancy worked with Lafarge Canada Ltd. and Environment Canada to develop the Ryder Lake amphibian tunnel in Chilliwack. Initial plans were for four crossing structures, but funding and site constraints meant that there were only enough resources for one tunnel this year, at an estimated cost of $120,000.
Mark Johnson, spokesperson for Environment Canada, said that they have been working closely with other federal agencies and provincial governments to fund eco-initiatives like wildlife crossings.
"Properly designed and maintained, migration tunnels can have a positive effect on the persistence of local amphibian populations," Johnson said.
The Chilliwack crossing could not have happened without the donation of tunnel materials by the Langley Concrete Group, and the construction work by Lafarge, which took place over four days.
Organizations like Vancity and TD Friends of the Environment Foundation donated money for other aspects of the project, including fencing features added to direct toads to the structure.
Without the tunnel's fencing, toadlets have been known to play follow the leader in the wrong direction.
"Last year, there were thousands of dead toads there at that spot," said Morgan of the Elk View Road tunnel site, which now looks pristine, especially in comparison to the adjacent Huston Road.
Morgan drives over to the tunnel-less Huston Road and pulls in to walk up the paved path, dotted with the small, dark forms of lifeless Western toadlets.
Results for this year's number of successful toad crossings are being tallied through time-lapse photos, road surveys, and plot monitoring, and should be compiled over the next few weeks.
A growing trend
"Ecopassages," including many different sized tunnels and bridges, are springing up all over the country as road crossing solutions for various wildlife species, not just amphibians.
Ontario's first wildlife overpass was constructed in 2011 by the Ontario Ministry of Transportation at Highway 69 near Sudbury to provide safe crossings for larger animals like deer.
Eco-Kare, the company responsible for monitoring the Sudbury project, has data showing at least a 50 per cent decline in all wildlife-vehicle collisions, with deadly moose-vehicle collisions almost completely stamped out.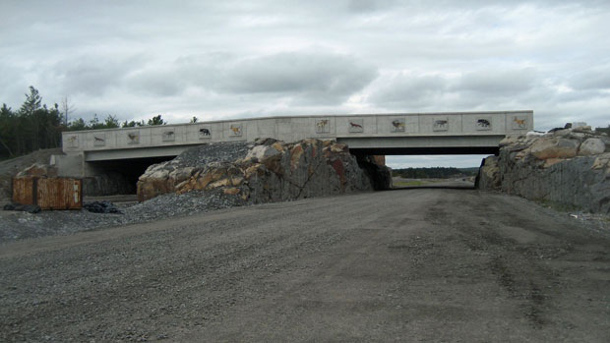 "The wildlife crossing structures add connectivity in [an urban] landscape, especially on roads with high traffic volumes that can become barriers for wildlife," said biologist and founder of Eco-Kare, Kari Gunson.
Tunnels for turtles were also implemented in 2012 along Highway 69 in Burwash, Ont., but Laurentian University research suggests that holes in the fencing reduced its effectiveness.
The turtles used the structures irregularly, pointing to a need for sturdier fencing features and further consideration of intended user behaviour.
Looking ahead
Crossing structures need to be tailored to site and species, making the design and construction of ecopassages a learning process.
The Ryder Lake tunnel construction had to be delayed for two weeks due to conflicting gas and phone lines, requiring an adjustment to the tunnel's location. Meanwhile, toads started crossing early because of the Lower Mainland's unusually warm temperatures this spring and summer, causing workers to scramble.
Plans for improvements are already underway, including the proposed installation of temperature gauges and a humidity monitoring system to provide further tunnelling toad intel.
Morgan said extra fencing, cover features, and hiding spots for toads within and around the tunnel may be added to deflect possible predators.
The Fraser Valley Conservancy has also looked to Nakusp, B.C. for inspiration. The town's annual Toadfest at Summit Lake takes place Aug. 12 to 13 this year, and engages the public on actions taken to help Western toads, including the monitoring of three under-road amphibian crossings.
"It's been really beneficial for community awareness," said Angus Glass, communications coordinator for the Fish and Wildlife Compensation Program, which organizes the event.
If data supports the conservancy's project, Morgan hopes that the City of Chilliwack might consider replacing culverts that need repairs in a more toad-friendly way.
These toad-tunnel projects have the potential to educate the public on issues like habitat fragmentation, while raising awareness among city drivers.
"In your car, it's a pretty isolated space," said Morgan, survey equipment in hand. "Putting in something [like a tunnel], it's a good reminder of what can be impacted by us."