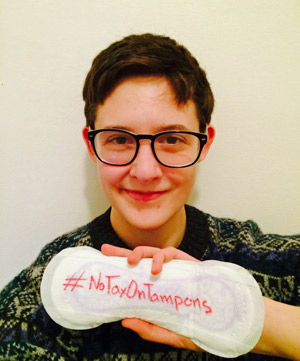 It's an uncomfortable conversation at first, but once a tax exemption on menstrual products is in place, you won't even notice it's there.
That's the tongue-in-cheek messaging Jill Piebiak and Kathleen Fraser have packed into a petition calling for Canadian tax law to reclassify tampons as "essential" medical devices like contact lenses or adult diapers. The campaign supports NDP MP Irene Mathyssen's private member's bill to drop GST on all things "that time of the month." Since January, the petition has amassed over 50,000 online signatures, fuelling similar debate in France, the U.K. and Australia.
While it may read like a fun ad parody, the petition points to a serious barrier for low-income women. The Winnipeg Free Press recently ran a story about a local food bank receiving 6,909 requests for menstrual products, with only 125 of them filled.
"Women in Canada have an income gap of 19 per cent, and there are higher rates of poverty and homelessness," Fraser explains. "We're earning less and facing more challenges."
The government doesn't charge federal sales tax on goods and services deemed "essential." Houses, groceries and medical items already fall under this category. A growing list of Canadians agree the definition should include tampons, pads and other menstrual hygiene products -- but tabling the idea in Parliament has proven no easy task.
The Tyee reached Piebiak and Fraser via Skype to chat about the challenges they face getting Stephen Harper to talk about periods.
Greetings fellow menstruators. How did you first get acquainted with Canada's list of "essential" tax-exempt products?
Kathleen Fraser: "I'm from B.C., and during that brief shift to the HST and then back to GST, I encountered the weirdness of tax being exempt on some books and not others. I did know a little bit, but I didn't really understand what made things exempt or what categories were considered 'essential.'"
Jill Piebiak: "I've talked about the GST charge on menstruation products for a long time. It's something that I've always been frustrated with.... As we began to write the petition I became really familiar with the Excise Tax Act and read all the different ways that things become exempt."
Essentials such as basic groceries and assistive medical products are supposed to be GST-free. What other kinds of products are exempt?
JP: "In the petition we talk a lot about chocolate chips, maraschino cherries, wedding cakes. We've also mentioned human sperm.... In a more serious manner, we talk about medical products like contact lenses or walking devices and incontinence products -- all these things that we need to live a public and productive life in Canada. We think about menstruation products the same way: these products have to be bought by half the population for most of their life to be productive in society."
You've made a playful case against taxing menstrual products. Was having fun always on the agenda?
JP: "Definitely. I think in a way we almost have to be -- periods aren't something people like to talk about. We're kind of blessed by the fact there have been so many obnoxious ads for menstruation products in the past. We just run with that theme. That's how people are comfortable seeing it, so we've used [ad tropes] as a tactic."
How much is it costing Canadians to menstruate?
JP: "We do have some research that was provided to us by the parliamentary library about how much women spent in the last year.... It's about $519 million spent, and about $36 million in taxes collected."
You posted the petition in January, and so far it's received 52,000 signatures. Was this the response you expected?
JP: "Well 50,000 was our goal. We said right from the beginning if we're going to do it, let's set it high. To be honest, it happened way faster than I thought it would, so that was incredible."
What are some of the misconceptions you've encountered in explaining this project?
JP: "I've seen, 'Well then, we should not tax toilet paper' in comment sections on news sites. 'We need toilet paper, so why should we change the tax law?' I think these products are different. It puts an unfair tax burden on people with a particular biological characteristic. It's a non-optional tax that really only affects half the population."
KF: "This particular tax also affects people who already face financial burdens. People with periods tend to be paid less, tend to face poverty more. While it might be a small change for the government, $36 million for those populations is really something."
If you could directly respond to somebody who says you're asking for a frivolous freebie, what would you say?
KF: "I would respond that it's a discriminatory tax. It really demonstrates the priority of this government in terms of who is an important part of public life and who is an important part of tax law. If the government really values people with periods, I think it would be something to consider."
JP: "I would highlight the government does believe that medical products should not be taxed, and menstruation products do exactly the same things all these other medical products do. These items are not a luxury in any way. We don't have a choice whether we buy them or we don't."
You're now asking folks to print and send hardcopy signatures to Irene Mathyssen's office. What's that about?
JP: "As we did more research we found there were a couple of private member's bills that had been brought forward in the House of Commons but had never been passed.... We don't have any hard deadlines quite yet, but we're aiming to table [the petition] in the House of Commons in the spring. Our goal is for this bill to be brought for debate before the writ is dropped."
What do you think Stephen Harper would say?
KF: [Laughs] "I would be thrilled if he said anything, honestly."
JP: "Me too, it would be great if he said he'd think about it."