Suspended 436 metres above the Whistler-Blackcomb valley bottom by two 56-millimetre cables, professional snowboarder Marie-France Roy eyed the mountains and contemplated their melting future.
She couldn't shake the feeling she was looking down the rocky side of a different kind of peak -- peak snow.
"I'm worried that the next generations won't have it nearly as good as we did," Roy said, gazing at the slopes she fell in love with a decade ago. "I don't like to be a pessimist, but it could be really bad."
This was a soggy December day at Whistler-Blackcomb ski resort, and the rain wasn't helping the meagre 50-centimetre early-season snow base. Despite the high elevation, the air temperature in the Peak 2 Peak gondola was relatively mild, the skiers and boarders inside lightly dressed.
Roy, who's lived in Whistler for the past 10 years, first hopped on a snowboard at age 11. Early in her career, in 2004, she won the best trick competition at the U.S. Open Rail Jam, followed by rookie of the year accolades in 2005 from Transworld Snowboarding magazine. She has since participated in many snowboard videos, which have taken her across the planet.
For the past three years, she's worked with Protect Our Winters (POW), a non-profit organization founded by snowboarding legend Jeremy Jones that unites people in the snow sports industry in the fight against climate change.
Roy is concerned about how a warming climate will affect the sport that has given her so much. "It might be really brutal," she said.
Big employer
While climate change will have far direr consequences than harming the quality of recreational snow sports, the industry is a major economic force that provides a livelihood for 12,000 people in the province. B.C.'s 85 ski areas bring in $600 million in revenue annually, and mountain resorts make up approximately eight per cent of total tourism revenue in B.C., according to Destination B.C.
Indeed, British Columbian ski resorts are already bracing for a warmer future. According to the science, freezing level elevations will rise, reducing and in some cases eliminating snow-covered terrain.
Precipitation that once fell consistently as snow will transform into rain, especially on the coastal mountains.
Rare weather events such as dry spells and warmer storms will occur more frequently.
All of this could have serious implications for the province's snow sports industry, as revenue too begins to melt away.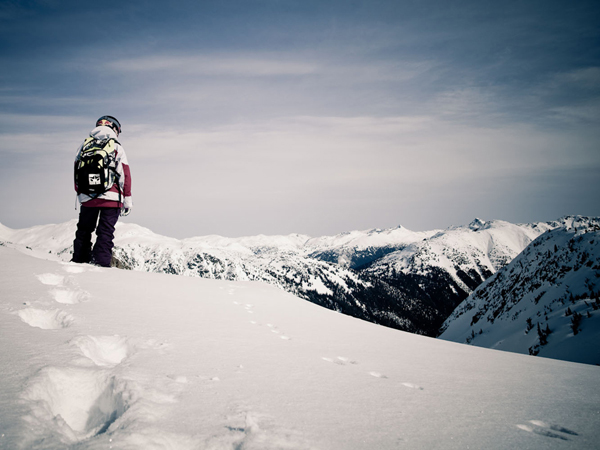 The world-class Whistler resort has worked to insulate itself from the effects of climate change for some time now. The Peak 2 Peak gondola was built in 2008 and connects the 4.4-kilometre gap between Whistler and Blackcomb. It was built, in part, to prepare for a future with less snow. As temperatures rise, lower elevation areas will receive less snow, requiring access between the mountains that doesn't require going down to the base.
"We are designing our infrastructure in a way that if we see less snow in the future, we're very much prepared for that," said Arthur De Jong, Whistler-Blackcomb's mountain planning and environmental resource manager.
While resorts are doing what they can to prepare for an uncertain future, the reality is that many smaller mountains will not be able to maintain a viable business that focuses primarily on snow sports.
'There is no pattern'
It's already getting hotter on B.C.'s local ski hills. According to a City of North Vancouver report from September 2013, the minimum January temperature at Grouse Mountain increased at a rate of 0.8 C per decade between 1951 and 2000. A continuation of this historical trend would see winter temperatures rise to their warmest modelled scenario, approximately 2.7 degrees higher by 2050.
This will have obvious implications for the consistency of snow cover and maintenance of full-length seasons. Vancouver Island's only ski resort, Mount Washington, pushed back its planned December opening last year to Jan. 11 due to a lack of early season snow and missed the lucrative Christmas season. Two years earlier, however, it had a 250-centimetre base by Nov. 26.
"The pattern is that there is no pattern," said Don Sharpe, director of business operations and marketing at Mount Washington. "We've looked at what we've got going on in terms of when snow comes, when it doesn't come, when it's warm, when it's cold, and there's no pattern. It's all over the place."
While Mount Washington has a policy to reduce its impact on the environment, including an anti-idling policy for vehicles and a staff bus service to reduce vehicle traffic, it doesn't have any specific strategy for dealing with how a changing climate might affect its business.
"We just manage our business as best as we can and that's all we can do," Sharpe said. "It's like being a farmer."
Mount Washington finally opened on Saturday, but with a limited number of runs.
A blanket for a glacier
Up at Whistler, Roy's seen changes on the hill over the past decade. For example, Horstman Glacier is open for skiing and riding from mid-June to late-July, providing terrain park access through the summer. Roy remarked that in previous years, the blue glacier ice under the snow would start to become exposed by the end of July as the season wound down. But last year, the ice was exposed much earlier.
"It wasn't even halfway through the summer, and you could see the full-on glacier and rocks everywhere," Roy said. By the end of the season, there were only small patches of snow left connecting the terrain park features together, she said.
In addition, the bottom of the T-bar had to be moved higher up the glacier than in previous years, as there was no longer ice at the bottom to support skiing and riding, she said. "You can't deny it," she said. "That I've noticed from my own eyes in my backyard."
To combat the disappearance of the glacier, Whistler recently began using "glacier blankets" on Horstman Glacier. For the past three years, workers lay a white protective covering on top of the glacier in critical areas at the beginning of August, which stays on until the first snowfall. The blankets have improved summertime snow retention by limiting the direct radiation that hits the snow, De Jong said.
Heavy impacts on the snow industry don't just affect skiers and snowboarders. The $600-million industry is a major part of B.C.'s tourism, providing 12,000 jobs. Reduced snowfall would undoubtedly eat away at these numbers.
Coastal slopes face biggest risk
Big economic-boosting events also suffer. During the 2010 Vancouver Games, Cypress Mountain infamously had to ship in snow from elsewhere in the province. Four years later, Sochi faced similar problems.
And while a changing climate will have global impacts, they will not be felt equally in all regions, or at all elevations. Within B.C., some resorts have more to worry about than others.
David Lynn is the president and CEO of Canada West Ski Areas Association (CWSAA), a trade organization representing the ski areas of western Canada. The resorts in the association face differing degrees of risk from climate change.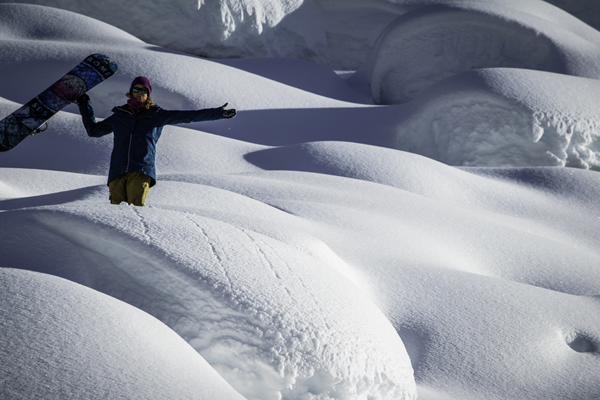 "If you're at a resort on the coast where your temperatures tend to hover around zero, you have a lot more significant risk going forward than if you're at a resort where your typical mid-winter temperatures are -20 C," said Lynn.
Coastal mountains with lower elevations are most susceptible to poor conditions. While the ocean brings with it more precipitation, this will fall as rain more often than snow.
According to a document Whistler's mountain planner De Jong released in 2013, "Models show that [Whistler] can sustain skiing with temperature changes of up to three or four degrees Celsius" due to the mountain's 1,500-metre vertical rise.
What about creating snow?
That doesn't mean Whistler isn't preparing for change. In addition to building infrastructure that takes advantage of higher elevation, resorts are increasingly relying on man-made snow. When temperatures dip below zero, water is sprayed into the air and falls to the ground as snow. Many resorts now use this technique during the early season to ensure there will be something on the ground for Christmas holidays.
"In the last three years, we've doubled our snowmaking capacity," said De Jong. "It's like buying insurance. It gives us the reliability to offer our ski-out to the bottom of the mountain through the entirety of our season."
Snowmaking is no fix-all solution, though. The process is energy intensive and requires large supplies of water. Snowmaking currently makes up approximately 30 per cent of Whistler-Blackcomb's energy costs. As Lynn of CWSAA points out, "You do need sub-zero temperatures to take advantage of your snowmaking investments."
Another option to keep resorts afloat is to offer a more diverse set of activities. "Diversification is all about developing experiences that do not rely on snow," Whistler's De Jong explained. "For us, summer is becoming an increasingly important part of our business model, no question."
Whatever their efforts, resorts must contend with fast-coming change. Michael Pidwirny has studied the future of resorts through climate modelling, based on a number of Intergovernmental Panel on Climate Change emission scenarios. The University of British Columbia Okanagan associate professor of physical geography said that climate change's most significant effects on local mountains could be just over the hill.
"For Cypress, we expect a 40 per cent drop [in snowfall] by 2050 and a 60 per cent drop by 2080," Pidwirny said. "Whether it's 35 years into the future or 65 years, sometime in that period, it's just not going to work for them anymore." His models show similar fates for Grouse Mountain and Mount Seymour.
Back on the hill, Roy reflected on her snowboarding career, which has taken her across the globe. While quick to point out that she's not a scientist, she said she's heard locals everywhere, in places such as Japan, Australia, Europe and Chile, tell of the same remarkable environmental changes she's witnessed at Whistler.
"I feel like we hear the same story everywhere we go," Roy said. "People say it's not what it used to be, it's changing."
For more information on Protect Our Winters visit protectourwinters.org and to see Marie-France Roy's climate change themed snowboard video, The Little Things, go here.
Please note our comment threads will be closed Dec. 22 to Jan. 5 to give our moderators a well-deserved break. Happy holidays, readers.