On Derek Corrigan's desk sits a wooden slingshot, a gift from a Burnaby resident to the mayor at the centre of an increasingly heated battle with Kinder Morgan.
''It's a David and Goliath analogy,'' he says, turning the weapon over in his hand. ''I guess I'm David.''
Against Corrigan's wishes -- and despite several ongoing city legal challenges -- the Texas pipeline giant conducted exploratory drilling deep into Burnaby Mountain Conservation Area last week, sparking more than 100 arrests this week under a court injunction protecting company workers.
On Thursday, those civil contempt charges were thrown out after a judge agreed Burnaby RCMP made the arrests outside the boundaries of a court order; he also rejected Kinder Morgan's attempt to expand and extend the injunction to Dec. 12, so the firm must be out of the park by Monday.
Nearly two weeks into Corrigan's third victory for the mayor's seat, the outspoken civic leader sat down with The Tyee to talk about what's really behind his fight against the pipeline -- and what's ahead.
He said the struggle is not just against Kinder Morgan's $5.4-billion Trans Mountain expansion, which would see the existing pipeline's flow from Alberta's oil sands triple to 890,000 barrels a day.* On a deeper level, it's about regaining democratic control over government institutions ''meant to protect us,'' Corrigan said.
Case in point: the National Energy Board, the federal regulator tasked with reviewing the proposal to expand the Trans Mountain pipeline to its Burnaby terminal. Recent federal legislation restricted public input into board hearings and ended the ability to cross-examine proponents.
''It doesn't surprise me that people's frustrations are coming out in the kind of protests we're seeing,'' Corrigan said. ''The reason the National Energy Board is in this position is because no one trusts its decisions; no one believes it is objective or impartial. That, to me, is the fundamental problem: when people lose faith in their institutions, serious problems follow."
Earlier this year, Corrigan told media he was willing to lie down in the path of a bulldozer if the project was allowed to go ahead and his legal challenges failed. A few Burnaby Mountain demonstrators this week grumbled about the apparent gap between Corrigan's fighting words and his absence from the activist front lines.
Asked if he stands by his original vow, the mayor back-pedalled, insisting his discussion of bulldozers was meant to be symbolic, a sign of his faith in the court battles ahead.
''There may not even be a bulldozer used in regard to how they approach this pipeline,'' he said. ''It is a symbolic matter of 'how far will you go to try to deal with the issue?'… I don't want to be put in a situation where we reach the stage where it's hopeless.''
His battle against Kinder Morgan's preliminary work is headed to Canada's highest court, and he's also fighting the National Energy Board's right to override city bylaws.
But the pugilistic mayor's growing confidence is tempered by the limited powers held by municipalities in Canada. Because of that, some call his protests merely quixotic -- tilting at borehole drills.
Cities have no protected status or role under the country's constitution. So if a municipality like Burnaby doesn't want a pipeline -- or if Vancouver rejects oil tanker traffic -- neither actually has any say over the matter.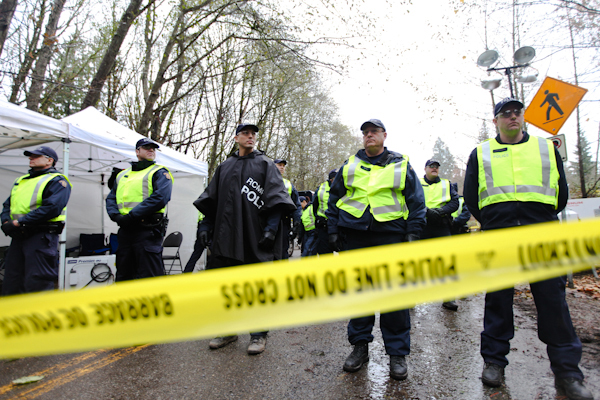 Like Corrigan, Vancouver's Mayor Gregor Robertson was re-elected Nov. 15 with an anti-pipeline stance. Robertson faced criticism from his Non-Partisan Association opponents who accused him of ''disingenuously'' campaigning on matters outside his jurisdiction.
''Municipalities are creatures of the province in our constitution,'' explained Simon Fraser University political scientist Patrick Smith, who researches metropolitan governance and local democracy. ''The silent player here in all this has been the province.
''It's not the federal government that can wipe out a municipality if it wants to… The feds have less capacity to whipsaw municipalities into submission if they need to.''
BC government 'abdicated': Corrigan
If anything, the province's silence on Kinder Morgan has galvanized Corrigan's resentment over having his wishes bulldozed.
''The provincial government has abdicated its responsibility,'' he lamented. ''They've simply thrown us to the wolves as far as the federal government is concerned.''
The B.C. government should enforce its own environmental assessments of Kinder Morgan's proposal and stand up for municipal land use bylaws, he urged.
Robertson agreed the province could help change the equation, though his tone was more diplomatic.
''It would be very helpful to see leadership from the B.C. government on this,'' he said in a phone interview. ''The most constructive, immediate call the province could make is that this National Energy Board hearing process needs to change dramatically. It's clearly not an open and fair process. The B.C. government needs to stand in our corner on this.''
Robertson admitted it has been ''very challenging'' to ''push back'' on the Kinder Morgan proposal, given the thorny jurisdictional issues with the province and feds.
''We're being stymied … which is incredibly frustrating,'' Robertson complained. ''But it is difficult given the archaic laws of Canada and the constitution not recognizing local governments.
''I'll be very interested in seeing what happens with the constitutional challenge from Burnaby, because obviously it has massive implications for local governments across the country.''
Preserving Chevron jobs
Another less discussed factor in the Burnaby equation is the city's existing Chevron oil refinery on the shores of the Burrard Inlet -- next to Kinder Morgan's terminal and oil tank farm. Corrigan acknowledges the refinery plays a role in his opposition to Trans Mountain.
Several years ago, Chevron applied to the National Energy Board for a guaranteed supply of oil to its plant, Corrigan recalled. He even spoke to the board in favour of the proposal.
''It's ridiculous that we're not refining [more] oil in our own country,'' he explained. ''In the case of the Chevron refinery…there's a lot of jobs in our community as a result of that -- a few hundred.
''We want to make sure those jobs… continue for the people working in that field.''
By contrast, Kinder Morgan is predicting that, once complete, the Trans Mountain expansion will create 50 full-time jobs.
But the National Energy Board rejected Chevron's application despite Corrigan's endorsement. He said he fears that continuing the drive towards exporting unrefined bitumen overseas will put local jobs at risk. Unifor, the union representing refinery workers, has also come out against Trans Mountain.
''How can one have the economic interests of a country determined by a marketplace that consists of profitability for multinational corporations?'' Corrigan asked. ''That is not a plan. That is simply exploitation.''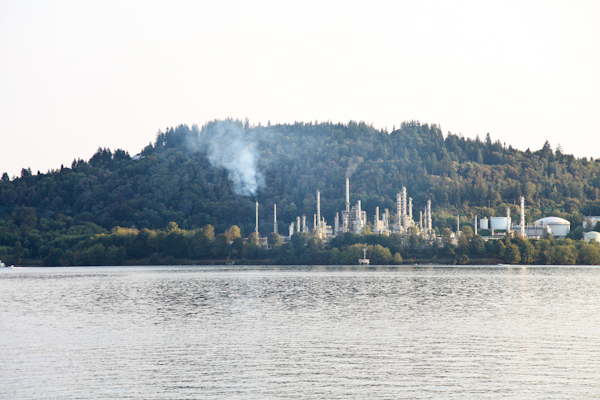 Asked if he ever feels it's hard to compete with Corrigan's tough talk about bulldozers or his recent proclamation ''this is going to be a war,'' Robertson laughed. There's still a distance to go in the road ahead, Robertson said; he's choosing the path of endurance.
''It is a marathon,'' he said. ''We need to be sure we're pacing ourselves and ready to deal with every twist and turn in the path. We just gotta make sure that we're using the tools we have at our disposal in Vancouver.''
Pushed on whether he'll be blocking tankers on a paddleboard at any point in coming years, Robertson dodged with another chuckle. ''Whatever makes a difference at that point,'' he quipped.
Given the pipeline's centrality to Corrigan's campaign, his landslide re-election has ensured the Burnaby mayor has both the legitimacy and leeway to carry forward on his promises, Smith argued.
''He made it his issue and coasted to a third complete sweep of school board and council,'' he said. ''What he can actually do is another matter. In practical legal terms, a city or municipality has rather limited capacity to stop things. At a minimum, it's to delay this to the point where it's problematic to the National Energy Board and Kinder Morgan.''
But for Corrigan, the issues go well beyond one project, company or regulator. ''This is a battle worth fighting'' for more than just reasons for climate change or peak oil, he said.
Corrigan's war is over enlarging the power of cities.
''It's an issue that will affect municipalities right across Canada,'' he said, ''and the ability of local governments to be able to uphold their citizens' interests against the interests of multinational corporations under the auspices of the federal government.''
Corrigan feels he's in the right place at the right time to set the stage for a historic showdown over cities' short end of the constitutional stick.
As our interview ends, Corrigan reaches across his desk. He calmly picks up his slingshot, clasping his thick hand around its light brown handle, grips the pocket, and stretches its rubber tubing back across his chest.
''I think other cities are going to join with us and we're going to demand a new deal,'' he said. ''I'm stepping up because I think I'm capable of continuing this argument in a forceful way -- to change the way things are.
'If not me, who?''
* Story corrected Dec. 4, should read "barrels every day."