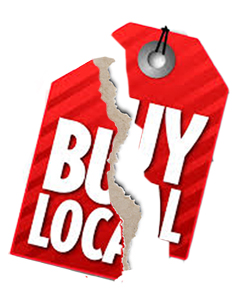 If one country is negotiating a treaty with a union of 27 countries, you might think that those 27 countries would have by far the most people in the negotiations. Not true for CETA: In some negotiations of the free trade deal between Canada and the European Union, Canadians have greatly outnumbered Europeans, one participant told the Tyee.
The reason Canada sent so many people is that the provinces have a say in CETA, and they will be heavily affected by the deal. The treaty will open up public procurement not only at the national level, but also at the provincial and local level. CETA is going much further in this regard than any previous trade agreements signed by Canada.
The outcome isn't what the provinces and municipalities had hoped for. CETA will likely severely crimp if not end "buy local" strategies at all levels of government in Canada.
Many local governments and municipalities have used public tenders to foster a stronger local economy, requiring, for example, that winning bidders employ people in the region. Or governments have tried to strengthen the local food movement, as the city of Toronto does with its local food procurement for public child care.
But with CETA in place, it won't be possible to favour local suppliers when governments buy. Under the rules of free trade, European companies must not be discriminated against.
Thresholds vary
The final documents that leaked yesterday give the outlines of the procurement process, but the crucial details are in the appendix which hasn't yet been published. But inside sources have revealed to the Tyee the precise thresholds, above which tenders will have to follow the CETA rules.
The thresholds above which CETA rules will apply vary depending on the business sector and on the level of government. And they are so low that the lion's share of public contracts will be covered. In the final CETA text, the thresholds are written in the international currency SDR (Special Drawing Rights), a currency the International Monetary Fund uses. In construction, the threshold is set for all levels of government at 5 million SDR, which equals $8.3 million in Canadian dollars.
For other procurements, the threshold for national governments is $130,000 SDR ($217,000 CAD). For provinces and publicly-owned companies the thresholds vary. On average, they are at $200,000 SDR ($335,000 CAD). For local governments, the threshold is the highest at $355,000 SDR ($593,000 CAD).
The CETA deal does not allow splitting contracts into smaller amounts to circumvent the rules. The authors of the text have included a specific clause to prevent such behaviour.
Furthermore, Canada has to establish a common IT platform on which government, provinces and municipalities must list their offers. That might produce additional costs for Canadian governments, but will on the other hand foster transparency in the bidding process. This provision is meant to combat corruption.
The logic driving the opening up of local procurement to bidding by European firms is that it could result in lower costs to taxpayers.
Under the final wording of CETA just leaked, environmental or social considerations can be applied to procurement contracts by public institutions, which still could ask specifically for an environmentally-friendly produced product, as long as the requisition doesn't state that the product has to be local.
The same is true for social considerations. It would be perfectly fine with CETA to require the supplier to include a certain percentage of women or minorities in their staff, though it won't be possible to hire specifically "local" or "Canadian" people.
Water utilities exempted
Water resources are explicitly exempted from CETA, which states: "Each Party has the right to protect and preserve its natural water resources and nothing in this Agreement obliges a Party to permit the commercial use of water for any purpose, including its withdrawal, extraction or diversion for export in bulk."
This may comfort those who worried CETA would force privatization of public water utilities. Consider, however, this further provision: "Where a Party permits the commercial use of a specific water source, it shall do so in a manner consistent with the Agreement."
In other words, once a water utility has been privatized by a Canadian government body, it will be hard to make it public again, because then comes into play another highly controversial part of the CETA treaty, investor rights provisions that would drive up settlement costs.
There is also the question of what happens once water is bottled and used in a commercial context.
In this regard, CETA has fulfilled the fears of many opponents, said Garry Neil, executive director of the Council of Canadians. "Water isn't really protected under CETA," he told The Tyee. "Once a government allows water to be bottled, it's no longer protected."