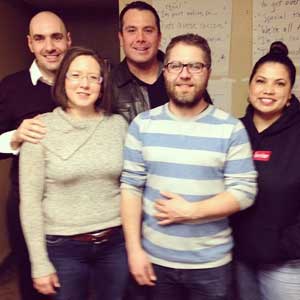 When Jana-Rae Yerxa and Damien Lee organized the first #SettlersinSolidarity teach-in in Thunder Bay this June, they expected the lightly advertised event to draw a handful of attendees.
To their surprise, they found themselves in front of a roomful of more than 40 participants.
"You could tell that people were just hungry to have a different conversation about racism," says Yerxa, who is Anishinaabe from the Couchiching First Nation.
What Yerxa and Lee thought would be a modest beginning has developed into a loose network of non-Indigenous Thunder Bay residents coming together to educate themselves in the wake of several months of heightened racist commentary in mainstream and social media.
In Thunder Bay, Vancouver and other locations, non-Indigenous Canadians are meeting together in growing numbers to explore what it means -- and doesn't mean -- to stand in solidarity with Indigenous peoples within Canada. Events like Idle No More, Missing and Murdered Indigenous Women campaigns, Indigenous protests against extractive industries and increased racist sentiment in places like Thunder Bay have brought awareness of the need for understanding and action on the part of many of these participants, organizers say.
Settlers in solidarity
Following the October 29, 2013 burning of the James Street Swing Bridge connecting the city of Thunder Bay to the Fort William First Nation, some Thunder Bay residents took to social media expressing racist views related to the incident.
This spring, then-Thunder Bay-Superior North Progressive Conservative party candidate Tamara Johnson ran in the provincial election on a single-issue platform that apparently singled out Indigenous people as recipients of 'unfair' advantages. She was later dropped by the Ontario Progressive Conservative party, but ran as a Libertarian. Her political ad in the Thunder Bay Chronicle-Journal caused another outpouring of sentiment on social media, much of it targeted at Indigenous peoples.
After writing an open letter to Johnson and being invited to speak on CBC radio on the issue, Lee -- a PhD candidate in Native Studies at the University of Manitoba -- found himself a "lightning rod" for self-identifying white people wanting to express concern about the racism they were hearing in the Thunder Bay area.
"People were coming up to me on the street saying, 'We need to do something,'" says Lee, who is a member of the Fort William Anishinaabe First Nation. In response to the flood of emails and social media messages he was receiving, Lee wrote a two-part blog post outlining what might be done in a group of settlers working towards solidarity with Indigenous nations, and pitfalls they might avoid.
Both Lee and Yerxa are quick to point out that the real issue in Thunder Bay is not racism. Rather, racism is deployed as a tool of a larger reality -- the ongoing project of colonization that dispossesses Indigenous peoples of their lands. In fact, they point out that focusing on individual acts of racism actually masks the entrenched structural racism and the settler colonialism of which it is a part.
"We were wanting to get to the core of the problem, which is settler colonialism," says Yerxa. "It's easy for settlers to disconnect and say, 'I'm not racist, so I'm not part of the problem.'"
Lasting change comes only as individuals "recogniz(e) that the benefits you receive and the way that you are complicit and maintain those benefits both come at the cost of historical genocide against Indigenous peoples," Lee says.
Thunder Bay resident Dave Cryderman decided he needed to do something about racism in his community for the benefit of his daughter: "I can't have that around her," he says.
In connecting with Lee, he began to see that solidarity with Indigenous peoples is about more than ending racism. "[Lee's] whole dialogue is a paradigm shift," Cryderman says. "People come to the table thinking we're all Canadians and we should all be equal. But it's about a nation-to-nation relationship. We're all treaty people; we're all here on the basis of treaty with sovereign nations with their own rights and privileges. People don't get that part. They also don't get that racism is a structural issue."
Skills for solidarity
In Montreal and Toronto, small groups of non-Indigenous participants gather in houses to share dinner in front of large screens streaming LeadNow's "Skills for Solidarity" online program. Via Google Hangout, presenters share personal stories and information geared to facilitate understanding and renew the nation-to-nation relationship between Indigenous and non-Indigenous peoples. Participants across Canada submit questions via email and social media, engaging with both presenters and other participants.
The course -- which started its first segment on June 24 with 3,300 registrants and close to 400 active viewers -- runs in five segments over the summer. Anna McClean of LeadNow in Vancouver says the idea for the course was born during conversations with Idle No More activists, who expressed the need for settlers to educate other settlers on the context and history that fuels the Idle No More movement.
McClean says organizers hope the program will be a first step to individuals seeing how they are connected to and complicit with colonization -- and how they can push government to uphold their treaty obligations.
"We wanted a name that would draw people in, but we don't actually see this as about gaining a set of skills, like a toolbox," McClean says. "It's rather a process of questioning oneself, recognizing how we are complicit with and continue the unjust ways in which our society is structured."
Eric Ritskes, founder of the Decolonization: Indigeneity, Education & Society journal, raises a similar assessment of settler solidarity work. Too often, he says, the assumption is that a lack of information is the problem; therefore the answer is to educate people. However, he says, "Indigenous people have been pointing to the structural problems for an incredibly long time. Why haven't Canadians been listening?"
"There's a certain amount of willful ignorance -- people are unwilling to change the structures of power in a meaningful way."
Lasting change, he believes, will move beyond even shared resistance to colonialism, to envisioning what comes next ¬-- Indigenous nation-building, cultural revitalization and resurgence. A resurgence of Indigenous "ways of thinking and modes of being" is crucial because these modes are "able to challenge the underlying structures that as settlers we are so embedded in."