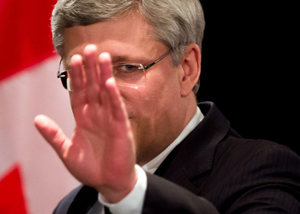 By now you've likely heard the news. Canada's federal government today approved Enbridge's Northern Gateway pipeline. "In December 2013, the Joint Review Panel found that construction and operation of the Northern Gateway Pipelines project is in the public interest, subject to 209 conditions being met by the proponent," said Natural Resources Minister Greg Rickford in a statement. "After carefully reviewing the report, the Government accepts the independent Panel's recommendation."
The decision wasn't too surprising, given Prime Minister Stephen Harper's unwavering support for heavy oil pipelines. Nor was the reaction to it: a flurry of condemnations from leading environmental groups. But in the weeks leading up to today's 'yes' decision on Gateway, and its immediate aftermath, an interesting political thesis has arisen, holding that Harper's zeal to open up Asian markets for the oilsands may cost him a majority government in next year's federal election.
"This isn't over until tankers are filling up with Enbridge's oil on the coast, and that is never going to happen," said ForestEthics campaign director Ben West in a press release. "Prime Minister Harper will likely regret trying to push this politically toxic project on B.C. in the lead up to a close [2015] election." A recent Bloomberg-Nanos poll suggested commentators like West might be correct. And so The Tyee decided to test their election thesis on UBC political science professor Richard Johnston.
Harper's vulnerability
What political price, if any, I asked him, would Harper's Conservatives pay for approving Enbridge's $6.5-billion pipeline? "Rhetorically," Johnston explained, "they are pretty vulnerable to being presented as pushing B.C. around." Almost 70 per cent of British Columbians, after all, are opposed to today's Gateway approval, suggested the Bloomberg-Nanos poll from earlier this month.* And one in five Conservative supporters in B.C. may now be less likely to vote for Harper's party in 2015.
In Johnston's opinion, such data can be used by opposition parties to portray Harper as "authoritarian." "The opposition has to hope that people have started to become fed up" with a government which rules without regard to popular opinion, he said. Yet he thinks many of the 21 B.C. seats Conservatives now hold are unlikely to shift parties based on Gateway alone. "The issue in combination with" perceptions of an unresponsive federal government could cost Harper a majority in 2015, he said.
But for that to happen opposition parties "can't work at cross purposes to each other," Johnston explained. Both federal NDP leader Tom Mulcair and the Liberals' Justin Trudeau have come out strongly against Northern Gateway. Recent Angus-Reid polling has shown both parties to be in tight competition with Conservatives for support among likely B.C. voters. Even with defecting right-of-centre voters, it's not clear if a vote against Gateway would go to Liberals or the NDP, Johnston said.
Enbridge won't speculate
What is clear is that Conservative MPs in closely held ridings could face a fierce and well-organized civil society opposition. The Victoria-based Dogwood Initiative claims to have readied canvassing teams in 31 of B.C.'s 85 ridings, and mobilized potentially 153,000 voters to vote against pro-pipeline candidates. Many of those people are politically right-wing, the non-partisan group's Will Horter said. "A third to one-half of conservative voters have deep concerns about this," he said.
"The ramifications for that in the next election are profound," he said. For now Dogwood is preparing to launch a citizen's initiative petition, like the one that defeated HST, to fight Gateway. The chances of that succeeding are "virtually impossible," Johnston said. Yet assuming that Dogwood's organizing is effective in 2015, and doesn't split protest votes too evenly among Liberals and the NDP, Johnston believes that Harper's chances of a majority could be weakened.
The next federal election is tentatively scheduled to take place in the fall of 2015, around the time that Enbridge expects to begin construction of Gateway. But in a conference call Tuesday afternoon, the company's CEO Al Monaco said he's "not going to speculate on whether or not there'll be a different government," adding, "it's not really profitable to speculate on those types of issues." What's beyond speculation, though, is that the true political fight around Gateway is just getting started.
*Story corrected June 17 at 8:30 p.m.