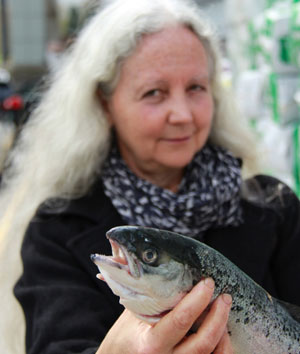 Biologist and wild salmon advocate Alexandra Morton headed back to court yesterday to push for stronger government oversight of the transfer of farmed fish into the Pacific Ocean to prevent the spread of a potentially harmful virus.
The lawsuit, filed on Morton's behalf by environmental law firm Ecojustice against the federal minister of Fisheries and Oceans and Marine Harvest Canada Inc., focuses on a specific transfer that took place in March 2013. Morton alleges that Marine Harvest transferred farmed salmon infected with piscine reovirus (PRV) to a net pen on the Fraser River sockeye migration route.
"Marine Harvest Canada has not, and does not, acknowledge that the fish transferred to Shelter Bay site (March 2013) had PRV. No evidence has been brought forward to the court to confirm this allegation," said Ian Roberts, a spokesperson for the company.
Morton believes the virus is linked to a heart disease and is concerned it could prove fatal for farmed and wild salmon in B.C.
Norwegian scientists found the virus was associated with a potentially fatal disease called Heart and Skeletal Muscle Inflammation (HSMI), which weakens the fish's heart.
"Even if it doesn't kill the fish, a wild salmon has to be a supreme athlete for its whole life, to escape predators, to swim up a river full of eggs, and you just slow that fish down and it's not going to be able to complete its life cycle," Morton said.
The Department of Fisheries and Oceans (DFO) disagrees, saying that though HSMI has been found in fish infected with the piscine reovirus in Europe, there's not enough evidence to suggest a direct causal relationship between the virus and the disease in B.C.
"PRV is not linked to any disease in British Columbia. HSMI, the disease that Morton is alleging may exist in B.C., is not found in wild or farmed fish in this province," said Roberts.
Company argues virus existed before farms
Morton said that because scientists haven't found a way to keep the virus alive outside of a fish so they can culture it, it's difficult to prove the relationship she believes exists between the virus and the heart disease.
"They can't be 100 per cent positive that PRV causes HSMI, but the scientists working with it in Norway are saying that's all they can find, and the vaccine companies are working on a vaccine against PRV to stop HSMI," said Morton.
Morton believes the possibility that the virus causes HSMI should be enough for DFO to prevent the transfer of infected fish into waters where wild salmon could encounter it.
"The way wild fish deal with very virulent pathogens is they die. And that animal is gone," Morton said. "The potential impact of salmon farms is serious and irreversible. And that is exactly what you would say about viruses -- when you let them out, you cannot necessarily recall them."
When piscine reovirus was detected in B.C. in 2010, there was speculation it had been introduced by salmon farms. But Roberts said Marine Harvest looks forward to submitting research to the court that shows that's not true.
The research he cites was conducted by Dr. Gary Marty, a fish pathologist for the provincial government. Marty's report indicates he found PRV in "archived samples from wild fish as far back as 1977 (in a steelhead trout sampled from freshwater). This was eight years before Atlantic salmon were imported into B.C. in 1985 for aquaculture purposes."
Morton said that while the question of whether the virus is exotic to B.C. is an important one, its presence in B.C. prior to the introduction of salmon farms doesn't prove it won't be harmful here.
"I can only say that PRV was natural in Norway, and [HSMI] became the number two killer of Marine Harvest fish," she said.
DFO says 'stringent' regulations in place
In the transfer in question, Marine Harvest was operating under a federal aquaculture license that gave the company the ability to make decisions about when and where to transfer salmon, a decision Morton and her legal team say only DFO should be able to make.
They allege DFO acted unlawfully by passing that decision-making power on to the company.
"[DFO officials] are the only people with a big enough perspective on what's going on in the entire fishery," said Margot Venton, a lawyer with Ecojustice.
"It's just simply not possible for one fish farm to have that broader perspective, to even have the knowledge that would allow them to really make a conservation-based decision for all of the Pacific fishery from their seat at one particular place," she said.
A spokesperson for DFO said that it has "stringent federal regulations in place... to protect Canada's aquatic species (farmed or wild) from disease," but would not comment further while the matter is before the courts.