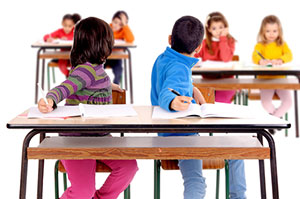 The low-income students in Anna Chudnovsky's eastside Vancouver school aren't often teased about their disadvantage -- mostly because the majority of them are in the same boat.
But they "certainly notice" the French immersion kids who attend the same school, because the French students tend to come from families with higher incomes, the Strathcona Elementary teacher said.
The dual-stream system has created what she calls a "two-tiered system in the public education program."
"It's one of the ways that eastside schools are keeping kids in the catchment," she said, adding that without French immersion, wealthier families would otherwise "send their kids to schools that [don't have] poor kids at it."
The benefits of French immersion cross cultural and socioeconomic divides. Immersion students enjoy increased creativity and an extra academic challenge. They have an easier time learning additional languages, and see increased job prospects and salary earnings.
Chudnovsky is not alone in her concern immersion creates a two-tiered system. In 2008, New Brunswick axed its Grade 1 French immersion program because the government believed it was unfair to the students left in English.
A study released by the Toronto District School Board in 2010 found students from minority, immigrant, single parent, low-income, and low-education households, as well as students with special needs, were "less likely to enrol in French immersion programs."
And a 2004 Statistics Canada study noted similar income demographics in French immersion programs Canada-wide, except for four provinces: Quebec, Manitoba, Saskatchewan and British Columbia, where no real differences were determined.
There are no B.C. stats on the student demographics in French immersion offered in 46 of the province's 59 English school districts. But overall it's a public school population that has steadily increased from just over five per cent to 8.5 per cent in the last decade.
The Tyee interviewed a number of French immersion teachers and supporters about whether the program creates a two-tiered system. While there was no consensus, what is clear is that a district's enrolment process plays a significant role in whether a low-income student enrols in French immersion. So is a parent's education level.
Wealthier students, underfunded classes
Sara Langlois is a Grade 2 French immersion teacher at Strathcona. She understands Chudnovsky's concerns, but said their school is a special case because it resides in a neighbourhood with a "critical mass" of families living in poverty.
The school, just one block away from one of the poorest sections of East Hastings Street, is affected by rapid gentrification, and the changing neighbourhood dynamics are visible in the French vs. English population.
"The newcomers in Strathcona, they have a very different background in education and also in their salary," said Langlois, "and they tend to send their kids [to] French immersion."
"I don't know how much money the families that I work with make. But the impression I get in talking to them, just knowing their daily lives, they read a lot and they are university graduated. Not all of them, but at least half of them," she said.
When Langlois, who has been a French immersion teacher in B.C. for three years, worked at Laura Secord Elementary further east in Vancouver, the story was different. It was the first time she taught core French to kids in the English stream.
"At the later years, Grade 5 and Grade 6, you could see the composition of the [non-immersion] program was mostly immigrants," she said, and mostly boys. Langlois assumed their parents were more concerned about their children mastering English or weren't aware of the benefits of knowing French in Canada.
Langlois added, however, that French immersion classrooms aren't much better off than the English classrooms at her school. Although the federal government does provide about $7 million per year for B.C. immersion programs on top of the money the provincial government provides to all school districts, it doesn't go far.
"Because the French immersion classrooms were new everywhere I worked, they were empty. There was no books, and it's hard to access good French resources in B.C.," she said, adding she knows some immersion teachers fundraise for school supplies.
"When I was teaching Grade 7s, the same text book in French was twice as expensive as in English."
Enrolment process: obsessive calls and stakeouts
The enrolment process itself plays a role in whether a student enters French immersion -- and sometimes that process can privilege the well-off.
Glyn Lewis is a former French immersion student from Burnaby, and the executive director of Canadian Parents for French BC & Yukon, a parent-led French immersion advocacy organization. Not all parents possess the same knowledge of immersion, he said. "I think that's one of the barriers to participation."
There's also a space issue: There are about 49,000 French immersion students in B.C., but another 1,000 don't get in every year because of lack of programs in their district or they because end up on a waitlist.
How decisions are made about who gets into immersion differs from district to district. Kootenay Lake makes the best of a bad situation, according to Lewis, by holding a lottery for immersion spaces. Vancouver has parents register online, while Surrey opens a registration hotline, and some families hold "calling parties," with friends and family each calling the number repeatedly until someone gets through.
Salmon Arm in the North Okanagan-Shuswap district saves seats for siblings of current French immersion students and any additional space is filled on a first-come, first-serve basis. Parents camp outside the school board office for days at a time to get their kids into the few available spots.
Lewis said any program that offers less space than the number of interested kids is unfair. But a system that requires parents to rely on family and social connections is even more restrictive. "What if you are a single parent or you don't have a grandparent in that community? Or you work and you can't [camp out]?" he said.
The federal government notes school boards could work around barriers preventing kids from entering French immersion, from transportation and distance to schools, to low-income or low-education backgrounds.
Lewis said other districts should be looking at how the Greater Victoria School District treats French immersion. The district has the highest immersion enrolment rate in the province, with 17.5 per cent of students in immersion programs in the 2012/13 school year. There is no waitlist for entering early French immersion kindergarten in the fall.
Victoria superintendent Sherri Bell can't explain what her district does differently from the rest of the province, although the catchments for English and French programs are often different.
"For some schools they draw from a number of neighbourhoods, and for others it's just their own neighbourhood," she said, adding she doesn't see a difference in students' socioeconomic backgrounds when comparing French and English streams.
Hard to retain quality teachers
The availability of high-quality French immersion teachers is also an issue. Teachers must be highly proficient in both French and English, and possess extensive knowledge of French culture.
B.C. has to rely on out-of-province teachers because there isn't enough immersion teacher training in the province, said Sophie Bergeron, head of the teachers' union specialist association Provinciale des Professeurs de l'Immersion et du Programme-Francophone BC.
"Before opening more classes, you have to see if you'll be able to staff them," she said, adding rural districts have a harder time attracting teachers to their schools.
B.C.'s Ministry of Education acknowledges the lack of training, and said in a written statement it needs to work with school districts, trustees, and teacher training programs "to ensure that B.C. has enough qualified teachers to meet this demand."
Teacher layoffs, a yearly occurrence now that most districts are making cuts to keep budgets balanced, also keep immersion teachers away. Although most teachers are rehired by September, they aren't eligible for employment insurance over the summer.
"Trying to attract teachers from out of the province is very difficult when they know that they'll be laid off," Bergeron said. "It's putting us in a tough situation when you cannot offer continuing contracts."
But she doesn't see the two-tiered system or elitist elements in French immersion that many parents and teachers fear. "We do have high diversity in our classrooms: ability and diversity," she said.
She adds income is only a barrier if kids are far away from a French immersion program. "If it requires driving them to the school, [parents] need a car or some time to get them there before they get to work."
Bergeron also blames districts for not wanting to pay for more classroom space to expand their immersion programs. Since the 2000/01 school year, just 41 schools adopted French immersion, increasing to 270 in total last year.
The ministry agrees, saying school boards decide if and how much money should go towards French immersion.
Province-wide education funding stands at $4.725 billion in annual operations grants to 60 districts. That level hasn't changed since 2012 and is slated to remain frozen into 2016/17.