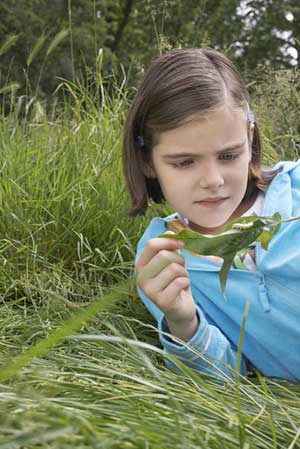 In a province dependent on natural resources like forestry, fishing and mining for its livelihood, teaching young students about the human impact on the environment seems like a no-brainer.
But as The Tyee reported in January, many British Columbian teachers are concerned the government's proposed new kindergarten to Grade 9 curriculum would require the teaching of complicated environmental concepts in primary science classes, and remove them altogether from older grades' science curriculum and the entirety of social studies curriculum.
Current curriculum requires specific learning outcomes related to environmental education in every grade, including education about waterways, food chains, weather and how they impact or are impacted by human activity.
But the proposed new curriculum has fewer prescribed learning outcomes and instead focuses on main learning concepts or "big ideas" -- none of which have to do with environmental education.
That's what inspired Lenny Ross, a Grade 4/5 science teacher at Strawberry Vale Elementary in Victoria, to reach out to his fellow educators and discuss his fears about the proposed changes.
"If you don't identify in one of those 'big ideas' environmental science as a key theme, it won't be taught. There won't be materials provided for it," Ross said last January.
Ross's first call to arms in the fall was emailed mainly to fellow teachers and some like-minded professors. Since then, the movement to push back against what he and fellow educators see as an erasure of environmental education in B.C. has grown to include teachers from across the province and environmentalists from across the country.
The government has noticed, arranging a meeting earlier this year between Ross's crew and Ministry of Education officials, as well as members of the government's curriculum revision team for science and social studies.
While Ross was pleased the meeting took place, he left feeling as though the ministry misunderstood educator concerns about the proposed curriculum changes.
"They'll point out places where they think environmental education exists already, and we won't agree with them all the time -- like if there's a study of biology, or cellular structure, that's not environmental ed, that's plain biology," he said, adding some grades continue to receive no environmental education at all.
'Big ideas' that don't include enviro science?
In addition to keeping curriculum up-to-date, a ministry spokesperson said in January that the changes include replacing a long list of expected learning outcomes with a set of "big ideas," freeing up teachers to focus on subject areas students are truly interested in, which could include environmental education.
Further to that, the ministry's curriculum committee told Ross each "big idea" would include a list of "elaborations" that explain what skills and concepts should be learned under each idea. That isn't enough for Ross, either.
"The only way that works is if environmental education becomes a big idea," he said.
Ross launched a petition last month with the B.C. Sierra Club to spread awareness about his concerns. It has almost 1,500 signatures and counts Victoria-based artist Robert Bateman among its signers.
A follow-up meeting between the environmental ed enthusiasts and the curriculum department was scheduled for this month. But Ross said the government abruptly cancelled it, saying no more public information about the curriculum would be released until 2015.
"They said all they'll publish this year is a summary of the feedback," Ross said, adding this isn't how curriculum revisions are traditionally approached.
Usually educators get one year to provide feedback on curriculum revisions, followed by another year of "soft launch" where teachers try out the new curriculum on a voluntary basis. The third year is for province-wide implementation of the new curriculum, Ross said. But the ministry told him the "soft launch" would be extended.
A ministry spokesperson said there will be another meeting between curriculum developers and concerned educators scheduled before the end of the school year. But he confirmed there was no set date for releasing the curriculum.
"The ministry is still in the process of gathering and analyzing the feedback from the [stakeholders] and from the public at large," the spokesperson said.
Teachers may begin testing the new curriculum in the fall, providing feedback to the ministry on their experience. There is no date for when they must start using the new curriculum, but the spokesperson said after all revisions are complete, the government expects teachers will want to use it.
"It provides more flexibility for students and for educators to delve deeper into subject areas of interest to them and their classrooms," he said.
Don't 'overload' curriculum: Fassbender
B.C. education critic Rob Fleming inquired about environmental education in the legislature on May 1.
"There is a lot of concern that the big ideas around ecology, food chains and environmental stewardship have been completely taken out of the curriculum," Fleming said, addressing education minister Peter Fassbender.
"Can the minister give any assurances today that this has been heard, has been revised and is now included in the curriculum, and if not, when that might likely be dealt with by the curriculum review committee?"
Fassbender said he's met with several stakeholders, singling out the "environmental community" and the mining industry, who were used to the older, more prescriptive curriculum. The Mining Association of B.C. reached out to the ministry last fall over concerns about the lack of mining concepts covered in the revised curriculum.
Nothing is lost in the new curriculum, Fassbender said.
"Issues of environmental sustainability, what the core industries and what mining, for example, mean to this province, have not been lost," he said, using mining as a further example to say bigger concepts have been spread out over more grades than just 6 and 7.
Fassbender added feedback and criticism of the curriculum would be taken into account when the curriculum is further revised, a statement seconded by the ministry spokesperson.
During Question Period last week, Fassbender said the ministry should be careful it doesn't "overload [the curriculum] with things that perhaps in this day and age are not as appropriate as they might have been 20 or 30 years ago."
Fleming didn't ask a follow-up question, but Ross took Fassbender's comment to be a reflection of the minister's beliefs about environmental education.
"If that is his perspective and that of the government, I guess it explains why environmental education was so diminished in the new curriculum," Ross said.