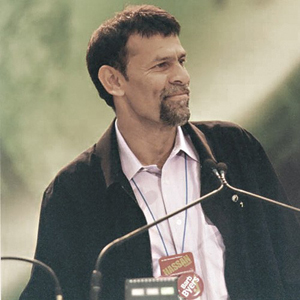 The Canadian Labour Congress, the umbrella organization for most of the country's labour organizations, has chosen a new president who has vowed to make the national body more militant in confronting management and the Harper Conservatives.
"If you move to strip working people of our rights, we will respond with a force that's never been seen in this country," Hassan Yussuff, who was the first person of colour to ever be elected to the CLC executive in 1999, told the CLC convention yesterday in the wake of his close victory over long-serving president Ken Georgetti, a B.C. pipefitter born in Trail who has been the Congress president since 1999.
Georgetti responded to Yussuff's win by urging the convention to make its endorsement of Yussuff unanimous. In addition to electing a new president, the nearly 5,000 registered delegates chose Barb Byers, former executive vice-president, to replace Yussuff as secretary treasurer, re-elected Marie-Claire Walker as executive vice-president and chose Donald Lafleur, a former letter carrier and avid environmentalist as the organization's other executive vice-president.
The CLC includes national and international unions, provincial and territorial labour federations and 111 local labour councils, representing over 3.3 million members.
Close vote
Yesterday's election results capped the first contested race for CLC president since 2005, when Public Service Alliance negotiator Carol Wall ran unsuccessfully against Georgetti. This year Georgetti's leadership was challenged by Yussuff, who took the presidency in a close vote (2,318 to 2,278) and by the third candidate in the race, Hassan Husseini, who bowed out on May 7 and threw his support behind Yussuff. Both of the challengers had campaigned on a promise to make the CLC more militant in the face of government and business attacks on workers.
"I believe the grassroots organizing and mobilizing and engagement that needs to happen is what is going to revive this movement," Yussuff told Rabble on April 25.
Immediately after Yussuff's win, the leader of the union where the new CLC president got his start in the Canadian labour movement voiced his support.
Unifor National President Jerry Dias said: "Members of the CLC have voted for change. Working with all of the affiliates of the CLC, that is what Yussuff will deliver. I would like to congratulate all the candidates in this election. They have contributed to an important debate on renewal, and that can only be good for the labour movement."
Yussuff first joined the Canadian Autoworkers after immigrating to Canada from Guyana, and was an officer of the CAW before his election to CLC office. CAW was one of the unions that merged in 2013 to form Unifor, which is now Canada's largest private sector union.
Evolution of CLC?
Convention insiders who spoke to The Tyee without attribution said a challenge potentially facing the labour movement will be presenting a unified front after the bruising battle for CLC leadership.
SFU labour studies prof Mark Leier said that a turn toward militant activism would represent a dramatic shift for the CLC.
"The CLC has rarely been militant throughout its entire history," Leier wrote in an early morning email. "It has acted as a lobbying group at the federal level, done some workers' education, tried to settle disputes between unions, and been a forum to discuss labour issues, and it has run advertising campaigns, but it has never been the focus of militant action. That's partly a structural matter: it was never designed to be a bottom-up, militant organization, and Ken Georgetti did little to change that."
Leier said that changing the CLC's level of militant action had not been a priority for Georgetti.
During the election campaign, Georgetti defended his record, telling Rabble on April 29 that his tenure had seen many important gains for labour, and lots of fight back efforts.
Georgetti cited CLC efforts during the last three federal elections, the campaign to pass the Westray Act (which criminalizes management negligence that leads to worker deaths and injuries), and Municipalities Matter, a campaign focused on ensuring the election of labour-friendly candidates in municipal and school board elections. According to the CLC, about 70 per cent of the candidates they endorsed in the 2010 municipal elections in Ontario were elected.
Georgetti also cited the Fairness Works media campaign aimed at improving the public image of unions, as an example of his strategy in action. "It's been going fantastic," Georgetti said. On May 6, before the presidential balloting, the CLC convention delegates endorsed more funding for the media campaign, but in the wake of the Yussuff victory, some observers contacted at the CLC convention said that ongoing support for the media strategy might be at risk under the new leadership.
Ground war vs. air war
Yussuff and his supporters have expressed reservations about relying on media and political strategies to the detriment of more militant tactics like strikes and street demonstrations.
On his campaign website, for example, Yussuff wrote: "I share the view of most activists in our movement that public relations are important, but alone will not hold our ground. We must ensure that the 'air war' is complemented by an equally well-resourced 'ground war' based on organization, education and mobilization of union members and our community partners."
Yussuff offered a taste of his leadership approach in telling the Globe and Mail today that Ontario Conservative candidate for premier Tim Hudak, who has vowed to cut 100,000 public sector jobs if elected, is part of a larger effort on the right to "destroy" the labour movement.
"We'll triple and re-double our efforts in the province of Ontario to ensure [Hudak] does not become the premier of the province," Yussuff told the Globe.