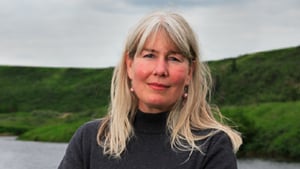 An Alberta government lawyer argued in court this week that Jessica Ernst's lawsuit on hydraulic fracturing and groundwater contamination should be struck down on the grounds that it would open a floodgate of litigation against the province.
"There could be millions or billions of dollars worth of damages," argued Crown counsel Neil Boyle.
Seven years ago, oil patch consultant Ernst sued Alberta Environment, the Energy Resources Conservation Board and Encana, one of Canada's largest shale gas drillers, over the contamination of her well water and the failure of government authorities to properly investigate the contamination.
The $33-million lawsuit alleges that Encana was negligent in the fracking of shallow coal seams; that the ERCB breached Ernst's freedoms under the Charter of Rights and Freedoms, and that Alberta Environment performed a problem-plagued investigation in bad faith.
The case, which effectively puts the performance of the province's oil and gas regulators on trial, has drawn international attention.
The Alberta government made the application to strike the entire claim after Chief Justice Neil Wittmann* ruled last fall that that lawsuit against Encana and Alberta Environment could proceed, but that the ERCB (now Alberta Energy Regulator) was exempt from civil action due to an immunity clause.
In Jan. 2013, Alberta Environment tried unsuccessfully to delete the word "contamination" as well as several clauses from the lawsuit that specifically mentioned other polluted water wells in central Alberta.
Courtroom drama
Justice Wittmann had trouble following the coherence of the government argument to strike the claim in the crowded Drumheller courtroom.
He noted that Boyle's line of reasoning, which argued that the Crown owed no private duty of care to landowners, suggested that Alberta Environment would have to be negligent all the time before it could ever be found liable.
Boyle also argued that immunity clauses in the Environmental Protection and Enhancement Act and the Water Act shielded the province from any civil action. But questions from Wittmann made it clear that these immunity clauses were not strong and only included actions taken "in good faith."
Justice Wittmann also questioned Ernst's lawyer Murray Klippenstein about the government's filing of a report by the Alberta Research Council that dismissed Ernst's water well case as insignificant. The government claimed the report was an independent review that proved there was no merit in the Ernst case.
Klippenstein argued that such a filing of evidence was inappropriate at this time. He also submitted a collection of Alberta Environment emails obtained through freedom of information legislation that he argued show the Alberta Research Council report was edited by Alberta Environment and not an independent review.
Justice Wittmann allowed the submissions in the event of an appeal.
Move to strike down suit 'an abuse of process': lawyer
Lawyers for Ernst argued that her case is about alleged "bad faith" or reckless actions by the government that resulted in methane and hydrocarbon contamination of her water well.
A legal brief prepared by Klippenstein and Cory Wanless for the court alleges that Alberta Environment's investigation "was ad hoc, irrational and beset by serious errors."
The brief details a list of alleged incompetencies: "There was no sampling protocol. Samples were contaminated. Alberta Environment lost or destroyed data its investigators had collected. Investigators entirely failed to investigate specifically identified EnCana gas wells that had been fracked either directly into or near the Rosebud Aquifer. Investigators failed to obtain from EnCana a list of chemicals used in its fraccing operations, and correspondingly failed to test the water for possible 'red flag' contaminants that would help identify the source of the water contamination."
Klippenstein, a Toronto lawyer who spearheaded the 12-year-long Ipperwash lawsuit in Ontario (resulting in a public inquiry), argued that Alberta Environment's application to strike the entire lawsuit constituted "an abuse of process" designed to cause unnecessary delays and to exhaust the resources of Ernst. "This behaviour should not be condoned and should have cost consequences," he said.
Cory Wanless, also part of the Ernst team, argued that governments can and do owe private duties of care to individuals, as well as wider public obligations. Police, for example, owe a private duty of care to an individual while investigating a crime. So, too, do provincial inspectors checking possible contaminants in water wells drawing from aquifers that sustain a third of Alberta's population, he argued.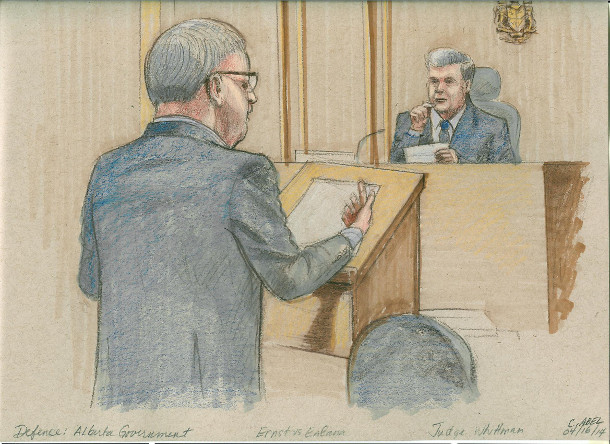 Wanless argued that government claims about opening floodgates of litigation were specious.
Ernst's complaint refers to alleged faulty conduct of investigators while carrying out specific duties and cannot "extend to a situation where Alberta Environment is unable to foresee or control its potential liability," he said.
In its brief to the court, the Alberta government explained that the spirit of provincial environmental legislation did not protect landowners from harm or injury and that all litigation should be directed against companies.
"The overall tenor of the Environmental Protection and Enhancement Act does not create a responsibility owed by the Province to those who suffer the consequences of escape [of air or water pollution], but rather to try and ascertain who caused escape, and where it can be shown that an entity or person caused escape, to ensure that the person or entity responsible for the cause of the escape remediates the effects of that escape."
The judge told lawyers that he thought the case against Encana should now proceed with the production of documents.
He said he expects to rule on the government's application to strike the claim after Ernst's Court of Appeal hearing on May 8, where her lawyers will contest the striking of the ERCB (now the Alberta Energy Regulator) from the case.
'Ernst refuses to be bought out': supporter
In recent years the lawsuit, largely ignored by the traditional media, has made Ernst well known throughout North American, Ireland and the United Kingdom. At a recent event in Newfoundland, more than 400 citizens came out to hear the oil patch consultant talk about the social and environmental implications of hydraulic fracturing.
"Jessica Ernst refuses to be bought out," said Glenn Norman, a farmer from Bowden, Alberta who drove to the court to show his support. "She has been wronged and she wants rightful justice. That's why her case has caught so much public attention."
Dough Hart, a landowner from Ponoka, added that "rural Albertans are tired of being colonized by industry and government who take and take and take." Another citizen outside of the courthouse explained that "industry just pissed in the wrong bowl of cornflakes."
Hydraulic fracturing, a brute force technology that consumes large amounts of freshwater and energy, has been the subject of extensive litigation in Pennsylvania, Texas and Colorado.
A rapid increase in the number of multi-stage high volume fracks in Alberta for tight oil has sparked protests, lawsuits and concerns throughout the province, including the City of Lethbridge, where industry wants to frack under a housing subdivision and a school.
Ernst's case goes to court again on May 8, where the Court of Appeal will hear arguments that the ERCB owes a duty of care to landowners and that its immunity clause does not shield the regulator from Charter of Freedom claims.
The minister of justice and solicitor general of Alberta have served notice to intervene in the appeal against the ERCB.
*Correction: Spelling of Wittmann's name corrected April 28 at 9 a.m.