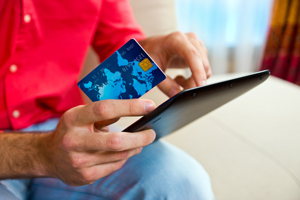 Super Bowl Sunday is the biggest day of the year for gambling in Canada and the United States -- more than $100 million is expected to be bet legally in Las Vegas alone.
More than 100 million people will tune in to the Fox broadcast. They will be certain to discuss the $4 million-for-30-seconds TV ads, the Bruno Mars and Red Hot Chili Peppers' halftime show and, of course, the Seattle Seahawks and Denver Broncos on their smartphone or tablet via social media.
At the British Columbia Lottery Corporation's second annual responsible gambling convention last week, delegates heard how the two worlds are colliding. Research from a prominent Wall Street investment house suggests that converting social gamers into online gamblers is the key growth opportunity for the industry.
But a leading Canadian gambling addiction researcher is concerned that there will be casualties in the rush to migrate Facebook users, particularly the young and social media savvy, to digital bookies.
"There is a growing convergence between traditional gambling (real money casinos), online gambling (real money online casinos) and social gaming (virtual games played predominantly through Facebook)," said a Nov. 14, 2012 Morgan Stanley Blue Paper. "Social gaming companies such as Zynga are increasingly expanding into social gambling games, with poker and slot machines consistently ranking among the most popular. Similarly, online gambling operators such as bwin.party are expanding into social gambling."
Morgan Stanley estimated 170 million people play social gaming apps -- triple the number of people who gamble for real money online. At $1.7 billion, social gaming is worth a fraction of the estimated $35-billion online gambling industry, which relies heavily on revenue from sports and casino games.
At the Vancouver convention last week, Dr. Michael Wohl, an associate professor of psychology at Carleton University in Ottawa, presented findings from an ongoing project investigating whether social gamers are moving to online gambling, and why.
"The two things that predicted whether or not people transferred from social gaming to online gambling were, number one, whether or not they were willing to pay for credits in the social games, and the amount of time that they spent on playing social games," Wohl said.
"When we had the focus groups we had people saying that, when they bought credits, 'This is real stupid, I'm spending $20 to buy fake money and I can never win this money back.'"
Those respondents said they would rather spend $20 on nickel slots with the possibility of winning the money back.
Wohl added some participants realized they made the switch too quickly. He said one participant commented that they "didn't understand how I got from one place to another, from fun to in-trouble." Another reported that despite going from Facebook to an online gambling site, "You still have the feeling of playing with fake money."
Vancouver: Digital Vegas
Vancouver has played an important role in the development of the social gaming and online gambling world.
Don Mattrick was a teenager in Burnaby when he created what eventually became sports video gaming juggernaut Electronic Arts Canada in 1991. Microsoft hired Mattrick in 2007 to turn around its Xbox console. Last year, he was lured to social gaming provider Zynga. Known for the FarmVille game app, Zynga reported 30 million daily active users and counted $203 million in revenue during 2013's third quarter -- $174 million was from the games and $28 million from advertising sales.
Online poker and sports gambling company Bodog also began in Vancouver, in 1994. Founder Calvin Ayre boasted of his wealth in Forbes Magazine's billionaires issue in 2006, but he is now considered a fugitive by the United States government. Ayre is wanted by law enforcement after being charged in 2012 in Maryland for money laundering and operating an illegal gambling business. On Nov. 21, 2013, police raided Bodog's Asia office in the Philippines. The company denied it was allowing the country's residents to bet on its website.
Budweiser sponsored a Commodore Ballroom Super Bowl party in Vancouver last year. Bodog, which takes bets on its play-with-real-money dot-com site, heavily advertises its free play dot-net website on Canadian sports websites, TV channels and radio stations. This year the Bodog brand will be front-and-centre. The Canadian Criminal Code permits only provincial governments to operate, licence and regulate gambling.
While B.C. Lottery Corporation is the province's Crown monopoly, fellow Crown corporation B.C. Pavilion Corporation allowed Bodog to advertise on B.C. Place Stadium's external video screens last fall. Documents obtained via Freedom of Information show PavCo referred a Tyee media inquiry to Telus, owner of the videoscreens. In turn, Telus sought the opinion of a Pattison Outdoor Advertising executive, who explained his company's contract with Bodog at B.C. Place.
"The company is a legal entity and the [dot-net] is not promoting gambling through their current ad," wrote operations vice-president Steve McGregor. "Prior to running the current Bodog advertisement, Pattison Outdoor completed an in-depth review of the ad and the website to ensure the site was not a gambling site (paid gambling)."
"I'd like to see the government crack down on the grey area businesses who operate under the disguise of dot-net," said Jake Kalpakian, founder of Vancouver-based Las Vegas From Home, in a 2012 interview. "It's just a ridiculous game that people play dot-net, but are being pushed into a dot-com site."
Kalpakian's company launched its own social gaming product, the free-to-play Real Vegas app on Facebook, during the 2012 Stanley Cup playoffs.
'Can games teach responsible gambling?'
Dublin-headquartered Paddy Power is the company behind the B.C. Lottery Corporation's PlayNow poker and sports gambling website.
Paddy Power made its name as a cheeky marketer of betting shops and gambling sites. In 2011, it launched the BetDash social gaming sports betting site, which claims to be a "low risk, high reward social game for people who are mad about sports."
BetDash's objective: Players can bet from £2 to £200 in real money and parlay a virtual £100,000 into virtual £1 million over 10 days. "You have the chance to win up to 25 times your original stake," says the BetDash promotional website. "So for a £5 stake you could bet like a billionaire, with very little risk and still be cashing out a tidy £125 at the end of it. If you hit the £100 million mark on the game you could win up to 1,000 times your original stake."
Offerings like that are why Morgan Stanley warned governments will eventually intervene.
"We are somewhat more cautious, and think the potential to 'teach young people to gamble', the potential to spend significant sums on social gambling, and to turn virtual chips into real money (even if indirectly) means that the industry is likely to see regulation over time," said the 2012 report.
In Australia, the latest gambling controversy centres around plans by anti-gambling group SimBet to launch a simulated sports gambling app for children.
"Thanks to our innovative and child-friendly website and app, your kids will be able to enjoy the thrills of betting on sports, as well as gain a valuable education in sports betting so that when they can legally gamble they will be knowledgeable and self-sustaining bettors," said the SimBet website.
An interesting proposition, according to Australian psychologist Dr. Sally Gainsbury of the Southern Cross University's Centre for Gambling Education and Research.
"Can games teach responsible gambling, can they reduce the desire to gamble?" she asked during a Jan. 29 session in Vancouver. "Are they helping people to avoid gambling?"
Guidelines for the B.C. gambling industry date back to 2003, before the social media revolution. As such, the province's regulator didn't contemplate the social gaming to online gambling dynamic.
The guidelines contains a standard prohibition of promoting gambling to minors, and that advertising not be based on themes or use language that is intended to appeal primarily to minors. Gambling advertising is also not supposed to "contain cartoon figures, symbols, role models, and/or celebrity/entertainer endorsers whose primary appeal is to minors."
The guidelines' jurisdiction, however, ends at B.C.'s borders and foreign websites containing images of Seahawks' defensive back Richard Sherman or Broncos' quarterback Peyton Manning aren't geoblocked.
"Discussions about gambling, about gaming, about Facebook need to be had with kids," said Carleton psychologist Wohl. "We have conversations about alcohol, we have conversations about other types of drugs, but we don't have conversations about gambling. Gambling is an invisible addiction."