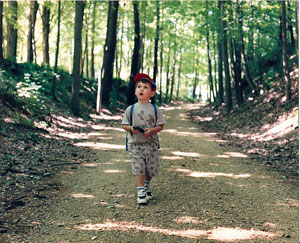 The British Columbia government may be the only provincial government in Canada to proudly declare itself carbon neutral, but at least one teacher says B.C.'s proposed curriculum changes are anything but green.
Draft social studies and science curriculums for Kindergarten to Grade 9 were released this past fall, with teachers, administrators, parents and the public invited to submit feedback.
Unlike the current curriculum, the drafts are less detailed about what content must be taught, which the government hopes will leave students more time to delve into the subject and provide teachers more autonomy over what they teach.
As it stands now, the new science curriculum, for example, will cover fewer concepts -- or "big ideas" -- than now, and the grade level at which certain concepts are taught will change. For example, where weather is currently taught in Grade 4, the draft proposes it move to Kindergarten.
That's a problem for Lenny Ross, a Grade 4/5 science teacher at Strawberry Vale Elementary in Victoria. In an essay emailed to dozens of colleagues, academics, politicians, and journalists, Ross criticized the proposed curriculum for not including any environmental science "big ideas," omitting some environmental science concepts, and "pushing down" topics to grades where students won't properly grasp them.
Using the draft Grade 4 curriculum as an example, Ross wrote "students currently study weather, and its impacts on humans, different habitats and ecosystems, food chains, and adaptations of animals to survive; we have the strongest focus on ecology in the elementary years. This has been replaced with the study of atoms and molecules, 10 forms of energy, and the rock cycle. Hardly 'Big Idea' topics that [nine]-year-olds get passionate about."
But government says the draft curriculum is just that -- a draft open to revision and overhaul after public and teacher feedback. A ministry spokesperson said feedback is still being accepted. "The placement and emphasis that is going to be placed on specific topics will be revised based on feedback that the ministry gets," they said.
Not in the curriculum, won't be taught: Ross
The ministry says a more conceptual curriculum gives teachers the freedom to include more lessons on subjects they and their students are interested in, which could include environmental education. But in an interview with The Tyee, Ross said he fears teachers will omit environmental science altogether if it isn't part of the key concepts.
"If you don't identify in one of those 'big ideas' environmental science as a key theme, it won't be taught. There won't be materials provided for it," he said. "They won't even teach it to teachers at university. They'll just say, 'It's not in the curriculum, why would we teach that?'"
Environmental education is a growing trend in Canadian elementary schools, particularly on Vancouver Island with the introduction of outdoor kindergartens and preschools where students spend the majority of class time outside exploring nature. So it confuses Ross that the government would not more clearly mandate the teaching of environmental science content in B.C. schools.
Ross says studies have shown kids who spend more time outside are physically and mentally healthier than their sheltered peers, and have a better grasp on the importance of a healthy environment to their own well-being.
By changing what grades students will discuss environmental issues, new course material will need to be produced and services arranged to train educators on how to tackle these topics in an age-appropriate way, he added. That's a big cost for a ministry that says it has no more money for education.
"To my mind, there is no need to change these topic levels: topics can stay where they are," he said.
Proposed social studies curriculum also sees a reduction in environmental education. Where students are now receiving "year-by-year, sequential development of the awareness of the need for environmental stewardship," the proposed social studies curriculum focuses on the relationship between a community and its environment instead of the importance of students' responsibility to protect the environment, something Ross finds dissatisfying.
The science teacher and many of his colleagues have written letters to the ministry of education about the changes to environmental education in science, and in social studies, where they argue the concept of environmental responsibility has been removed entirely.
The government hasn't responded, leading some to conclude there is a conspiracy against environmental education. Ross doesn't believe there is a conspiracy, but says the curriculum drafts and government's silence feeds the rumours.
"I think government needs to take responsibility. They need to be out there saying, 'What are we doing for environmental ed?' Right now the evidence shows that they don't value it, it's not there," he says.
Ross has tried to find out who is on the committees that drafted the curriculum proposals, so far unsuccessfully. The ministry said committee members are composed of representatives from the BC Teachers' Federation (BCTF), the Independent Schools Association of BC, the First Nations Education Steering Committee, as well as consultation with several Aboriginal groups.
The ministry could not provide committee members' names by deadline, nor would the teachers' union provide the names of their members who sat on curriculum committees.
Waste of teaching 'wealth'?
The ministry says it recognizes the value of environmental education, adding it is already planning to further emphasize it in revised curriculum drafts and additional teacher resources.
"These supporting materials will act as guides for teachers and educators to incorporate additional education on environmental topics," said a ministry representative, adding future revisions to the Grades 10 to 12 curriculums could also result in adjustments in Kindergarten to Grade 9 curriculum.
Ross hasn't received much of a response from his own union, either. Discussions with Victoria's union local rep ended in a promise to bring the issue to the union's executive. Ross also wrote a letter to BCTF president Jim Iker, but he has yet to receive a response.
Although Iker declined to comment on Ross' concerns in particular, he said the union has policies supporting the inclusion of environmental education in curriculum and will refer to those policies when submitting feedback to the ministry.
The BCTF is generally in favour of a more conceptual curriculum, Iker said. But he added the union's over 40,000 members are diverse, and though not all teachers will agree, their feedback influences the union's recommendations for the drafts, he said.
Ross says he will continue to speak out on what he sees as a proposed waste of the "incredible wealth of environmental educators" in B.C.
"I don't think the 'Big Ideas' they're using are proper for children, for elementary children in particular, and I don't think they're making good use of our resources at a time when we struggle for funding," he said. "To me, it seems just about criminal."