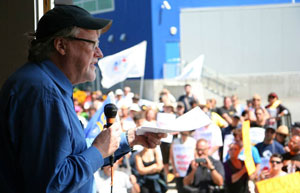 "IKEA management at their store in Richmond has adopted a radical anti-worker agenda that opposes unionization campaigns and encourages union decertification."
That's how a union-sponsored, European-based fact-finding commission describes the lengthy, ongoing dispute between IKEA management and unionized workers at the iconic Swedish furniture retailer's Richmond, B.C. location.
The commission, which held B.C. hearings on the dispute in early November, issued its scathing final report this week, titled "How IKEA Is Hurting Families."
The commission includes representatives from the Nordic Transport Workers' Federation, the International Transport Workers Association, and UNI Global Union from Europe and representatives from the International Brotherhood of Teamsters and United Food and Commercial Workers in North America, bodies that represent close to 30-million workers worldwide.
The Richmond dispute has been ongoing since May. At various points it has included, the commission alleges, company attempts to coerce Teamster Local 213 workers into accepting a diminished contract, alliances with a right-wing, anti-union, non-governmental organization and a similarly anti-labour law firm, worker intimidation, breaches of B.C. labour law, and a betrayal of the company's own stated values.
IKEA has maintained that the dispute is a strike, not a lockout. The company says that the formal lockout lasted one hour on May 13, after which workers were free to return to work.
The union argues that the one-hour lockout was a ploy to cancel contract language that extended the terms of a previous contract while a new one was under negotiation. It also argues that the invitation to workers to cross Teamster picket lines and return to work was contingent on them accepting a new and weakened contract.
Union credibility 'in decline': LabourWatch
John Mortimer, the head of LabourWatch, which the report calls a "radical right-wing anti-union lobby and advocacy organization," does not dispute commission claims that Ikea suggested workers get in touch with his group for support in breaking ranks with their union.
He said that would not be improper, nor is anything else his organization does. LabourWatch provides government forms, helps workers understand how to complete and file those forms, and provides contact information for Labour Boards for employees to use when exercising their legal rights, he said.  
"Precisely what aspects of the LabourWatch website's explanation of B.C. law, provision of B.C. government forms and presence of Supreme Court of Canada ruling that say forced union membership is a Charter violation, are inconsistent with IKEA's code of conduct?" Mortimer wrote in an email to The Tyee.
If organizations like UNI and the Teamsters "want to understand why their density and credibility is in decline worldwide," he wrote, "they need to look in the mirror of the intellectual dishonesty of a 'union sponsored commission of inquiry' and reports like this."
York University professor and former Canadian Labour Congress staff member Andrew Jackson takes a different view of LabourWatch, alleging it "co-ordinates anti-union legislative initiatives."
"Through its website, LabourWatch provides advice to individual workers opposed to unionization campaigns or interested in decertifying their workplace, supports right-to-work laws and mandatory union disclosure of spending on political and lobbying activities, and publishes an annual report, State of the Unions, geared to the media opportunity of Labour Day," Jackson wrote in a recent article.
LabourWatch is publicly supported by "leading Canadian employer organizations, including the Canadian Federation of Independent Business (CFIB), the Canadian Restaurant and Foodservices Association (CRFA), the Conseil du patronat du Québec (CPQ), the Retail Council of Canada (RCC), and the so-called Merit Contractors Associations," Jackson wrote.
The law firm representing IKEA locally, Fasken Martineau, was also characterized as anti-union by the fact-finding commission.
Neither Fasken Martineau nor David T. McDonald, the Fasken Martineau partner who acts for IKEA locally, were available for an interview, though promotional material on the company's website reads: "David McDonald conducts a law practice that includes representing employers as counsel before the Canada Industrial Relations Board, the B.C. Labour Relations Board, at labour arbitrations, at all levels of court and at administrative tribunals.
"He regularly acts as the spokesman for employers in collective bargaining, whether it is a first collective agreement or the renewal of an existing collective agreement. David assists clients by seeking court injunctions during labour disputes. He regularly advises clients on all aspects of labour relations and employment law and provides seminars on labour relations and employment law to clients and professional organizations," the website reads.
Benefits cut off, then restored: report
The commission claims its report on the dispute is based on meetings, interviews with IKEA workers and a number of additional published reports on IKEA.
It alleges that IKEA management cut off 22-year veteran worker Katina Kosa's long-term disability payments, and that Kosa was later told she could regain her benefits if she crossed the picket line and broke with her union by endorsing the company's latest contract offers.
Kosa, who was on long-term disability in May because of a round with cancer when the dispute erupted, told The Tyee on Dec. 12 that she went to the pharmacy to purchase medication, only to be told by the clerk that her employer had cut her off the program. Kosa had to pay for the expensive prescription out of pocket, she said.
"I was really upset," Kosa said. "One of the IKEA managers told me that they had cut me off long-term disability because of the lockout, but if I would cross the picket line and support the company's position, I would get my disability coverage restored. I said no. I couldn't do that to the people I work with."
Within a week or two, Kosa said, a Teamster lawyer was able to persuade the company to restore her disability coverage, but the experience shook her. "I was so upset. I'm still afraid to go to the picket line and visit my friends. The bosses might see me there and cut me off again," she said.
Anita Dawson, a former IKEA worker and now a business agent with Local 213, said that Kosa was not the only Richmond worker receiving disability payments when the lockout occurred. Dawson claims that since the union intervened over Kosa's halted payments, all workers on long-term disability have continued to receive their benefits.
IKEA is currently paying Medical Services Plan and life insurance premiums for all locked-out workers, although the company is not legally obliged to, Dawson noted, adding that she understood the company might stop payments in the new year if a settlement hasn't been reached before the end of the month.
IKEA spokesperson Madeleine Löwenborg-Frick confirmed the company is currently covering the premiums of its locked-out workers, though she said it is customary for employers to stop paying for medical insurance during a labour disruption.
"IKEA has gone above and beyond, because we truly care about our employees and their well being," Löwenborg-Frick wrote in a Dec. 12 email.
The commission report also alleges at least one locked-out worker has been fired without adequate explanation, and that IKEA management and security guards have tried to intimidate union pickets over the course of the seven-month dispute.
Löwenborg-Frick denied that any managerial or security guard employees have tried to intimidate workers.
On the question of the fired employee, she wrote: "IKEA continues to hold all our employees to a high standard of behaviour during the dispute. We will not tolerate behaviour during the dispute that we would not tolerate under normal business operations."
IKEA 'will feel economic harm': Teamsters
The international parent body of Teamsters Local 213 may, according to media reports, file complaints against IKEA with the International Labour Organization and/or the Organization for Economic Cooperation and Development.
Grant Coleman, a representative of Canadian Teamsters currently visiting Sweden with a delegation of IKEA workers and other unionists, told Swedish TV that IKEA could face worldwide consequences for the way it treats workers in B.C.
"With this going global, from global solidarity to global action, it could impact all the IKEA stores worldwide," he said. "They will feel economic harm like they have never felt before."
A European Union body associated with the fact-finding commission, the International Transportation Workers Union (ITF), is reportedly planning global actions on Dec. 17 to express solidarity with the Richmond workers.
The BC Federation of Labour also launched a media campaign urging consumers to boycott IKEA's B.C. stores as a way of supporting locked-out workers. In the campaign's advertisement, Santa's elves, who apparently speak English with a Scandinavian accent, describe IKEA's treatment of Richmond workers as "not very Swedish." The advertisement ends with an announcer intoning, "Let's shop where they respect their workers."
"In struggles like this, solidarity is very important," BC Fed President Jim Sinclair told The Tyee. "We have the power as workers and consumers, but we need to use it. IKEA's attempts at union busting and coercion have been despicable, and fly in the face of the 'IKEA Ethic.' It is time for IKEA to live up to its old rhetoric."
In a recent survey of more than 1,200 British Columbians conducted for the BC Fed, Sinclair said, 54 per cent of regular IKEA customers said they would shop somewhere else during the dispute.
Workers 'refuse to surrender'
IKEA may well be vulnerable to European pressure, as well as a B.C. boycott. According to Forbes.com, the global furniture giant, which recorded over $35 billion in sales last year, has 227 of its 298 stores in Europe.
In a recent Globe and Mail article, IKEA CEO Mikael Ohlsson said that Canada is one of the retailer's strongest markets, with about $1.4 billion in sales, up seven per cent from a year earlier at stores open a year or more.
The tough economy helps discounters like IKEA take earnings away from rivals, he reportedly said, and the company has set ambitious global growth plans, aiming for a doubling of overall revenue by 2020. IKEA has made founder Ingvar Kamprad, 87, the world's fifth-richest man, with an estimated worth of $52.7 billion, according to UPI.com
IKEA has 12 stores in Canada. Richmond is one of two Canadian locations where workers are unionized. The other is in Montreal, where unionized employees have recently been successful in negotiating a new contract.
Keith Austin, a locked-out IKEA employee who is currently in Sweden with the Teamsters' delegation, hopes he and his co-workers will soon see a resolution of the dispute.
"We are not asking for more. We want to go back to our jobs and to negotiate," Austin said. "But we refuse to accept the sweeping and humiliating deteriorations the company is trying to force us to accept. More than 300 of us refuse to surrender to IKEA's threats, despite the harsh economic conditions we've experienced during the lockout."