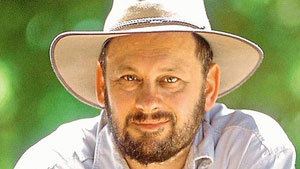 Tim Flannery, the internationally acclaimed Australian scientist and author of The Weather Makers, recently visited Canada at the invitation of Clean Energy Canada to speak on energy and climate matters.
The Tyee caught up with the 57-year-old paleontologist and climate activist in Toronto to talk about the uncertain world of liquified natural gas exports, the Australian government's attack on its own Climate Commission, the prospect for renewables and what lessons Australia's sinking coal industry might have for Canada's global bitumen miners.
On the uncertain world of liquified natural gas:
Over the last decade, Australia has invested nearly $150 billion in a liquified natural gas (LNG) export boom that is now facing rising construction costs, infrastructure bottlenecks, a strong petro currency, and competition from the United States, East Africa, and British Columbia.
But much of the methane supporting Australia's $12 billion a year natural gas export sector comes directly from coal seams or offshore deposits, Flannery says.
The drilling and hydraulic fracturing of shallow coal seams, which has sparked rural protests over groundwater concerns, leaves a sizeable footprint on the land.
Because the industry requires hundreds of well pads and roads and intense pipeline infrastructure, Flannery says it can be "fairly disruptive to farming communities" -- just as shale gas has been to First Nations and farmers in Canada's Peace River country.
"Until recently, the drilling was done by buccaneers and privateers who would prove up and sell their leases as fast as they could," he says. "Their practices were appalling. They knocked over fences, leaving trenches and gates open as they set up their well pads."
Although Australia could become the next Qatar in terms of LNG exports, "it is not yet clear how things will materialize," Flannery says. "I don't believe energy projections anymore."
His recommendations to British Columbia, a struggling LNG export wannabe, were blunt: "Create good regulations from the very start that protect landowners and the environment and groundwater. Require authorities to collect groundwater and methane baseline environmental data."
Australia, like most jurisdictions, failed to collect good baseline data at the start of its methane boom. Until recently, B.C. didn't have groundwater monitoring wells in its northern gas fields.
"We have great uncertainty," adds Flannery. "We have methane erupting to the surface, and we don't know whether this is happening naturally or as a result of the drilling and fracking."
The industry is also set to drive up the price of natural gas for local consumers. On average Aussies now pay $170 more a year for methane. "By 2015, there might be a gas squeeze in the country. We'll see," says Flannery.
"The gas market is a total wild card. Some people are seeing the writing on the wall and are pumping methane as fast as they can before renewables take over."
On the Australian government's attack on its own Climate Commission:
The Australian government set up the non-partisan Climate Commission to educate citizens about climate change science three years ago. It appointed the outspoken Flannery as its chief commissioner.
"We did a good job engaging citizens. We provided people with the information they need to make up their own mind what to do about climate change," Flannery says.
The Commission was in existence when the government introduced its controversial carbon tax of $23 per tonne, which increases every year by 2.5 per cent.
"I had to have federal police protection at one point, and I threatened to sue the Australian (a Murdoch paper) twice for defamation," Flannery recalls. "There were nasty personal attacks… and you know, the economy didn't collapse after we introduced the tax."
The Commission's candid reports, with titles such as "The Angry Summer" and "The Critical Decade," warned that the Australian economy must limit carbon spending by 2035 to avert catastrophic climate change.
Such bluntness enraged many high-carbon resource players. A new coalition conservative government fired Flannery last September, just as the country recorded its hottest 12 months on record. Last summer the nation broke over 120 heat records across Australia, and bush fire season began early this year.
"They shut us down," explains Flannery, who was named Australian of the Year in 2007. "They did so on the very day they were sworn in, and took down our website. Some of [the government's] supporters are deep dyed-in-the-wool climate skeptics who wanted their pound of flesh. It's all about controlling information flows, and that's not as easy as it once was."
But then a surprising thing happened. "We got a tidal wave of support from ordinary Australians," explains the environmentalist. Within five days, social media and crowdsourcing raised $1 million to restart the commission as a public non-profit agency.
The government responded by saying it proved its case that the country didn't need a taxpayer-funded climate body.
"We've restarted and are getting leaner and meaner than ever," adds Flannery.
The scientist compared climate action to the rough-and-tumble game of rugby.
"We've got the ball, and every prick on the other team is trying to trip us up and kick us in the knackers. We've got to keep going and get the ball across the line. Australia reduced emissions from its electricity sector by nine per cent last year. We are making headway. We can't give up."
On Australia's coal lesson for Canada:
Australia, one of the world's major coal exporters, sends most of its thermal coal to China and Asia.
The nation's coal industry geared up to feed China's industrial revolution, expecting a major windfall.
But when China cut its imports by five per cent and then reduced coal consumption in heavily-populated areas, "what looked like a major boom turned into a major bust," Flannery says.
In recent months, Australia's coal industry shed around 20 per cent of its workforce. Plans for most new mines have been abandoned, and some old mines "are even operating below profit," Flannery says. "You don't have to cut demand by much to force prices below the cost of production."
To reduce coal consumption and improve the nation's notoriously poor air quality, the Chinese government also invested $62 billion last year in renewables such as solar and wind.
"I think the coal bust might be permanent," adds Flannery. "Once renewables are in place, [China] will get its electricity from cleaner sources."
Flannery thinks the oil sector will go through the same transition.
"Look to Australia and see what happened to our coal industry. Canadians should ask if might this apply [their] oil situation. Beware of stranded assets and start planning for different energy futures. That's the role of government."
On the bright prospect of renewables:
The solar industry in sunny Australia has taken off in a big way, and nearly one-tenth of the population now has a panel. By last April, the country boasted more than one million solar installations.
"We have reached a critical point in global energy markets. There is creative destruction going on in the market," says Flannery. "I don't want to put a timeline on it, but a transition to renewable energy is happening and much faster than I realized."
He points to Germany, an oil-importing nation, as a model of energy innovation. It now secures 79 Gigawats of energy from renewables -- or 22 per cent of electrical demand. "Germany has proved what is possible, and renewables have now outcompeted natural gas. And the German grid is incredibly reliable."
Although electricity prices are volatile, the nation's entire energy system is changing in disruptive ways. The value of stationary utilities has been halved and the country is now actively looking for different operation models.
Moreover, entrepreneurs are now figuring out how to take advantage of intermittent energy flows from wind and solar by storing them at peak periods.
What was once thought to be a major obstacle for the deployment of renewables has now become a business opportunity in Germany. "Intermittency has been a huge advantage, because it is now driving innovation," Flannery says.
"No one wants coal-fired plants anymore. That's the headline."
Adds the scientist with a twinkle in his eye: "Innovation is the real enemy of oil and gas."