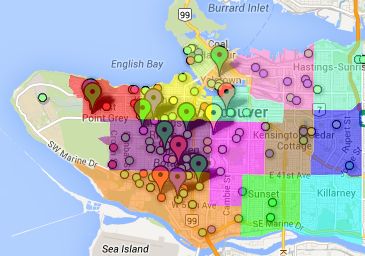 Vancouver's at-large electoral system, where councillors are elected citywide, is often blamed for everything from its hugely expensive municipal elections, to its party system (a rarity in cities) and even racism.
Are wards really a cure-all for everything that's wrong with Vancouver politics?
Time and again, people have argued that a ward system, where candidates for council are required to run in and represent the neighbourhoods they live in, would reduce tension between city hall and neighbourhoods.
Consider the recent flare ups over rezoning plans in Grandview-Woodland, Marpole and the Downtown Eastside. These, as well as the Point Grey bike-lane blow up, continue to fuel the ward debate.  
A common assumption is that because city council is elected at-large, councillors and mayors overwhelmingly come from Vancouver's west side. In this case, "west side" tends to be shorthand for wealthier establishment types who aren't personally affected by issues like homelessness, affordability and mass rezoning.
Using nomination papers publicly available at the city archives, this reporter was able to find the home addresses of city councillors going back to 1960.
And with a few exceptions, the assumptions are true. A glance at the spread between Dunbar-Shaughnessy and Victoria-Fraserview is all you need.
Proponents argue a ward system would balance this spread and give communities better representation. Vancouver has looked at wards many times in the past including commissions launched in 1979 and 1988.
In 2004, a referendum to move to a ward system didn't resonate with voters -- less than one-quarter of those eligible to vote cast a ballot on the ward question.   But does the fact that Vancouver's representatives tend towards the west side actually affect decision-making at city hall? Would those decisions be different if every neighbourhood was guaranteed a seat on council? 
Where councillors are coming from
More often than not, those questions come down to thought experiments.
We can only speculate whether or not it matters that Art Phillips, the mayor credited with delivering "Vancouverism" by encouraging density, once lived across the street from a golf course. (Or that he later listed his address as a tower on West 12th.)
Would longtime homeless advocate Ellen Woodsworth have had the same passion for the issue if she'd lived in Kitsilano instead of Grandview-Woodland?
And what would venerable Alderman Aeneas McBean Bell-Irving (likely the best name in the history of Vancouver politics) have thought of the Point Grey bike lane, slated to go past his former home?  It's all interesting to consider. In some cases the answer seems obvious.
T.J. (Tom) Campbell certainly didn't live next door to the hippies in Kitsilano. There's little doubt that Jim Green's politics were influenced by living in Strathcona. Others are less clear. Larry W. Campbell, architect of supervised injection sites in Vancouver, lived in tony Point Grey during his time in office. And what to make of Mayor Gregor Robertson's recent move west?
Parsing the data
Look at the concentration of COPE councillors in Grandview-Woodland and Strathcona. Are left-leaning parties East Van parties? Vision also has a notable number of councillors in East Van, while TEAM seems to have been concentrated west of Granville. The NPA also seem firmly westside, but have had so many councillors over the years that it's harder to generalize.    
In fact, the NPA has had the most number of seats of any party since 1960.
NPA - 15
COPE - 4
TEAM - 2
Independent/not listed/other - 2
Vision - 1
The NPA has also had the most mayors by party since 1960:
NPA - 14
Independent/not listed/other - 6
TEAM - 4
Vision - 2
COPE - 1
Some other interesting findings:
There are 21 councillors with no address in the record.
At least four on the current council list room numbers with their addresses, suggesting they live in apartments or residential towers, as opposed to single family homes.
COPE stalwart Harry Rankin's home on Hull street is iconic: Caesar Chavez was once a house guest.
In the 1973 election, Art Phillips listed his address as the 12th floor of 550 W. 12 -- just blocks from city hall -- seemingly giving up on anything resembling work/life balance.
[A notes on methods: nomination papers, which a candidate must submit in order to run for office, were the primary source in most cases. In some -- most notably from 1976 to 1996 -- nomination papers no longer exist. For those dates, a city directory from the corresponding year was used. The directories tend to include whether the person was a councillor or alderman -- though in some instances city hall is listed in place of an address. Efforts were made to ensure that the addresses listed are residential and not office space. For dates and party affiliations, Wayne Madden's Vancouver's Elected Representatives was consulted.]