This summer, Vancouver's Pacific National Exhibition (PNE) is unveiling efforts to give itself a sustainable spruce-up.
At a venerable 103 years old, many of the city-owned non-profit's efforts, like composting food scraps for fertilizer, harken back to the exhibition's original agricultural roots. More recent ideas for greening the PNE include offsetting energy with electricity generated from cow manure or creating a zero-waste restaurant.
One of the few glitches so far? Apparently, relish for hotdogs. But more on that later.
"I love going to the PNE," says Maureen Cureton, Vancouver City Savings and Credit Union's green business manager. "But I feel a bit dirty when I leave there. I look at all the styrofoam containers in the garbage, and in just a couple hours I've generated more waste than a month at home."
"So," she muses, "can we help the PNE go green?"
Although the exhibition ramped up environmental efforts four years ago, the goal now is to get the most bang-for-its-buck. It's now working with Vancity, which last year provided $237.4 million in financing within the green energy and environment sector province-wide, and millions towards greening food systems.
According to Michael Woodman, the PNE's manager of sustainability development, the exhibition is lessening its hefty impact on the environment by making changes to three areas -- waste, water and electricity -- including weaning food vendors off styrofoam and installing more efficient lighting.
"So much of what we do is behind the scenes," Michael Woodman explains. "Our guests don't necessarily see all the stuff we're doing."
Meaningful change?
For a major event employing 4,000 workers and annually generating $140 million for the province, some might question the idea that changing lightbulbs and diverting food waste is truly meaningful change.
After all, the PNE is a massive entertainment complex that attracts nearly a million revellers a year: from the energy-intensive roller coasters of Playland amusement park to the seething crowds of concert-goers at the Pacific Coliseum.
For such cynics, an oft-touted "G" word comes to mind when corporations and institutions proclaim their sustainability.
"I don't want to say we're greenwashing," Woodman insists. "We are trying to create real change on our site ... because it's economically the right thing to do. It's saving us money, and it's also ecologically responsible."
For example, the exhibition installed new high-efficiency boilers in June to power the Pacific Coliseum's massive climate control system, at a cost of roughly $250,000.
The efforts appear to be working. A new internal review revealed that the PNE has managed to slash its total waste by 53 per cent, according to Cureton.
'Good, green fun'
If the PNE, a Vancouver fixture, succeeds in its green quest, it will send a message to other large-scale businesses and public institutions.
"It's such an iconic part of our community," Cureton tells The Tyee. "The scale of impact here can be so juicy. It's not that the solutions are different, but the scale is. We don't want to be sanctimonious. It's still about going on rides and having fun ... (but) adjusting so we can have good, green fun, without that guilt."
Surely greening a popular amusement park and massive events centre like the PNE is not as easy as simply changing its lightbulbs and gathering fryer grease? The Tyee asked Woodman if there have been any glitches in the exhibition's sustainability plans.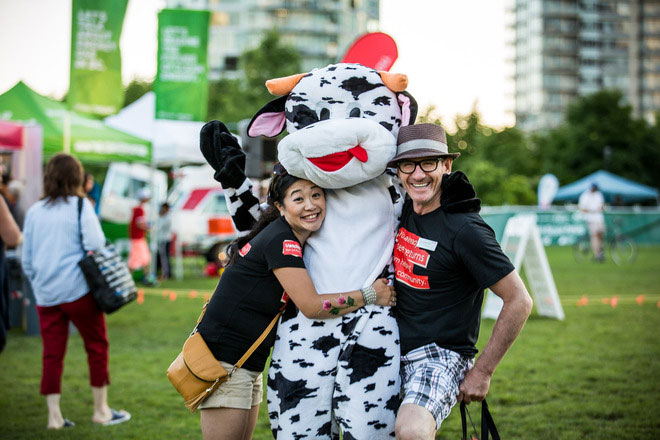 "One of our last variables is the packaged relish for hotdogs," he reveals with a chuckle. But he is serious -- the pickle chunks clog most dispensers. The PNE has pump ketchup and mustard, but pump relish doesn't work so well.
"We are working to find a solution, 'cause you have to have relish on your hotdog."
Condiments aside, Woodman says he hopes to be even more creative in coming years.
"We're hoping to use our waste oil for biodiesel, and use that to potentially run some rides next year," Woodman states with zeal.
"Can you imagine buying a mini-doughnut, knowing your doughnuts are powering the roller coaster? Now, that would be cool. This is the kind of stuff that keeps me going every day. These are potential changes we can create on our site. But they take time. Rome wasn't built in a day."
The Tyee is giving away three family packs of tickets to The Fair and rides. Enter before Aug. 11.
Within the contest form, you can also send in your great suggestions for energy efficiency, waste reduction or water conservation at the PNE. Vancity will be compiling all the ideas to help inform planning, and The Tyee will post some of the best on the site.
You can also share your ideas for more ways to shrink the PNE's ecological footprint in person at Vancity's EcoAlley during The Fair, between Aug. 17 and Sept. 2.
And if you're a Vancity member, don't miss the $5 day on Aug. 29, where members can enjoy the rides and attractions -- all powered on electricity generated by cow manure. (Don't worry, The Fair will remain cow patty-free, thanks to energy offsets purchased through B.C. renewables firm Cowpower.)