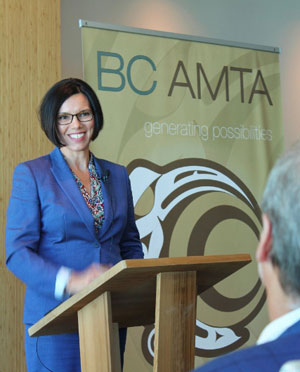 Unemployment for Aboriginal people in the province is twice as high as the rest of British Columbians. But Aboriginal people are defying the employment odds in the province's mining industry, thanks in part to the BC Aboriginal Training Association (BCAMTA), which provides job training for the mining industry to Aboriginal people in B.C.
In a July 22 press conference in Vancouver, the association released a PricewaterhouseCoopers audit of their practices from their start in January 2010 until March 2013. Results show the organization has registered 1,533 training candidates, 500 of which have successfully achieved employment in their field.
BCAMTA's work has paid off for the economy, too. CEO Laurie Sterritt says a $6.68-million federal government investment to start the program has translated into a $53.4-million annual contribution to B.C.'s GDP.
"This isn't a one time boost to the economy: this is an amount that will grow as our employee candidates get salary increases, earn bonus payouts, and move up the ladder to more senior positions," she said. About 1,400 people remain in training today, which means anything from pre-job skills to apprenticeships in positions like heavy-duty mechanic, welder, and electrician.
According to the audit, the average full-time salary for Aboriginal mine workers after BCAMTA training is $52,959. That's almost $20,000 more than the average Aboriginal wage in the province, and $8,000 more than the average entry-level wage in the mining industry.
But while mining has become a valuable source of employment, it's also a source of frustration and anger for Aboriginal people. First Nations bands and organizations across the province have publicly condemned the opening or expansion of mines like the New Prosperity Mine in the Cariboo region, the Huckleberry Mine near Houston, and the Red Chris Mine near Dease Lake.
In a June press release expressing opposition to the proposed New Prosperity Mine, Assembly of First Nations BC (AFN-BC) Regional Chief Jody Wilson-Raybould said concern for the land and environment trumps economic benefits.
"We all want opportunities for economic development, but not at all costs. Our culture and lands are vitally critical to the health and well-being of our communities," she said.
More women in mining
The audit, commissioned by BCAMTA's board, found 63 per cent of grads with jobs were unemployed prior to training. In fact, six per cent of the province's mining sector employees are Aboriginal, even though B.C.'s population is just 4.7 per cent self-identified Aboriginal people.
The number of women BC AMTA trains has also increased. In 2010, the male to female ratio for program participants was 1:3; today it's 1:2.
"Our candidate pool is about 37 per cent women," said Sterritt, adding the industry norm was 15 per cent women employees.
"I've heard from many mining companies that they're very interested in female operators for their big pieces of equipment because they have a certain finesse and a care for their equipment, and it's a big, expensive piece of equipment."
Although initial funding came from the federal Ministry of Human Resources and Skills Development Canada, BCAMTA is now a federally registered charity. Since 2012, they have signed funding agreements with mining companies like New Gold Inc. and Seabridge Gold Inc., as well as organizations like the Northern Development Initiative Trust.
And they're ready to expand. BCAMTA made no secret of their attempt to court other mining companies for partnerships at the audit's Vancouver release.
"We're seeking new industry partners to support our Aboriginal candidates by providing job opportunities and financial contributions to training," said CEO Sterritt.
"The companies we work for gain a loyal, local workforce and the opportunity to participate in quality relationships with local First Nations."
Taking Taseko to task
One of the companies BCAMTA works with is Taseko Mines Limited. On June 3 Taseko, which operates the Gibraltar copper-molybdenum mine near Williams Lake, issued a press release announcing a partnership with BC AMTA to provide training space for Aboriginal mining students in Williams Lake.
"At Taseko, we look forward to our partnership with BCAMTA and providing opportunities for long term, stable employment for local First Nations in the Cariboo Region. These opportunities will allow First Nations members, particularly youth, to train and work where they live and remain in their communities," said Brian Battison, Taseko's vice-president of corporate affairs, in the release.
Taseko has proposed another mine in the Cariboo region, however, that is receiving negative reviews from local First Nations. The proposed New Prosperity Mine, which would be located near the Fish Lake watershed in the Cariboo region, has been panned by the Tsilhqot'in Nation, Xeni Gwet'in Nation, the First Nations Summit, Union of BC Indian Chiefs, and AFN BC for failing to adequately consult First Nations on whose traditional lands the proposed mine would be constructed.
The second Canadian Environmental Assessment Agency panel hearing for the proposed mine began in Williams Lake July 22 and will continue until Aug. 23.
"The Tsilhqot'in Nation has demonstrated extreme patience -- we have said we are not opposed to economic development, but that this is the wrong project, in the wrong place and it cannot be approved," Chief Roger William of Xeni Gwet'in said in a press release issued before the hearings began.
"We will share with the panel our unchangeable values and express our deep concerns of the threat to Teztan Biny (Fish Lake) and the contamination of our lakes and streams. We firmly believe that like the last Panel, this review will demonstrate the extremely high risk that such a mine poses in such a sacred place."
The Tyee contacted Chief William, the Xeni Gwet'in Nation, AFN-BC, First Nations Summit, and Union of B.C. Indian Chiefs for comment but did not hear back by press time.
Businesses need First Nations schooling: Jules
BCAMTA was scheduled to hold another audit release in Williams Lake on July 25, but postponed indefinitely out of respect for the nations opposing New Prosperity at the hearing.
CEO Sterritt, herself a member of the Gitsxan Nation, told The Tyee BCAMTA only partners with companies who are offering jobs at mines already approved by First Nations.
"We wouldn't enter into a process where there was uncertainty around whether or not the community wants the mine," she said.
Eddy Jules, vice chair of the BCAMTA board, and a councillor with the Skeetchestn Indian Band, said he feels no conflict in working with mining companies to increase jobs. His own band's negotiations with the New Gold mining company over jobs at the New Afton mine near Kamloops were what actually started BCAMTA.
"We asked New Gold to hire our members, and we asked for training in all these different categories, and New Gold stepped forward and said they could. But they couldn't foot the bill by themselves," Jules recalled.
"That's when all the partners happened and then (BCAMTA) went to the federal government and got some money from (HRSDC)."
Jules said New Gold agreed to the environmental assessment and cultural heritage overview the Skeetchestn council asked for. He says other mines run into problems when they presume the federal or provincial governments are the only ones they need to please.
"There needs to be a school for all these companies that come in here and [mine]. They don't have any First Nations protocol; nobody's ever showed them or talked to them about it, and when you come into an area and you just start digging and say you're going to put a mine in, of course you're going to offend us," he told The Tyee.
"I just think the BCAMTA group and New Gold has set the standards pretty high. So if Prosperity Mine wants to get on board, they should come and talk to the board members, specifically the First Nations, and maybe we can help them somehow with their idea of the mine."