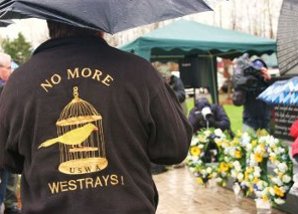 On May 9, 1992, deep in the coal seam of the Westray Mine beneath Plymouth, Nova Scotia, a spark ignited accumulated methane gas and triggered a huge explosion. By the time the resulting fireball had swept through the mine, fed to a murderous fury by choking clouds of coal dust, 26 workers were dead.
Critics and unions, including the United Steelworkers, which represented Westray miners after the tragedy, have for a long time insisted it's wrong to call what happened an accident. Management ignored safety warnings prior to the explosion, they argue, and should have been held accountable.
Justice K. Peter Richard, appointed by the provincial government to investigate the disaster, delivered a scathing report that noted that Curragh Resources, the mine managers, "created a workplace that fostered a disregard for worker safety.
"Westray management either dismissed fundamental safety hazards for those working under ground in the mine -- including roof, dust and gas conditions -- or addressed them inadequately.... Westray is a stark example of an operation where production demands violated basic and fundamental demands of safe mining practice.... [M]anagement's drive for production, together with its disdain for safety, played a key role in the devastation of the Westray mine."
Clifford Frame, founder and chief executive officer of Curragh Resources Inc., refused to testify at the Richard Inquiry, as did Marvin Pelley, former president of Westray. A number of civil and criminal charges were laid against Curragh and key company managers, but all were eventually dropped.
Following the tragedy, the Steelworkers pushed for changes that would make reckless management decisions illegal and punishable under criminal law in Canada. Bill C-45 (the Westray Act) was the result of a decade of lobbying by organized labour.
Critics, however, say the Westray Act, intended to help prevent a repeat of the tragedy and now in force for nearly another decade, has not been effectively enforced over the years.
Despite the fact that workplace related deaths have numbered around 1,000 a year nationally since the bill's passage, fewer than a dozen charges have been laid, few convictions have resulted and not a single manager, CEO or board member has been jailed for decisions that led to worker deaths.
"Although political rhetoric generates fear of violent street crime, the truth is that most people are much more likely to be victimized on the job than on the street," University of Ottawa criminologist Steven Bittle told The Tyee in a recent phone interview.
Bittle is the author of Still Dying for a Living: Corporate Criminal Liability after the Westray Mine Disaster. He argues the lack of enforcement of the Westray Act indicates a fundamental anti-working-class bias of Canadian law and society, a bias he said takes workers' lives and injuries very lightly.
Bittle told The Tyee it was significant that the bill has been used so infrequently, and has never been used to lay charges against a large corporation.
Law 'not applied at all': family member
When the Westray Act was incorporated into the Criminal Code of Canada as s217.1, s22.1 and s22.2 in 2004, many trade unionists and worker advocates celebrated, hailing the new law as a groundbreaking change that would allow the Crown to bring criminal charges against negligent employers.
Brian Fitzpatrick's son Sam was killed at a Kiewit construction site at Toba Inlet in 2009. A WorkSafeBC inspector report on the fatal incident found "deficient safety planning and supervision and lack of effective risk assessment" at the site.
Last August, Fitzpatrick met with then-provincial justice minister Shirley Bond, and then labour minister Margaret MacDiarmid, along with representatives from the BC Federation of Labour, the Steelworkers, and other individuals who'd lost loved ones to work-related deaths, to plead for reforms in how the Westray Act is enforced in the province.
While criminal law is under federal jurisdiction, the province has powers through its oversight of Crown prosecutors and policing, which if used effectively could give the under-enforced law real teeth, the lobby argued.
In 2011, B.C. ranked third in Canada for work-related deaths. One hundred and forty-five people died that year.
The group pushed the province to create a Crown prosecutor position dedicated to workplace death cases, institute training and education for RCMP and local police on the provisions of the Westray Act, and require mandatory police investigations of all cases involving a workplace death or serious injury.
Fitzpatrick said he is angry at the province's delay in implementing the reforms he and other family members advocated for.
"The way I see it, the law, as in the Criminal Code of Canada, is not scantily applied as much as it is not applied at all when workers are injured or killed due to negligence on the part of an employer," Fitzpatrick said.
Bond is now B.C.'s minister of labour. She told The Tyee in an email exchange on June 27 that she believes the system is working.
"This is an important and complex issue, but I have every confidence that Crown counsel are vigorously prosecuting workplace offences and have significant legal expertise assigned to these files," she wrote. 
"The Criminal Justice Branch applies the same charging standard to workplace files as it does to all criminal files -- there must be a substantial likelihood of conviction. The Branch is continuing to broaden its capacity to deal with cases involving workplace injuries or fatalities, and when required will dedicate senior Crown counsel to these files."
Minister Bond noted that she met with representatives of the BC Federation of Labour last August and raised the issue of the appropriate handling of workplace fatalities in a federal-provincial meeting last fall.
"I think it's important that we generate a broader discussion about workplace fatalities and see whether other provinces share our concerns, but to be clear, Bill C-45 falls under federal jurisdiction," the minister wrote.
The Tyee asked for comment on this story from the federal ministers of justice and labour, but neither minister was available over several days of requests.
The NDP's federal labour critic Alexandre Boulerice told The Tyee that he shared the concerns voiced by critics of the Westray Act's enforcement record.
"It is clear that the law as it stands is not strong enough," he said. "Prosecutors should view workplace deaths seriously. The bill should be enforced."
A media spokesperson from the Labour Program of Human Resources and Skills Development Canada sent a statement that emphasized it was not directly from Minister Lisa Raitt.
It read in part: "The Labour Program only investigates and prosecutes contraventions under the Canada Labour Code, not the Criminal Code. It is the police and provincial Crown attorneys who have the authority to enforce the Criminal Code and who are therefore responsible for investigating and determining whether or not any charges should be laid.
"Labour jurisdictions are working together to raise awareness about the Criminal Code to ensure these provisions are used where possible to deter and prevent future accidents and injuries in the workplace."
No substitute for criminal investigation: lawyer
Harsharan Singh Bal was part of the same lobby group as Fitzpatrick last August. His mother, Amarjit Bal, was killed in the crash of a poorly-maintained labour contractor's van in 2007.
Like Fitzpatrick, Bal is impatient with government delay. He said he's seen no progress on improving Westray Act enforcement over the past year.
"We want the government to see about the recommendations we made," Bal said. "The government should protect workers and treat them as human beings."
Janet Patterson is a lawyer who practices in Vancouver with a specialization in WorkSafeBC cases. She supports calls for improved enforcement of the Westray Act.
"In my view, the intent of the Westray provisions has been defeated by allowing the investigation and assessment of employer conduct to be delegated, almost entirely, to the (WorkSafeBC) Board. And however diligent the Board is in its investigation for the purposes of prevention, these are no substitute for a proper criminal investigation and conduct of the case through the justice system as well as the compensation system," Patterson said.
Patterson said she supported demands that all workplace fatalities and serious injuries be investigated both by WorkSafeBC and by the appropriate police force, with police priority being given to cases that show evidence of criminal negligence. She noted that Section 10 of the Workers' Compensation Act prohibits workers from suing employers for negligence. This prohibition, she explained, was part of what is called the "historic compromise" struck when workers' compensation was first instituted in B.C.
"However," she cautioned, "the historic compromise does not include an agreement that negligent employers should also be insulated from criminal prosecution."
Patterson said the death of Brian Fitzpatrick's son illustrates some of the key problems with the way workplace deaths are dealt with now in the province.
"The Board is expert in assessing whether the employer's actions have complied with Board policy but is not expert in investigating a crime and preserving evidence. This was a key problem in the Fitzpatrick case, where a young man was hit by a boulder."
Patterson said that after a preliminary investigation of Fitzpatrick's death by the Board, the employer, Kiewit, was allowed to remove and crush the boulder that had killed him, something that could not have happened in a criminal investigation.
Call to review each death through Westray 'lens'
Representatives of the BC Federation of Labour, President Jim Sinclair, and director of occupational health and safety, Nina Hansen, met with Minister Bond and other officials in November 2012.
Hansen said they learned at that meeting of a memorandum of understanding (MOU) for WorkSafeBC and Police Services to use in liaising on workplace deaths, and were told the document would be "dug out, reviewed and refreshed if necessary."
Hansen said when she saw the MOU document at a June 12, 2013, meeting with the government officials tasked with revising it, it had some improvements, especially an increased scope that now includes the RCMP and other police forces that previously not been covered by the agreement.
(In Manitoba, meanwhile, union lobbying has led to a provincial official, the Chief Investigating Officer, being tasked with developing protocols "to bring police and the Crown prosecutor dedicated to workplace safety and health together to determine what needs to be done to ensure every workplace fatality is reviewed/investigated through the lens of the Westray law.")
Hansen said she hopes some of the following changes to the MOU can be agreed upon:
"We'd like to see police services control the scene until their investigation is completed, and provision for mandatory concurrent police investigations of all fatalities and serious injuries. And we'd like to see mandatory joint training (as in WCB & police services). We'd also like to see special officers designated as expert in workplace deaths, similar to what has happened for domestic violence, and training for all police officers regarding the MOU and protocol for workplace incidents."
Hansen said a police investigation should be mandatory on every work-related death, noting that common practice in B.C. is for law enforcement officer to almost immediately give the investigation over to WorkSafeBC.
Pushback from business
Philip Hochstein, head of the Independent Contractors and Businesses of B.C. and a prominent critic of trade unions, told The Tyee that trying to beef up criminal law enforcement on workplace safety issues was a waste of scarce resources.
"We don't need that," he said of union proposals that a dedicated Crown counsel be tasked with Westray law enforcement, and that police and RCMP should receive special training on enforcing it.
In B.C., Crown counsel are the prosecutors who make a decision, based on police investigation, whether or not to lay criminal charges in a case.
"While we don't condone any kind of illegal behaviour, we need more inspectors to prevent accidents, not punishment after."
Hochstein said that he and his organization have always believed in the "historic compromise" embodied in B.C.'s Workers' Compensation law; a deal, he said, that saw workers guaranteed support when they were injured in trade for giving up the right to sue an employer who causes injury.
"Is that compromise breaking down?" he mused. "If so, we should look at it."
Hochstein said that recent changes brought in by WorkSafeBC that will mean higher costs charged to employers whose employees experience higher levels of injury than average for their industry should create "a further competitive reason to be careful."
In Hochstein's industry, construction, "the accident rate is way down and safety investments up exponentially," he told The Tyee.
When asked if his industry had the highest number of worker fatalities in the province, he said that was not true to his knowledge.
However, according to WorkSafeBC documents, the B.C. construction industry was the province's deadliest in 2011, recording 26 fatalities, while CBC News, citing the Association of Workers' Compensation Boards of Canada, reports the construction sector was Canada's most deadly from 2008 to 2010, racking up 700 fatalities.
'No more Westrays'
Steve Hunt, director of the Steelworkers' District 3, remembers standing with the miners' families at the entrance to the devastated Westray Mine in 1992. The memory still chokes him up in the middle of an interview.
"I was there with the families, a witness to the carnage," he said. "I remember the week-long vigil before the deaths were announced. I went to the 20th anniversary of the deaths and those guys' kids are grown now themselves. They still want to know why their fathers died."
Hunt and his union made a commitment at that mine shaft, he told The Tyee: "No more Westrays." But he says that weak enforcement of the law has allowed the creations of "new Westrays" every year.
"It just shows a callous disregard for workers' lives," he said. "Enforcement of the Westray Act has been nearly non-existent, mainly lip service to placate us."
Hunt said that Canadians and Canadian governments should view workplace deaths as seriously as they do homicides, citing how carefully traffic deaths are investigated and prosecuted.
One Crown counsel, the union leader said, told him the Crown didn't prosecute in worker death cases because "We don't know the law well enough." This admission, Hunt said, reinforces the union argument that education on the provisions of the Westray law is needed.
"I'd like to see WorkSafeBC fund Westray training for the RCMP and for Crown counsel," he said, "and a protocol for investigating workplace deaths developed."
Hunt's union colleague Ron Corbeil said the case of Lyle Hewer is a good illustration of the need for change in how workplace deaths are handled by the justice system.
Hewer was a member of the Steelworkers at a Weyerhaeuser mill in New Westminster in 2004. Ordered to clear a "chipper hog" of blocked wood, Hewer entered the machine, which had been previously flagged as unsafe, Corbeil told The Tyee, and was killed when his attempts to clear the blockage brought down a lethal torrent of wood.
Despite the fact that the company had made an explicit decision not to repair the dangerous machine, and despite the fact the New Westminster police recommended charges against the company, the Crown declined to lay charges.
When the union took the unusual step of launching a private prosecution, the provincial Criminal Justice Branch took over the case and stayed the proceedings.