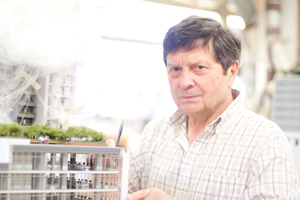 "We do buy people. And we do buy cars. But we do our own trees," explains Bernd Zwick, the soft-spoken owner and president of B&B Scale Models, with pride. "We have someone who specializes in trees. You can get them from Hong Kong or China, but it's not the same."
Every available space in Zwick's Granville Island workshop is crammed to the brim, with people, automobiles, lighting rigs, greenery and property -- everything from waterslide parks to condo towers, corporate headquarters to seaside resorts.
There are placid-looking families packaged together and tucked onto shelves labelled for scale. There are tiny SUVS and luxury sedans that wouldn't look out of place in an eight-year-old's toy box.
The business of B&B, more or less, is to make highly-detailed miniature replicas for property developers, local and worldwide, to use in presentations and as a marketing tool in sales centres. They pump out tiny trees, next to tiny buildings, in version after version of tiny Vancouvers.
In a real estate market as competitive as this city's, assembling scale models is more lucrative than one might imagine. B&B is the city's oldest model-making company, and in their 40-plus-year career they've constructed thousands of miniature models containing elaborate wiring, lights, painted details, and contoured terrain, some of which can require as many as 5,000 hours to complete and can cost well upwards of $50,000.
The German-born Zwick, who emigrated in 1967, has been part of the city's development community for more than 40 years, having begun his career as a designer and model builder for acclaimed architect Arthur Erickson. After three years of work with Erickson's firm, Zwick had gained enough recognition to start his own company.
"I asked Arthur -- this must have been 1970 -- I asked him if I could start my own company, and he said, 'Sure. I've got nothing against it,'" Zwick recalls. "'As long as, if I need you, you're here.' So I was working for him, and evenings and weekends I was working for myself."
Erickson and Zwick maintained a cordial working relationship, with Zwick crafting every one of Erickson's models up until the architect's death.
All the small things
Since the company's founding, B&B has completed more than 8,000 projects, including the Shangri La downtown, YVR, the Vancouver Trade and Convention Centre, as well as a number of international projects, like the Reebok Headquarters in Boston.
"Ten or 15 years ago, people were saying: 'Oh, you're going to be out of business in the year 2000," Zwick chuckles. "And we're still making models. Part of the reason is that 20 years ago people built something and then they sold it. Now nobody -- but nobody -- builds something they haven't already sold."
Jeremy Webster, a development marketing manager, acknowledges that in the past two decades scale models have transformed from an architectural and design tool to primarily a marketing one.
"I need it entirely for marketing purposes," he explains. "So if somebody walks in, they can see the context. They can get a feel for the building. You might need two or three, in the end. One is for sales. Then, depending on what the city requires [for the rezoning and development permit process], you may need two or three more."
All told, most developers will commission a number of different models for varying stages in the process; several less-detailed ones for presentation to council (which can cost between $10,000 and $12,000 each), followed by fully realized marketing models (anywhere from $20,000 to $100,000 each).
The highly skilled labour involved doesn't come cheap. Model making is a profession requiring craftspeople with a wide range of skills, everything from drafting to woodworking to software expertise. At each stage in the process, developers and architects will consult with model makers to ensure the accuracy of the design, materials and paint colours.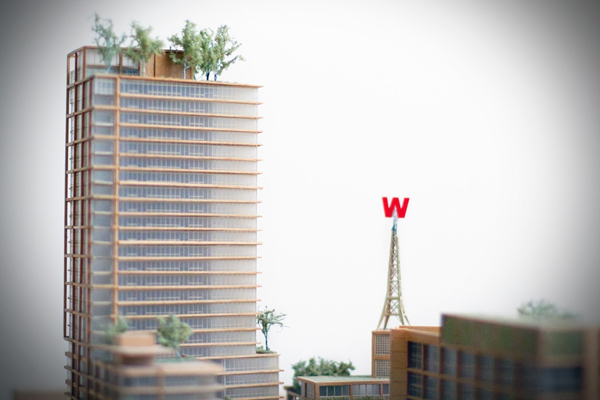 Before the late 1990s, models were built entirely by hand, using little more than a table saw. With the advent of technologies like elaborate laser machines, which cut and contour materials with digital precision, programmers have also become an essential part of the mix. However, as Zwick explains, the model maker trade doesn't technically exist in North America; there is no set list of technical qualifications necessary, and there are no model making schools or university courses, though there are some apprenticeships in European countries.
"Model-making is slow going," Zwick explains. "It takes four years to learn. Where I'm from, in Germany, after four years you were a junior Journeyman. Then after a further three years, you were a senior Journeyman. Really, to be any good, it was seven years. Nobody in Canada has a little piece of paper that says 'You're a Modelmaker', except me."
Big fish in a little pond
According to Webster, the scale model community in Vancouver is relatively small (his most recent estimate around five businesses currently in operation). Fortunately, the business has remained largely immune to the realities of the global marketplace, he explains.
"The problem with anything overseas is that you have no control over the quality," Webster says. "Plus, if you buy one of these from China, and it's damaged or there's anything wrong, you still own the damn thing. It's not cost effective. The model will still be 17 grand. You still have to ship it, and they're extremely delicate. You want to go see it; I'll go see it three times while it's being built."While overseas competition may not be a factor, local competition definitely is.
"Strangely enough, it's competitive," Zwick sighs. "You'd think we'd talk to each other? There's no talking. Even though there are only half a dozen of us, you'd think we could get on the same page. No."
Zwick describes how a one-time model protege, recruited from abroad, went rogue."If you want to hire somebody from out of the country, you have to prove that you can't hire a Canadian," he continues, "I advertised in Montreal, Toronto, Calgary, Vancouver. It was about $2,000 worth of advertising. I got him into the country, and long story short, he's now my biggest competition."
That competition, according to Zwick, is now located a scant few blocks away at 5th and Ontario. A B Scale Models has operated since the '90s, and the company's Sharon Xie says it's now responsible for a significant portion of the scale model market.
While Xie would not confirm her or owner Ming Yang's previous association with B&B, she estimates her company does "90 per cent" of in-town projects. "In a month, we do 20 to 30 projects."
Zwick swiftly disputes A B's market share.
"[They do] two or three times as much, I'd believe, because they have twice as many people. But certainly not 90 per cent. Don't forget, there are other companies in town."Despite the fact that A B doesn't advertise (they don't even have a website), it has about 30 employees in total, making it the largest company of its kind in town. Employees currently work in two shifts, keeping the business open 24 hours a day simply to keep up with demand. And according to Xie, that demand is growing.
"We never close," she says. "You come at midnight and knock on the door, somebody will open it for you. And the laser machine is going 24 hours a day. The laser machine never sleeps."
While A B's business is booming, Zwick's was, for a time at least, devastated by the recession. Before the 2008 global financial crisis, B&B commanded the largest scale model workforce in town, with 45 employees. But with the collapse of the U.S. real estate market, many of Zwick's lucrative U.S. and overseas contracts dried up -- contracts which comprised an estimated two-thirds of their business. B&B's workforce dwindled to five employees -- Zwick, a secretary, and three others -- and without the lucrative local contracts A B had snapped up, the road back wasn't without its challenges.
The big picture
As for the future, all sides agree that local business isn't going anywhere. There is talk of expansion, more contracts, and new technological advances, including a 3D printer said to create and construct models entirely from within the computer. Zwick's workforce has since stabilized at 18, and currently includes, by his description, "Canada's best treemaker," a woman who has been perfecting her trade for close to 10 years.
The company's prospects are currently rosy, working on an average of three to six projects per month, with a number of new pieces on the go, including one Zwick deems too secret to discuss.The future for the scale models themselves however -- pieces worth tens of thousands of dollars, and assembled by elite teams of highly dedicated craftspeople over hundreds of hours -- is considerably less bright.
"Sometimes they're gifts to realty companies," Webster shrugs. "Sometimes they go in the basement. Sometimes they go in the dumpster."
Nonetheless, the models and the companies that make them remain an essential and respected part of the city's real estate landscape, and neither Xie nor Zwick have any intention of stopping. Just don't ask Bernd Zwick who the other B in B&B is.
"Doesn't exist anymore," he says. "That's for another article. That's another hour."
And if you tell him that it all sounds like some pretty big business?
"If you think about it," he deadpans, "it's actually a very tiny business."