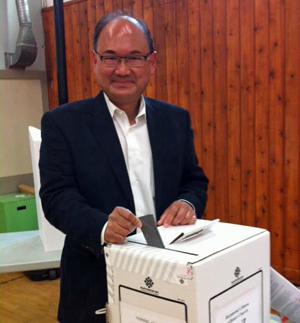 Almost $1 million was siphoned from the Ministry of Jobs, Tourism and Innovation to increase the nearly $2.5 million budget for the multiculturalism portfolio a year before the provincial election campaign, according to documents gathered for the in-house review of the BC Liberals' Multicultural Outreach Strategy.
The outreach strategy was outlined in a 17-page leaked memo that included plans to coordinate party and government resources to "re-engage with ethnic voters" and find "quick wins" in apologizing for past injustices, such as the Chinese head tax. The leak became known as a "quick wins" scandal, one that dogged the Liberals throughout the election.
The final report on the review, led by Premier Christy Clark's deputy minister John Dyble, found that several staffers breached the code of conduct by mixing BC Liberal work with their government jobs.
More than 7,849 pages used for the review, many censored in whole or in part, were released in three large files on June 11.
The disclosure, via the Open Information website, came one day later than the 60 working days pledged in the Dyble report. The disclosure was deliberately delayed until after the May 14 election because the approximately 10,000 pages gathered for Dyble's review were handled under the Freedom of Information and Protection of Privacy Act, which does not count weekends or holidays in processing times.
Ministry mandate of grants and gifts
In a heavily censored, May 3, 2012 letter about the Minister of State for Multiculturalism Spending Plan, then-Finance Minister Kevin Falcon told Jobs Minister Pat Bell: "I am writing to inform you that your request for formal access to Contingencies and New Programs Vote funding in the amount of $975,000 to implement the Minister of State for Multiculturalism's proposed spending plan has been approved."
Falcon's letter was copied to Multiculturalism Minister John Yap, Bell's Deputy Minister Dana Hayden and assistant deputy minister George Farkas. The $975,000 was to be spent before March 31, 2013, but neither the sum nor the source ministry were explicitly mentioned in Dyble's March 14 report, which was ordered by Clark and slammed by the NDP for its lack of independence.
Dyble's report, which concluded "there were violations of the Public Service Code of Conduct," mentioned "a submission was approved by the Minister of Finance as Chair of Treasury Board on May 3, 2012 to authorize a grant program, contracting for community liaisons, the hosting of multicultural tables and gifts."
Dyble concluded the grant process was managed according to standard procedures. The report, however, said ministry staff described "the apparent frustration" of Yap's predecessor Harry Bloy "that there was a lack of funding to carry out his mandate."
Before the $975,000 infusion, the total multiculturalism budget was $2.47 million, of which $1.8 million was earmarked federal funding and $625,000 provincial.
Yap, Haakstad forced to resign
Yap was forced to resign March 5, but won re-election in Richmond-Steveston on May 14 and was sworn-in June 10 as Parliamentary Secretary responsible for liquor policy reform under new Justice Minister Suzanne Anton. Bloy and Bell did not run in the provincial election. Hayden was not on the roster of deputy ministers announced by Clark, but remains CEO of B.C. Pavilion Corporation and interim CEO of Destination B.C.
The first casualty of the scandal, revealed by the NDP during Question Period on Feb. 27, was Clark's deputy chief of staff Kim Haakstad. The architect of the ethnic campaigning strategy resigned March 1, but was revealed in May as part of Clark's failed re-election campaign in Vancouver-Point Grey. Haakstad's successor in the Premier's office, announced June 11, is BC Liberal Party deputy campaign manager Michele Cadario.
The notes of Yap's interview by Deputy Minister Kim Henderson indicated the total budget of $1 million was cut back by $25,000 to $975,000 "in order to help pay for Philippines (typhoon) relief."
"Most of the money was for a small grant program. There was a line item of $90K and up to $100K for outreach," said the undated notes of Henderson, who was promoted from Citizens' Services to the Premier's office. "Another line for a float in the parade, $15K was not practical, nor was it approved. Gifts and books. The plan is quite comprehensive. The Ministry was very event driven."
Speaking points for Yap's June 29, 2012 appearance at the Holiday Inn in North Vancouver indicated that 150 or more non-profit societies, associations and community organizations would receive grants up to $5,000. An Oct. 23, 2012 information note for Yap said the grants selection process, including the criteria to pick applicants and the level of funding, was administered by Gaming Grants (Ministry of Justice) through a service agreement.
There was another $220,000 allocated to various programs, including $48,000 for a dozen multiculturalism table dialogues, $5,000 to complete a report for Treasury Board and $100,000 to hire community liaison consultants.
The government advertised for the community liaison contracts on June 11, 2012 and six people applied, of which four were chosen: Pavandip Singh Bahia, Lita Nuguid, Ann Woo and Clara K.K. Chow.
Head tax apology part of strategy
Bloy loyalist and ex-multiculturalism ministry communications director Brian Bonney was heavily involved in the community liaison program. Bonney, who left the government in February, was found by Dyble to have breached the code of conduct. The BC Liberals repaid the treasury with a $70,000 cheque on March 14 to the Comptroller General, representing part of Bonney's salary.
A confidential issues note to Yap dated Feb. 6 and updated Feb. 13 said "the community liaison consultant initiative was subsequently cancelled before contracts with individuals were confirmed." Records show Nuguid, however, invoiced before mid-January $6,800 for attending 17 events and $93,200 remained in the budget.
A Jan. 24 confidential update on Multiculturalism Branch Activities to Assistant Deputy Minister Dawn Minty said 140 grants worth $324,050 were awarded and $425,950 was still available. The $68,400 estimated cost for proposed Sun Yat-Sen Statues in Burnaby and Victoria and a Chinese Head Tax commemoration were "on hold pending direction from (Minister's Office) and with MLA (Richard) Lee."
Meanwhile, the documents include a Feb. 20 draft motion regarding the Apology to Chinese British Columbians for past discrimination.
"MLA Lee and Minister Yap were hoping to have this motion introduced this session," said the email from Yap's aide Rishi Sharma, who would eventually run unsuccessfully for the BC Liberals in Saanich South. "Minister Chong would lead in introducing the motion, if approved by house leader and opposition."
The apologies were to cover the 1884 Act to prevent Chinese from acquiring Crown Lands, the 1884 Act to prevent immigration of Chinese and the 1885 Act to regulate the Chinese population in B.C., plus an apology "for pressuring the federal government to restrict Chinese immigration," which led to the Chinese Head Tax from 1885 to 1923 and the 1923 to 1947 Chinese Immigration Act.
Lee was also re-elected in Burnaby North, but Chong lost her seat in Oak Bay-Gordon Head to the Green Party's Andrew Weaver.
Below, see highlights from the 7,849 pages of documents released as part of the Dyble review.