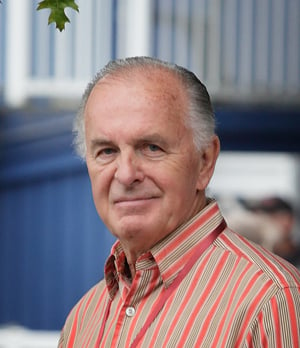 After more than a year-and-half on the market, Patrick Kinsella's Shaughnessy mansion has finally sold. Who bought it and for how much is a mystery for now.
So is whether he and his wife Brenda Jones Kinsella will remain in British Columbia.
Kinsella is the political strategist and lobbyist behind Gordon Campbell and Christy Clark's rise to the premiership. The pivotal figure in B.C. political history will turn 72 on May 26 --12 days after the May 14 provincial election -- and appears to be headed for the sunshine and heat of Scottsdale, Arizona. He did not respond to The Tyee's phone and email requests for an interview.
Public records from Maricopa County show that Lot 11 of 7475 East Gainey Ranch Road in Scottsdale was purchased by Brenda Jones Kinsella for $1.15 million cash from the Arthur Wondrasek Jr. Trust. Wondrasek's obituary in the Chicago Tribune said the 69-year-old Chicagoan built the Quality Screw and Nut Co. into an empire and vacationed at the house, where he passed away on May 29, 2010.
The deed is dated Feb. 15, 2012, but a notarized document signed two days earlier by Brenda Kinsella said the 1996-built house was for the "use of the residential buyer" and "to be occupied by the owner or family member."
Lobbying slowdown
Kinsella, founder of the Progressive Group, remains registered to lobby the B.C. government on behalf of Corinex Communications Corp. until Sept. 15, 2014, but the undertakings for the rest of his clients run out this April and May, including: MWH Business Solutions (April 1), New Car Dealers of B.C., Mark Anthony and Pacific Western Brewing Co. (April 9) and Sylvan Resources (May 31).
Kinsella withdrew his registration for Exel Logistics on March 30, 2012, before bidding began to privatize the Liquor Distribution Branch's warehousing and distribution. The tender was mysteriously cancelled five months later.
On Nov. 30, 2012, Kinsella reported that he ceased lobbying for Great Canadian Gaming Corp., the owner of River Rock Casino Resort and operator of Hastings Racecourse. He remains listed as a director of Bralorne Gold Mines.
BC Rail inquiry vowed by NDP
NDP Attorney General critic Leonard Krog promised to hold an inquiry into the 2003 sale of BC Rail, if his party is victorious in the May 14 election. Kinsella would be a likely target for questions.
The 2003 privatization of the Crown-owned railway spawned the sensational police raid of the Legislature that year and the 2010 B.C. Supreme Court bribery trial of fired Liberal aides Dave Basi and Bob Virk.
Court proceedings included evidence that Kinsella was paid $297,000 to advise BC Rail between 2002 and 2005. The railway's operations were sold to CN, headed by prominent BC Liberal donor David McLean, in late 2003.
Basi and Virk's plea bargain included a $6 million payment to their lawyers from the public treasury, contrary to government policy. B.C. Auditor General John Doyle is investigating why. Independent MLA John van Dongen, who quit the BC Liberals a year ago this week, accused Clark, who was Campbell's deputy premier in 2003, of conflict of interest. That is also under investigation.
Kinsella's client list, obtained from the State of Washington by Sean Holman in 2008, included Accenture Business Services and boasted of helping the company achieve a 10-year, $1.45 billion agreement to handle BC Hydro's back office services. Progressive Group was contracted by Washington to lobby the B.C. government and organizers of the Vancouver 2010 Winter Olympics, also known as VANOC, for Olympic business opportunities.
Progressive's company description said it was "located in the heart of downtown Vancouver, while at the same time has a presence in the provincial capital of Victoria and a foot into the Vancouver 2010 Organizing Committee."
New digs: 4,791 square foot home
Based on the description of his new house, Kinsella now clearly expects to be spending some quality time in Arizona.
Maricopa County assessor records say the 4,791 square foot house is on a 10,097 square foot lot with a three-car garage and 350 square foot pool. It is wood-framed with a concrete tile roof in a mixed-use, luxury gated community that surrounds a 27-hole golf course.
Gainey Ranch was developed beginning in 1981 by Markland Properties, a company owned by Hudson's Bay Company. Markland bought 560 acres of the 640 acre Gainey Ranch in 1980, a year after its namesake, Daniel C. Gainey, died at age 81.
"Markland wanted it to be like a small town; like those that exist all across America, where many of us retain deep roots and fond enduring memories," says the Gainey Ranch Community Association website.
Gainey was a Minnesota native who headed the Jostens school ring company. He bought the ranch in 1941 and retired in 1959 to raise Hereford cattle and breed Arabian horses.
(Coincidentally, Kinsella and Pacific Customs Brokers owner Glen Todd were the leading co-owners of horses in 2012 at Hastings Racecourse, where live racing resumes April 13.)
Kinsella isn't the only well-known British Columbia homeowner at Gainey Ranch, where the centrepiece is the Hyatt Regency Scottsdale Resort and Spa. Victoria's Steve Nash bought a condo at The Oasis less than six months before he was traded in 1998 from the Phoenix Suns to the Dallas Mavericks.
It took Patrick and Brenda Jones Kinsella extra patience and deep discounts to swing a deal for their Vancouver property. They slashed the price of the 1911-built, Shaughnessy I classic craftsman at least three times since listing it in July 2011. Agents from Rennie and Associates Realty were switched in favour of Macdonald Realty BGW when there were no takers for the six-bedroom, seven-bathroom, 6,400-square foot house, which was registered in Brenda's name.
"It has a fabulous chef's kitchen, spacious principal rooms, a deluxe master suite and fully finished lower level with nanny's quarters, media and exercise rooms," according to the Macdonald Realty description. "Artfully landscaped gardens, private patios, pool and hot tub complete this extraordinary package."
The original asking price of $7.28 million was cut to $6.198 million and finally to $5.998 million. Real estate agent Monique Badun's website said it was "added to our list of sold properties during March 2013."