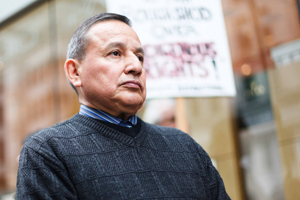 A British Columbia government bill that would radically shift the management of public forests is drawing criticism from environmental groups, the head of the Union of B.C. Indian Chiefs and opposition politicians.
The bill, however, is in the middle of a legislative log jam and may not pass before the province's politicians leave the legislature to hit the campaign trail.
"This is huge," said Vicky Husband, a long time conservationist whose efforts have been recognized with an Order of B.C. award. "It's the biggest giveaway of our forest lands in about 60 years... There has been no conversation, no consultation on this."
"It's opening up a real hornet's nest," warned Valerie Langer, the director of the BC Forests Campaign for Forest Ethics. If the change is made, it will strengthen companies' claims to public forests and lead to big compensation payouts from any government that opts for conservation.
Joe Foy at the Wilderness Committee said in a press release if the bill passes, "it will set off a massive privatization of the public's forest lands... This is the biggest change proposed for forestry that I've seen in my lifetime -- and it's all bad."
"It's creating considerable concern," said Stewart Phillip, president of the UBCIC. "It's a little bill with huge implications."
No public benefit: MLA
At issue are changes to the Forest Act included in Bill 8, the Miscellaneous Statutes Amendment Act, 2013, which covers a grab bag of legislation overseen by seven different ministries.
The changes to the Forest Act would allow the minister of forests, lands and natural resource operations to invite companies to convert their volume-based forest licenses to area-based tree farm licenses. According to the government, any such conversion will be publicly advertised and will include an opportunity for public review and feedback.
Bob Simpson, the independent MLA for Cariboo North, has been raising concerns about the bill since before it was introduced. "The way the bill is laid out, it's a backroom deal with no requirement for public consultation," he said.
Converting volume-based tenures to area-based tenures could be accepted in some parts of the province if it were done well, he said. There would, however, need to be some public gain in exchange for the benefit companies would see, he said.
"Solely going to rollover will never be palatable," he said. "The public will see it as privatization... This is a 100-year conversation in B.C. and the public has always said 'no' and they're going to say 'no' again."
'We've seen this movie before': UBCIC's Phillip
The UBCIC worries such a rollover will lead to an infringement of aboriginal rights, said Phillip.
"We're concerned if you move from volume-based to area-based it creates public liability within the designated area of the license," he said. Companies that decide they have increased liability will want to put up gates to bar access to the land, he said.
"That is an absolute infringement on aboriginal rights to hunt and carry on traditional activities," he said.
A similar situation happened a few years ago after the government passed legislation to protect watersheds used for drinking water, he said. Despite assurances access would continue, as soon as the law passed gates proliferated, he said. "We've seen this movie before."
Phillip also noted that in a meeting two weeks ago with Premier Christy Clark, she failed to mention the legislation. "There hasn't been any significant consultation."
"This will only solidify the influence of the big forest companies… They will control everything," said Husband, noting 94 per cent of the province is publicly owned Crown land. "It's really a taking away from the public."
And the legislation is vague, leaving too much room for things to happen behind closed doors, she said. "It's very loose. No details."
It's too big a change for a government to make on its way out the door, less than three months before an election, she said.
So vague it's problematic: NDP
The NDP's forestry critic, Norm Macdonald, said the Opposition will receive a technical briefing this week on the legislation. "The legislation is, I think, disturbingly vague on what's going on," he said. "There's a challenge about moving legislation when you're not completely sure what you're giving license to."
The Special Committe on Timber Supply discussed moving to area-based tenures and recommended exploring that possibility, with unanimous support from NDP and Liberal committee members. That discussion included various things that were described as area-based, but it's not clear what the government has in mind with its legislation, Macdonald said.
"We'll see if the legislation is actually something that's supportable," he said. "Right now it seems vague to the extent (that) it's problematic."
The process for converting licenses needs to be absolutely transparent, or else it will open the door to back-room deals, he said.
Asked about the charge that the bill lacks details, Forests Minister Steve Thomson said, "I think the criticism is unfounded. The legislation very clearly sets out the public consultation process that's required when applications are going to be considered."
The government has committed to further consultation with the public this summer on the criteria for converting licenses and how to determine whether such conversions meet the public interest, he said, adding he hopes that will reduce people's concerns.
First Nations have been made aware of the legislation and will be engaged in further consultation, he said.
Time running out
Another criticism is that the legislation doesn't include provisions to require timber from an area to go to any particular mill.
A company like Hampton, for example, which depends on access to more timber to rebuild its mill in Burns Lake, could be sold to another company, said Simpson. While the government justifies the proposed changes as a way to feed the mill, a sale of Hampton could see that timber going elsewhere.
Thomson said it's correct the legislation doesn't include anything allowing the government to say which mill wood would be directed to, but in the case of Hampton it makes sense they would feed their own mills.
"Hampton's licenses themselves will obviously go to their mills and part of looking at area-based was giving them that additional opportunity to grow additional fibre to make that investment in that area," said Thomson. "But I think it's important that this initiative is broader. It's something industry has been looking for for some time."
With a dozen bills already before the legislature and at least a couple still to come, the government is unlikely to get through everything in the two weeks they intend to sit in the legislature.
Mike de Jong, the government House leader, acknowledged as much, saying this week, "All of the legislation the government tables this session obviously is important, but we'll have to make responsible decisions based on how much time is left and how much time the Opposition devotes to debating some of them."
Thomson said he hopes the Forest Act changes will get passed, but Simpson said he's already told the minister that debating the bill will be time consuming. "I will take up all the possible debate time that's left on the calendar," he said.
Macdonald said if the legislation moves forward to second reading, the NDP will do its job. "We'll be ready to debate it and we'll do the work of Opposition of due diligence."
Even if it passes, there will be time to fix or repeal it, he said. "They're talking about regulations being made in the summer. There's an election between now and then."
Husband said people concerned about the bill and other moves that stress timber and jobs to the exclusion of all other values need to raise a ruckus. "If you don't fight them, they will get passed."