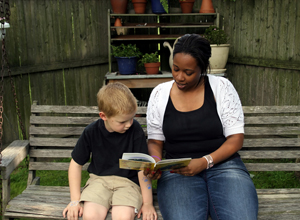 Working in other people's homes is no guarantee of safety and dignity, according to a new report that finds domestics all over the world are vulnerable to economic exploitation, overwork, rape and other forms of physical abuse.
In the wake of that new UN sponsored research, local advocates say that Canada should be doing more to protect those who tend our children, clean our houses, cook our meals and care for the ill and the dying.
Most of the world's 53 million domestic workers are women and often they are women of colour from the Third World working behind closed doors in middle class homes in countries like Canada.
Another seven million children younger than 16 toil as domestic workers and are not included in the figure cited above but are exposed to many of the same dangers.
The International Labour Organization (ILO) study, "Domestic Workers across the World: Global and regional statistics and the extent of legal protection," is a damning portrait of how the women, men and children who do this vital work are treated. It follows on the adoption in 2011 of ILO Convention 189, which will have the weight of an international treaty when ratified, and commits signatory nations to make reforms protecting domestic workers from abuse.
Three out of 10 of the world's domestic workers have no labour law protection, and nearly half are not entitled to weekly rest periods or paid annual leave. More than one-third have no maternity protection, and only one in 10 are fully covered by national labour laws.
Canada accused of obstruction
According to angry commentary in a Philippine newspaper, Canada took an obstructive role in the ILO debates in 2011 that led up to the adoption of Convention 189. The issue is a charged one in the Philippines, which is the single largest source country for women who come to Canada to work as domestics --providing 90 per cent of those who arrive to work here as live-in caregivers.
Since 2000, according to research done by the Metcalf Foundation, "the number of migrant workers in Canada has more than tripled. Figures released annually by Citizenship and Immigration Canada track how many migrant workers are present in Canada on 1 December of each year. On 1 December 2000, there were 89,746 migrant workers present in Canada. On 1 December 2011, there were 300,111."
Of the 300,000, approximately 10 per cent arrived under the aegis of the Live-in Caregiver program.
The ILO convention, having been ratified by eight nations so far, will come into effect in September of this year. Canada, criticized for trying to weaken and impede adoption of the convention, has not yet joined Uruguay, the Philippines, Mauritius, Italy, Paraguay, Bolivia, Nicaragua and Colombia in ratifying the treaty.
A spokesperson for Human Resources and Skills Development Canada told the Tyee that Canadian ratification would only proceed if and when the federal government got agreement from all provinces and territories.
"That's just ludicrous," Ai Li Lim of the West Coast Domestic Workers Association, a local advocacy group, told the Tyee. "This is a federal program and the government should act quickly to ratify the convention. Ratifying 189 would send a message that the government cares about the rights of domestic workers."
Domestics: vital and vulnerable
Globally, the ILO reports, domestic work represents over seven per cent of women's wage labour. Remittances from workers abroad, primarily women domestics, now make up 12 per cent of Philippine GDP. This cash flow does not come without a human cost. The ILO report says that:
"Domestic workers often also have to accept deductions from their salaries for the costs of housing and food -- even when living in the employer's household is a requirement that primarily benefits the household. Another example of unequal treatment is the exclusion from maternity leave and the associated maternity cash benefits. Given that more than 80 per cent of all domestic workers are women, this is an important shortcoming. While domestic workers often enable others to improve their balance of work and family obligations, domestic workers themselves are often excluded from crucial provisions: more than one-third of all domestic workers themselves have no right to go on paid maternity leave. Furthermore, the implementation gaps in many countries means that the effective protection is probably even weaker than these figures suggest."
The ILO researchers also take note of widespread accounts of sexual abuse and violence targeting vulnerable domestic workers, saying, in part:
"Very low wages, excessively long hours, the absence of a weekly rest day, risks of physical, mental and sexual abuse and restrictions on freedom of movement are some of the problems that have frequently characterized the working conditions of domestic workers worldwide. These can partly be attributed to gaps in national labour and employment legislation and often reflect discrimination along the lines of sex, race and caste."
Feds won't speed permanent resident status
The West Coast Domestic Workers Association's Ai Li Lim told the Tyee that domestic workers in Canada, many of them brought to Canada under the Live-In Caregiver element of the Temporary Foreign Worker Program, are exposed to many of the dangers and inadequate protections described in the ILO research.
"These are issues we've been advocating about now for decades," Lim said when contacted by phone at her organization's Vancouver offices. "Our demands are very similar to those of the ILO. We deal with close to 3,000 contacts from domestic workers every year in B.C. They often complain of unpaid overtime and abuse. We believe the complaints we receive are only the tip of the iceberg. Many domestic workers are vulnerable because of their immigration status and reluctant to take risks by reporting employer misconduct."
Lim told the Tyee that live-in caregivers would be far less vulnerable if they were allowed to qualify for permanent resident status on arrival in Canada instead of after two years of work here. Then, she explained, the workers would not be tied to a potentially abusive employer during that two year period. However, a spokeswoman for Citizenship and Immigration Canada told the Tyee via email that the government was not open to that suggested reform.
"Granting permanent resident status upon arrival would not be fair, as we would not allow other temporary foreign workers who could become eligible for permanent residence... to do the same. Moreover, there is little evidence that caregivers who become permanent residents continue to work as live-in caregivers to meet Canada's labour market needs," she wrote in an email.
"Canada's failure to ratify Convention 189 and reluctance to allow foreign workers doing domestic work in Canada to apply on arrival for permanent resident status both reflect badly on Canada's reputation as a country that protects human rights," Lim commented on being told about this government response.
Federal programs that bring temporary workers to Canada have expanded dramatically in the last decade, now bringing in more temporary workers each year than the number admitted as regular immigrants. Recent controversies centring on a group of Chinese coal miners being brought to B.C. under the Temporary Foreign Worker Program have prompted the government to announce it is reviewing the "integrity" of the program.