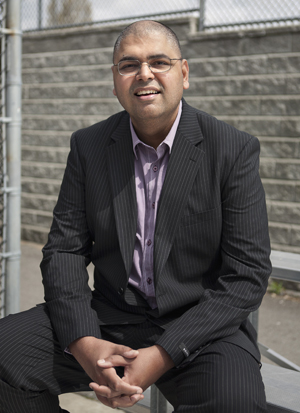 Growing old can be daunting enough, but can be made even more worrisome for the lesbian, gay, bisexual, two-spirited and transgendered community.
Often, checking into a retirement home can be like taking a time machine back to the days when homosexuals were underground and didn't risk letting people know about their sexuality.
To be accepted and to escape bullying from other rest home residents or even staff, many elderly homosexuals simply choose to go back into the closet.
But Alex Sangha says it doesn't have to be that way.
As part of a Master's in Social Work at Dalhousie University, Delta resident Sangha has undertaken an initiative to open a rest home catering to the LGBT community and its allies.
"We want to welcome everyone, but we just want to create a homophobic/transphobic-free place for everyone," said Sangha.
Since he first announced the project and received some media coverage in September he has managed to raise more than $37,000 -- $12,000 more than his original target -- and has received individual donations from across the continent.
The largest portions of the donations came from the United Way and the Vancity Community Foundation, but it hasn't just been the money that's rolling in, said Sangha.
"We have put out a call for applications to set up a dignity house advisory committee," he said recently. "We wanted up to 10 community members, but we already have 17 people, including the four on the committee who have applied."
The committee eventually came to hold 22 members who will get started on the project in late January.
Now the next step is to conduct a study on the feasibility of the project, with the ultimate goal to open the "Dignity House" seniors' home.
Dignity through segregation?
The project has received some criticism from the public with some people alleging a rest home for a particular community amounts to segregation.
UBC professor of social work Brian O'Neill said that's not the case and such a home is needed for LGBT seniors who feel forced to live in isolation or deal with bigotry if they were openly gay at their rest homes.
"I've been out since I was 20," said O'Neill, who is gay himself. "I don't want to have to go back into the closet if I had to go into a long-term care facility."
Though he said he wouldn't have a problem with going to a traditional rest home, he understands how many could object to it.
"The bit of research that I've done around this… is that these institutions have been basically and still are largely organized on the assumption that everybody is heterosexual," he said.
The dynamic can make LGBT seniors feel out of place or even unwanted.
A place to feel safe
That feeling of being out of place has led to high rates of depression in the elderly LGBT community said Catherine Kohm of the Haro Park Centre, a care campus for the elderly in the West End.
"We hear a lot about bullying in the younger population, but I think it's any generation," said Kohm, explaining what LGBT people can face in rest homes.
She said her facility has become an eclectic one as many elderly LGBT people live in the West End, but pointed out there are also immigrants and other marginalized groups living at the centre without conflict.
Kohm said she has one female resident who dresses in men's clothes and goes by a man's name because she feels comfortable enough to live openly at the centre.
It's that kind of openness Sangha said he wants to foster -- rejecting any accusations the home will segregate LGBT people from the rest of the community.
"People say 'that's discrimination, that's segregation, why are they so special?'" said Sangha.
"There is affordable housing for every demographic under the sun," Sangha continues. "Gay and lesbian people are one of the most discriminated groups in society. If anyone ever needed a special place for them so they can live and be safe and live in dignity, it is gays and lesbians."
Sangha said the project will start small, but hopes to have resources to accommodate 50 to 75 people to start, depending on the feasibility study. He said he's already received a phone call from a woman wanting to apply to live in the rest home, but he had to explain it hasn't been built yet.
Dear readers and commenters, you may notice that comments are not enabled for this story. In what has become a Tyee holiday tradition, we're closing the commenting system for the holidays to allow our hardworking team a brief respite and chance to recharge. Thanks for all the insightful, informative comments in 2012. We look forward with happy anticipation to more of the same in 2013.