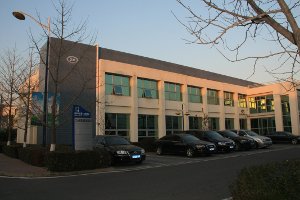 The United Steelworkers Union (USW) is expected to release a report Wednesday raising questions about the majority shareholder of HD Mining -- Beijing-based Huiyong Holdings.
According to HD Mining's website, Huiyong holds a 55 per cent share in HD Mining with 40 per cent belonging to Canadian Dehua Lvliang International Mines and five per cent held by an unnamed party.
HD Mining is bringing Chinese workers to B.C. to extract coal from its mining projects under the federal Temporary Worker Program.
In the report, shared with The Tyee, the union raised questions about the company's majority owner, claiming weeks of researching Huiyong produced barely any information about the company.
It also accused the firm of being a "shell company" used to move money around and said it found no proof the Huiyong operates any mines in China.
"Extensive research by United Steelworkers employing sources in China indicates that while Huiyong does hold investments in mines in Shanxi province and the vice general manager of Huiyong, Ma Zhifu, is also the president of the board of a Shanxi mine, there is no publicly-available evidence that the company actually operates any mines," reads the report.
"The company itself seems to consist of little more than an email address, phone number and street address located in a modest building in a Beijing suburb. It has no obvious website -- none in Chinese, none in English."
The Tyee obtained a photo taken recently of the Beijing building that Huiyong lists as its address, shown at the top of this article.
Union says it was stonewalled
Director of the United Steelworkers Union for Western Canada Stephen Hunt said his union's report raises serious concerns about the firm.
"I've not seen stuff like this before, we're generally more used to dealing with companies that are listed on stock exchanges or private companies, but you know who they're held by," said Hunt.
"This one's kind of a mystery and it took a long time to figure it out."
Hunt also expressed concern about the five per cent share of the company held by an unspecified party.
He said he wonders if the British Columbian government properly examined HD Mining and Huiyong Holdings before allowing them to operate in the province.
The report goes on to criticise HD Mining for not responding to requests about where Huiyong owns and operates mines in China, how many employees it has and what kind of technology it is using.
It also questions the backgrounds of some of the people involved in the company, such as the company's chief consultant Ye Qing, referring to him as "as high-level an insider as one might hope to become within the Chinese Communist Party."
The United Steelworkers' Union has been pressuring the government to consider pulling HD Mining's permits allowing 201 Chinese miners to work at the company's Murray River project since discovering help wanted ads indicating Mandarin language skills were an asset for the jobs.
They alleged the mine wants to use Chinese workers to cut down on labour costs and benefits.
Last week one of the miners from China filed a human rights complaint against the union on the grounds it has stir up contempt for Chinese people, a charge the USW has denied saying it is protecting the interests of local workers.
Ministry says foreign firms get 'rigorous' vetting
HD Mining took questions regarding the report Tuesday, but by Tuesday night had not responded.
Recently The Tyee phoned Huiyong Holding's headquarters in Beijing looking for information about the firm, but was told by a receptionist only the company's head could answer such queries.
The receptionist refused to help The Tyee contact the company head or give the person's name.
Meanwhile, B.C.'s Ministry of Jobs Tourism and Skills Training insisted it conducts due diligence when it comes to foreign investment.
"Any company wishing to operate a mine in British Columbia must go through our rigorous environmental assessment and permitting processes," said the ministry in a statement.
"B.C.'s mining industry ensures mines are environmentally sound through technical review, comprehensive permitting, inspections and reclamation."
The ministry reiterated the province is "committed" to investment and mine development in the province -- pointing out it plans to open eight more mines, as was announced by Premier Christy Clark in Beijing in 2011.
But the ministry did not answer questions raised in the USW report about Huiyong Holdings and HD Mining's background or what the province knew about the operation prior to its arrival in B.C.