Bias and discrimination against Aboriginal women led to a "colossal failure" in the police investigation of serial killer Robert Pickton, according to British Columbia's long-anticipated report on missing and murdered Aboriginal women.
As Aboriginal and women's groups denied legal funding drummed at a vigil on the street -- as they did throughout the hearings -- inside Vancouver's Wosk Centre for Dialogue, Commissioner Wally Oppal released his report from the Missing Women Commission of Inquiry (MWCI) today.
His recommendations include merging regional police departments into a single force, increasing funding for women's shelters and support services, and appointing a provincial "champion" of his report -- but critics complained he offered too few solutions to systemic problems.
"I have come to conclusion that there was systemic bias by the police," Oppal said after the report's release. "It was important for me to understand the underlying causes of police failures.
"The women were poor -- they were addicted, vulnerable, Aboriginal. They did not receive equal treatment by police. As a group, they were dismissed... These women were vulnerable; they were treated as throwaways."
Oppal said he was personally affected by the testimonies of missing women's families.
"Few people considered the fact that the women had families, support systems, and children -- they were like anyone else," he told reporters. "They had the misfortune to become ill, addicted, and poor."
No individuals held responsible
But when pressed by reporters to identify individuals responsible for the failures and bias, Oppal declined to specify. He did say that the problem rests at the top of the police hierarchies.
"Senior management dropped the ball," Oppal said, when asked why he didn't criticize individuals by name. "I don't know if it's that important who made the errors, except to know the errors were made."
One of the dozens of women named in the former Attorney General's nearly 1,500-page report was Cara Ellis. She went missing from the Downtown Eastside in 1997. When Pickton was arrested on attempted murder charges later that year -- after he severely stabbed a woman known as "Ms. Anderson" on his farm -- Ellis' DNA was on the clothing police seized in the hospital, only to be forgotten in a police locker until after his 2002 murder arrest.
Ellis' mother, Judy Trimble, attended the report's release, and said that nearly 20 women's deaths could have been prevented if police had looked into the Anderson case, and charges not been dropped by the Crown.
"As Cara's mother, he didn't spend enough time on the fault, and he should have," Trimble told The Tyee. "It was the VPD and the RCMP.
"Had the Anderson case been 100 per cent investigated, Cara's DNA was on his clothing, which was taken from the hospital and forgotten about. That clothing would have been enough cause for police to investigate and prevent so many deaths."
Aboriginal, women's groups decry exclusion
Roughly 100 women in the audience for Oppal's speech drummed, sang and heckled through parts of his announcement, shouting, "Women's organizations were shut out of this inquiry," and, "What a lie!"
Aboriginal and women's organizations immediately decried Oppal's report, saying that their exclusion from the inquiry -- after the province denied them legal funding early on, despite roughly 25 publicly funded government lawyers -- was an example of dismissive attitudes that would prevent the implementation of its recommendations.
"I'm disappointed by this report," said Marlene George, with the Women's Memorial March Committee. "Unless the sexism, racism and that way of thinking inherent in police agencies changes, there will not be any safe place for women and girls in this province.
"As an Indigenous woman, every day, our people are experiencing that sexism and racism that's being played out... Everything will remain status quo, as it has in the past and as it will in the future, unless there is some real change to come, not from just within the people of the Downtown Eastside... but for every single person in the province. They have to put violence against women and girls at the forefront of their thinking."
One of Oppal's key recommendations to arise from the inquiry is the merger of Lower Mainland police forces, in order to prevent the communication breakdowns that blocked departments from cooperating in the Pickton investigation across jurisdictions.
"We've recommended a type of regional policing, because right now, we have a fractionalized policing system," Oppal said. "It seemed unseemly, the finger-pointing that went on between the RCMP and the Vancouver police."
"They all have a systemic failure -- the failure to work together with other agencies... That's exactly what happened here with Mr. Pickton."
Steven Point given reins
The Minister of Justice and Attorney General, Shirley Bond, spoke after Oppal and pledged to immediately begin implementing his recommendations, including reviewing his police proposal.
Among her announcements was to increase funding to the WISH Drop-In Centre Society by $750,000 for sex worker programs and the appointment of former lieutenant-governor Steven Point -- who was formerly chief of both the Skowkale First Nation and Tribal Chair of the Stó:lō Nation -- as the report's "champion" to ensure its implementation and community involvement.
"We are not going to wait," Bond said. "Today we are taking immediate action... It's a beginning and there's much more to be done.
"I want to assure the families and friends of victims, as well as all British Columbians, that our government will use the recommendations in this report to make changes and protect vulnerable women in our province. These will not happen overnight; we have a long journey ahead of us... It has taken years to get to this place, but I am hopeful that we can move forward together."
When The Tyee asked Bond why she decided to turn down organizations' legal funding requests -- requests supported by Oppal himself -- she said she had no regrets. "It was certainly a very difficult decision," she told The Tyee. "It's always difficult to meet the needs of everyone who wants to be involved in a process.
"What I wanted to do today is actually ensure that moving forward, there is a place for those voices to be heard. That decision was made, and I think the recommendations brought forward today will lead to systemic change if we work together. I don't regret the fact that we chose to support those who were most directly impacted, and that's the families."
Where are systemic fixes? Kwan
New Democrat MLA Jenny Kwan told The Tyee that the party has yet to formulate its response to the report, but hoped that there would be more recommendations on systemic issues such as poverty, sex work, addictions and colonization.
"The Commissioner has acknowledged... systemic discrimination that exists in our system and within the police, as a result of colonialism, the resident schools, and so on," Jenny Kwan said. "But when you look at those issues that have been highlighted around the impact of poverty on women -- in terms of the lack of housing, food security, the impact of residential schools -- you have to ask yourself the question: What are the recommendations to address those issues?"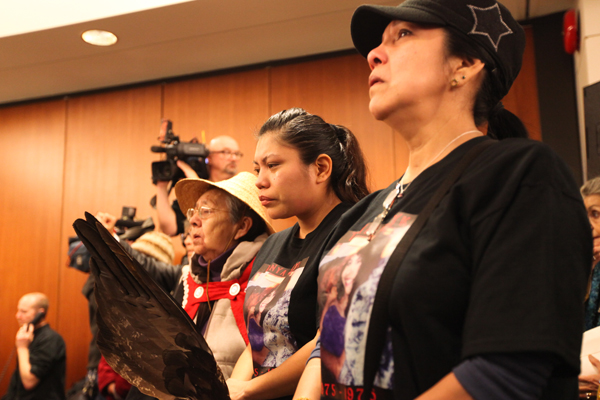 While declining to comment on Oppal's police force merger proposal -- which she hoped would see a community consultation process -- Kwan questioned the focus on police communication failures.
"There's so many issues that need to be addressed," she said. "Whether that's the number one priority, I don't know.
"That's the shameful part about the process. Had the groups on the ground, working with the women that went missing and murdered, not been shut out of the process, they would have given the government their number one priority. Many of the advocacy groups were shut out of this process, because the Liberal government decided to deny them meaningful participation in the inquiry. As a result, there's a chunk of the voices very important to the findings of this inquiry that are missing."
Marlene George of the Women's Memorial March Committee turned to the province's newly appointed "champion" of the report's implementation, Steven Point, and called him "a wonderful man with a good heart and good intentions." But George said the lack of consultation with community organizations on the matter is one more example of excluding their voices.
"It's a Bandaid solution," she told him. "It's important that we recognize that vulnerable women -- marginalized women, Aboriginal women, and women living in poverty -- all have to have a certain amount of support in their daily lives.
"They're not going to be able to get that support from Bandaid solutions. There has to be real money put behind those ideas -- for drug treatment centres, supportive housing, and more."