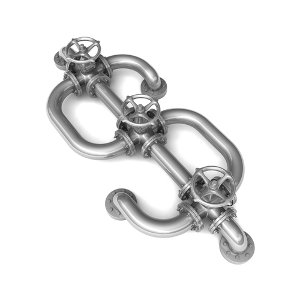 Oil and pipeline companies, including seven of the world's largest corporations, have intensified their lobbying efforts in Ottawa over the last four years and held 2,733 meetings with public officials.
These lobbying efforts directed by 27 energy companies and eight industry associations appear to have resulted in dramatic public policy changes such as the gutting of specific environmental legislation.
According to a new report by the Polaris Institute, the nation's two largest pipeline companies Enbridge and TransCanada plus four other oil firms met with cabinet ministers 52 times between 2011 and 2012.
The meetings took place while the Harper government designed its omnibus budget (Bill C-38) which ultimately changed or weakened 70 pieces of legislation including most the nation's Fisheries Act (Enbridge found the act "onerous") as well as the Canadian Environmental Assessment Act.
All changes made it easier for foreign and domestic firms to build pipelines and mines by removing key environmental safeguards for water, air, land, fish and endangered species.
In contrast just one federal minister, Joe Oliver, met only once with a major environmental group (Greenpeace) during that same period.
Petro producers most welcome
Since 2008, Canadian Association of Petroleum Producers, the lobby group funding omnipresent oil sands propaganda, and the Canadian Energy Pipelines Association (CEPA), the designer of new pro-pipeline campaign, "met with public office holders 367 per cent more times than the two major Canadian automotive industry associations and 78 per cent more times than both major mining industry associations."
The financial clout of just seven of the major oil firms lobbying Ottawa including Shell, ExxonMobil and China's offshore oil company, CNOOC, amounts to a sum greater than the GDP of Russia, says the report.
Some of the lobbyists for Big Oil are former government employees. Brenda Kenny served 10 years with the National Energy Board before becoming a pipeline lobbyist at CEPA and Paul Cheliak worked as an economist for the Natural Resources Canada before lobbying for the oil and gas industry. Others such as Yaroslav Baran served as energy lobbyists and then worked for the Conservative Party only to return back to their former lobbying jobs.
Bruce Carson, Stephen Harper's top policy analyst from 2004 and 2006 and a convicted thief, left Ottawa to head up the Canada School of Energy and Environment where, with a federal grant that Carson approved, the former public servant co-ordinated industry efforts to promote tar sands development.
Carson faces unrelated charges of influence peddling over an Ottawa-based water purification company.
Ken Boessenkool, a former policy adviser to Stephen Harper and lobbyist for Suncor and Enbridge, recently mysteriously resigned as chief of staff for B.C. Premier Christy Clark after public behaviour he described as inappropriate.
Just the tip
The intensity of the lobbying reported by the Polaris Institute is only the tip of a political iceberg. Canada's Lobbyist Act is among the weakest and least transparent of any industrial nation. It does not even require companies to disclose their financial spending on lobbying. (In the U.S. Big Oil spends $150-million a year on bending government's ear.) Nor does Canada's ineffectual act require the registry of any industry lobbying with government officials below the level of assistant deputy minister. Former public officials who do volunteer work as lobbyists also don't have to register their activities.
Big Oil companies that have lobbied Ottawa the hardest between 2008 and 2012 include the nation's largest bitumen and pipeline players: TransCanada Corporation (the backer of the controversial Keystone Pipeline) 279 communications; Imperial Oil (an arm of Exxon Mobil, a large tar sands player, and the company that once employed Stephen Harper's father) 205 communications; Suncor Energy (one of the largest tar sand developers) 196 communications; Enbridge (the promoter of Northern Gateway Project) 143 communications, and Shell Canada (another major oil sands player) 118 communications.
CNOOC, a Chinese state-owned corporation with one of the lowest transparency rankings in the global oil patch, ranks 13th on the list of most active oil lobbyists with 34 communications with the Harper government to date. It wants to buy a Canadian oil giant, Nexen, for three times its current market value.
The report concludes with a call for "full independent public inquiry in order to investigate how Canada may be on the road to becoming a petro-state due to the ability of the petroleum industry to exert influence on the Canadian government policy making through their lobby operations."
The Polaris Institute is an Ottawa-based non-government agency concerned about the increasing influence of corporations on public and community life.