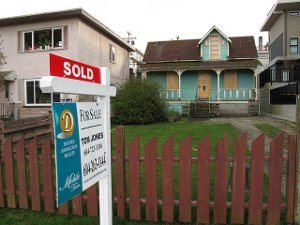 If the City of Vancouver truly wants discussions around foreign ownership of local real estate to be based in fact rather than anecdote, it needs to put its money where its mouth is. That's the stern stance from an academic working group struck under the Mayor's Task Force on Housing Affordability to drill into the question of foreigners flooding money into the real estate sector to the alleged detriment of locals.
When questions about foreign ownership came up at the City's housing affordability meetings earlier this year, task force members realized the issue was large enough to warrant a separate report. A working group of business and architecture academics was assembled to learn more. Its volunteer members met several times over the course of three months to explore the issue and recently penned a five-page summary of their findings.
The result is underwhelming if you were hoping for closure on the matter, but here's the takeaway: we still don't know how foreign investment impacts local real estate, but we have researchers in the city who have developed methodologies to study and interpret the data needed to clarify the situation.
Their conclusion put another way: if the City really wants to understand foreign ownership, it needs to pay researchers and quit relying on the generosity of volunteers.
"At the end of the day, we still have no real idea what the impacts are and if they are good or bad and what that actually means to the city," says Erick Villagomez, adjunct professor at UBC's School of Architecture and Landscape Architecture and chair of the academic working group behind the report. "We need more evidence."
The City is hesitant to pledge more money in order to clarify the issue of foreign ownership, at least until it's sure further study would improve Vancouver's affordable housing stock in a concrete way. But some academics insist it's a mystery worth solving -- and it might not be as expensive as city officials might think.
Where's the data?
As stated in the report, the bulk of the data gathered to date comes from Urban Futures Institute, which tried to find a proxy measure for foreign investment (the study crunched BC Assessment data to find 0.4 per cent of tax notices issued for the 55,512 residential sales in 2010 were mailed to addresses outside Canada). It also comes from a study by BTAworks, which used BC Hydro data to find five to eight per cent of condominiums in the downtown core sat empty in 2008. (See previous Tyee reporting for more details here.)
Villagomez wants researchers to crunch more numbers to strengthen understanding of the matter. He points to data available from BC Hydro, the 2011 census, the Provincial Home Owner Grant and BC Assessment. He says pooling those data sets along with whatever numbers the region's real estate associations are willing to make public would create one giant playground for local analysts. The only trouble is finding a pot of money to buy whatever data sets aren't free and another pot to pay researchers to analyze them.
"I think that's the only way we could ever come close to it. But it would be expensive and there would have to be a big effort involved," he says. "There was a general sentiment that the city has to come in with that. They can't be an aside partner."
Vancouver city councillor Raymond Louie, also chair of the City's standing committee on city finance and council liaison to the Mayor's Task Force on Affordable Housing, is hesitant to commit to any funding.
"Before we undertake another study, we need to determine that data is accessible to us and whether or not this is the best way to spend our energy when the initial data that's coming forward indicates it's not an issue," he tells me in a phone interview.
Though, Louie admits, there is still much uncertainty around the issue.
"We're seeing a lot of faces around town that certainly don't meet the historical model of a Canadian or North American landscape in terms of people," he says. "Maybe it's because of the influx of people, maybe it's because of foreign ownership. It's very hard to tell."
Louie added he would like to see the question of foreign ownership "move forward" in some fashion.
"It comes down to what the actual cost is and what sort of return on value for money that we get out of crunching those numbers. Is this core enough to city services that we would expense perhaps a large amount of money to do it?"
'Not a bad thing to know'
Tsur Somerville, associate professor of strategy and economics at UBC and director of the university's Centre for Urban Economics and Real Estate thinks if the goal is hard numbers on foreign ownership, the provincial government could help by using its legislative muscle to create a whole new data set.
"Everything would be made a whole lot easier if we had provincial rules that said when you bought a property you had to register your residency status in Canada," he says. "Are they a Canadian citizen, are they a Canadian resident or are they a non-resident? That's cheap. That's where I would start."
Somerville says looking to answer the foreign ownership question could also lead to a more important answer: whether the demand for Vancouver real estate is driven by shelter or by investment needs. He feels the responsibility to find those answer could well start at the city level and doesn't necessarily involve complex analysis; it could be as simple as knocking on doors.
"It intersects with the rental market," he says, adding that units owned by non-residents could be filled with local renters. "Having a clear idea of what units are owner-occupied, what units are renter-occupied and what units are vacant? It's really not a bad thing to know," he says.
Whether it's door knocking or data crunching, Somerville agrees with Villagomez that Vancouver officials should pay for future research.
"We all have other demands on our time," he says. "So if the City essentially expects continuous free consulting, that's kind of unreasonable, isn't it?"
Toward affordability
In the interim, there is a lot of enthusiasm from the mayor's affordability task force around other potential solutions to Vancouver's housing challenge. These include new temporary rezoning bylaws to allow for as many as 20 new row houses, townhouses and duplex developments near transit corridors and calls for the construction of 1,500 new rental units a year for 10 years to meet demand. To that end, West End housing advocates (except those worried about neighbourhood character) celebrated a small triumph in June when council approved the city's first dedicated rental tower in the last decade in that neighbourhood.
That project promised 186 new rental units; a later announcement of a new rental apartment project near the Stadium-Chinatown Skytrain station promised 614 more.
Even so, plans to ramp up the supply of housing stock aren't always popular: public outcry from residents' groups over a perceived lack of consultation in this year's affordability discussions produced myriad worries over neighbourhood character and at least one highly critical letter. Further displeasure tamed the city's Thin Streets plan (that unpopular idea suggested splitting a normal 66-foot road allowance in half and building residential units along one side of the division). And while promises to create a City-owned housing authority excited housing advocates, they have yet to be followed with actionable details, budgets or timelines.
In all, Vancouver's housing affordability puzzle is still taking shape. For the moment, however, discussions around foreign ownership of local real estate remain rooted primarily in anecdote. Until that changes, calls for legislative action -- from higher taxation rates for non-residents to restrictions on foreign ownership -- may appear premature in the absence of clarity around foreign investor influence and its effects.