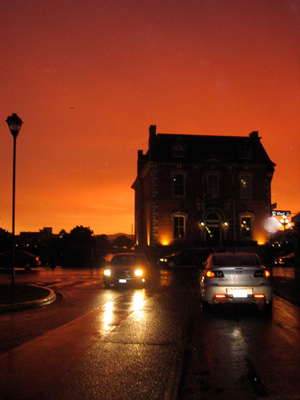 The information and privacy commissioner for British Columbia, Elizabeth Denham, has found the Victoria police department is using a license plate scanning system in a way that contravenes the province's privacy laws.
Municipal police forces in Vancouver, Abbotsford and Saanich also use the system known as Automated License Plate Recognition, and there may be others, Denham said in an interview. The RCMP also has some 40 vehicles outfitted with ALPR, she said.
While Denham's 32-page report "Use of Automated License Plate Recognition Technology by the Victoria Police Department" singled out the force that patrols the capital city and Esquimalt, she said, "The report's a blueprint for other municipal police forces to consider when they're implementing this kind of scanning activity."
ALPR, which was developed in the United Kingdom to help track the Irish Republican Army, lets Victoria police compare plate numbers to an alert list kept by the RCMP of vehicles that may be stolen or otherwise of interest. It also keeps track of where and when the plates are scanned and takes a picture of the plate and vehicle.
Denham's report said the system can be a useful tool for law enforcement, but that she's very concerned about what happens to the numbers that do not appear in the RCMP's list.
"This is personal information about the owners of vehicles that are scanned by ALPR, but who are not of interest to police," she wrote in her report, which considered whether the Victoria police department's practices comply with B.C.'s Freedom of Information and Protection of Privacy Act.
Suspicion-less activities
"In my view, the use and disclosure of this information for unspecified purposes would not be justifiable under FIPPA," Denham wrote. "Collecting personal information for law enforcement purposes does not extend to retaining information on the suspicion-less activities of citizens just in case it may be useful in the future."
A complaint from three Victoria researchers spurred the investigation into the VicPD, but Denham said she was already aware of the technology and interested in how it was being used. The RCMP has said publicly and to her office that it is interested in keeping the data even on scans that have no immediate use for law enforcement, she said.
The records generated by the system would be able to show where and when many drivers were on any particular day, she wrote in the report. "Over time, this has the potential to amass a large volume of information about individuals, most of whom are of no interest to police."
The RCMP says it originally brought ALPR to B.C. to deal with an increasing number of stolen vehicles, the report said. The use has since expanded to look for wanted people, prohibited or suspended drivers, uninsured vehicles and unlicensed drivers.
There is also a category of "other pointer vehicle", detailed in an appendix, that includes a wide variety of circumstances, some of which appear to have little to do with law enforcement. These include people who a court has given legal custody of a child and people considered at risk of committing suicide.
The RCMP are not covered by B.C.'s FOIPPA, but the municipal forces are. Denham found that when the Victoria force turns information about non-suspects over to the RCMP, what she calls "non-hit" data, it is breaking the section of the act that forbids public bodies from disclosing personal information.
If the data were for a matter of law enforcement, it would be allowable, but since it is about people who are not of interest, it is contrary to the law.
The department disagreed with Denham's "characterization" of how ALPR functions, Chief Jamie Graham said in an emailed statement. "VicPD does not make known or reveal any 'non-hit' data at any time," he said.
However, he added, "This data is transferred to the RCMP for the sole purpose of its destruction."
Technical and legal disclosure
Even if the information is being sent to the RCMP for deletion, said Denham, "It's still a disclosure of data."
The data should not be retained at all, she said. Municipal forces could do what the Ontario Provincial Police does and configure the system so that once its determined the plate doesn't match one in the alert list, the data is deleted.
"Technically and legally it's a disclosure of information that serves no law enforcement purpose," she said of the Victoria department's process. "My report makes it clear that the retention of this data is not for a law enforcement purpose, so it's not going to be compliant with our law."
In his statement, Graham said the VicPD uses ALPR to help police officers maintain public safety. "This technology is especially helpful in detecting prohibited drivers, uninsured vehicles and invalid license plates," he said. "In fact, recent deployments of the technology have resulted in the detection of violations in such numbers that it often exceeded our officers' ability to keep up with the volume of violations."
The system has "paid tremendous dividends" to the communities of Victoria and Esquimalt and "the Department remains committed to maintaining public safety through effective law enforcement while being mindful of the need to protect personal privacy," he said.
Shirley Bond, the province's minister of justice and Attorney General, said it's a matter of finding a balance between law enforcement and privacy. "Technology is useful when we're trying to get bad drivers off the road, and we certainly hear about that in British Columbia," she said. "We also have to make sure we're looking at the issue of protecting people's privacy."
She had received a copy of Denham's report and would take time to consider it, she said. "I'll look at the recommendations, happy to consider any changes that may be necessary, and certainly willing to have that discussion with law enforcement."
She said it was her expectation that "non-hit" data should be deleted as soon as possible and that she's been told the RCMP deletes it within 30 minutes. That the Victoria department gives the data to the RCMP is a "technical disclosure," she said. She noted that the RCMP has protocols to follow and had to work with the federal privacy commissioner to set up the system.
Destroy by deleting
The Victoria police would have no reason to store the non-hit data, so should not be sending it to the RCMP at all, said Richard Rosenberg, the president of the advocacy group Freedom of Information and Privacy Association.
"If it's not relevant, or if it's not part of any investigation, if there's no problem with it, then get rid of it," said Rosenberg, who is also a retired University of B.C. computer science professor. "Data is only data. You destroy it by deleting it. Why send it to the RCMP to delete it? I don't understand that at all."
The researchers who spurred Denham's investigation released a statement saying her findings had validated many of their concerns, "Especially in relation to the technology functioning as a massive public surveillance system."
The police should not be compiling information about the movements of such a wide variety of people, "many innocent of any crimes, including parents with legal custody of children, individuals who have attempted suicide in the past, and individuals prohibited from operating a boat," said Rob Wipond, Kevin McArthur and Christopher Parsons.
"While Commissioner Denham has determined what is legal, it is now up to the public to establish whether this type of police surveillance is right," they said. "This is a great day for British Columbians who value privacy, freedom of association and movement, and their right to be free of unwarranted government surveillance."
Denham said it is typical for her office to work with a public body such as the VicPD to bring them into compliance with the law. She has the power to make orders, but she said she's hopeful the department will comply with her recommendations without having to take that step.