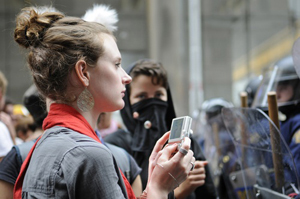 Police in three major Canadian departments have declined to confirm whether they have the technology to identify people in a crowd based on the unique identifiers on their cellphones.
"It reflects a massive invasion of privacy," said David Eby, the executive director of the B.C. Civil Liberties Association, speaking about the technology which can be used to capture the International Mobile Subscriber Identity or International Mobile Equipment Identity on cellphones and other devices.
Eby said the BCCLA became interested in whether the technology was being used here after reading about it in a British newspaper article.
During a presentation to a B.C. legislature committee last week, on a day when some 3,000 people gathered on the lawn to protest Enbridge's Northern Gateway pipeline proposal, he described the IMSI or IMEI catcher as "a suitcase-sized device that can capture the identifying signature of cellphone devices that acts as basically a portable cellphone tower that allows the identification of people in rallies or at meetings."
Paired with the federal government's lawful access bill as earlier proposed, the technology would allow such access without a warrant, he said.
Vancouver Police Chief Jim Chu, by the way, this week announced he strongly supports the controversial bill, saying the police are handcuffed by current laws.
Police refuse to answer
Eby submitted information requests to the Vancouver Police Department, the RCMP's 'E' Division in Vancouver and the Ontario Provincial Police, noting that in recent years each has listed purchases from Dyplex Communications Ltd., the Canadian distributor of the equipment made by Datong plc.
None of the departments would confirm or deny whether they had or were using the technology.
"I am writing to inform you that we do not disclose electronic surveillance techniques or equipment on the primary grounds of concern for officer safety and the integrity of current or future investigations," wrote the RCMP's Mark Fleming.
The department would be guided by the Charter of Rights and Freedoms and the Criminal Code in deciding what technologies to use, he said.
"Due to the nature of the inquiry around covert surveillance equipment or techniques and due to operational sensitivities, I am not at liberty to comment or disclose information as requested at this time on behalf of the department," wrote Dean Robinson from the Vancouver Police Department.
"I will not discuss OPP operational matters or respond to questions about the OPP's investigative equipment, since, you will understand, disclosing such information may hinder the OPP's effectiveness and abilities to carry out its policing mandate," said Scott Tod with Ontario's provincial police force.
"The OPP recognizes and respects the constitutional rights of all Canadians," he said. "It will not do anything in its operations or investigations that will compromise those rights."
Lack of oversight
Eby said the response is "totally unacceptable" on something that would affect so many people. The technology would capture information from people who are not targets of investigations and would allow the police to build lists of everyone at a rally or a meeting, he said.
"For anyone other than a police officer to do it would be a criminal offence," he said, adding that it may well turn out to be a criminal offence for a police officer to do it as well.
There is a general lack of oversight when the police adopt new technologies, said Eby, who spoke to the legislature committee on conducted energy weapons, or tasers, this week.
"It appears to be whatever the police can afford, they're allowed to use," he said. Instead, when there's a new technology police want to use, "elected officials should look at it and weigh the costs and benefits," he said.
Justice Minister Shirley Bond said it was the first she'd heard about the technology but would make some enquiries.
"It's very concerning," said NDP attorney general critic Leonard Krog. "I look forward to the Attorney General finding out what she can given she has more authority than David Eby or myself."
Krog said the technology raises several serious questions, including what exactly the machines do, how the police might be using them and what records they could keep from them. The Attorney General should be able to say whether or not the police are using a technology that "invades the natural privacy of people when normally a court order would be required."
Asked about the police departments' suggestion that answering the question would compromise law enforcement, Krog said, "We're supposed to live in an open democratic society." People know that police officers can carry weapons and that they can get warrants for wiretaps without hampering police doing their job, he said.
There is "absolutely" a need for oversight when the police adopt new technologies, said Krog. "If new tools are given, there should be an effort to assess their efficacy and legality," said Krog. "There has to be a balance between law enforcement and privacy... They may well be off the balance."