The Government of Canada knowingly displayed "wanton and reckless disregard" for Indigenous children attending residential schools as day scholars, allege two B.C. First Nations in an historic class action lawsuit launched yesterday.
If granted permission to proceed, the case -- filed in Vancouver federal court by Sechelt and Tk'emlúps te Secwépemc First Nations -- will argue that Canada intended to wipe out Aboriginal identity and rights in order to enable "the exploitation of those lands and resources by Canada," and demands "punitive and aggravated damages."
The lawsuit aims to close a gap in which thousands of daytime students at residential schools -- which operated from roughly 1874 until 1996 -- were denied monetary compensation in the government's 2006 Indian Residential Schools Settlement Agreement (IRSSA) in the same manner as students residing in the schools. While the so-called "day scholars" could apply for individual assessment for abuses experienced in school, they were excluded from "common experience" compensation for having attended.
"Day scholars were very much victims of Canada's assimilation policy," said Chief Shane Gottfriedson of the Tk'emlúps te Secwépemc First Nation. "Many suffered emotional, physical and even sexual abuse; as a consequence, day scholars' self-esteem was shattered; their ability to raise healthy, balanced, proud and productive future generations was impaired.
"We know very well the crippling effects that it has had on our communities: the lateral violence, the alcoholism -- the list goes on and on. We want to stop that; we want Canada to do the honourable thing... to recognize our class action proceedings... We've tried all the reasonable approaches towards seeking a fair and just settlement for our people, through government-to-government relationship. Now the gloves are off."
Schools genocidal, not reckless: UBCIC leader
The federal government insists that the 2006 settlement agreement -- which preceded Prime Minister Stephen Harper's formal residential schools apology by two years -- was fair, and that it was based on negotiations with Aboriginal leadership.
"The Government is committed to working towards reconciliation in partnership with Aboriginal peoples," Geneviève Guibert, spokesperson for Aboriginal Affairs and Northern Development Canada, told The Tyee. "According to the provisions of the (IRSSA) that were agreed upon by all parties and approved by the Courts, non-residential elementary and secondary schools were not included.
"Canada must respect the terms of the original agreement. As the statement of claim is currently before the court, it would be inappropriate to comment further."
Yesterday, the lawsuit gained its first -- though likely not last -- party outside the province, with the addition of Federation of Saskatchewan Indian Nations. More bands are invited to join as the case gathers steam.
At an event Wednesday to mark the case's launch on Tsleil-Waututh First Nation in North Vancouver, which featured traditional songs of honour and war, a shared meal and presentation of medicine boxes, the head of the Union of BC Indian Chiefs (UBCIC) told attendees that the schools were worse than reckless: they were a key part of what he called Canada's attempted genocide of First Peoples.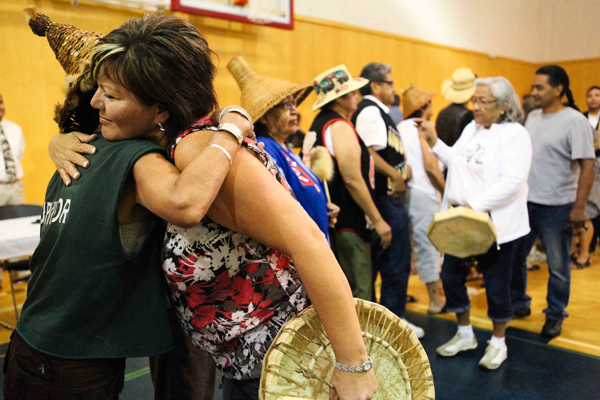 "It is not our way to leave anyone behind," said Grand Chief Stewart Phillip, UBCIC president, celebrating the day scholar lawsuit. "We make this journey of reconciliation and healing; we must make it together. 
"As Indigenous people, we know that the residential schools and the day scholar program was an attack -- an ugly, hateful, racist attack -- on the aboriginal people of this country. It was very deliberate, and it was genocidal in nature -- it was an act of genocide on the part of the Government of Canada. It was designed to destroy our people."
For the head of Sechelt Indian Band, one of the two parties leading the charge, the harms done to daytime residential school students are undeniable.
"The people who were day scholars went through same suffering, the same pains, the same mental abuse, the same physical abuse, the same sexual sex abuse [as resident students]," said Chief Garry Feschuk. "Some of the day scholars even had it harder, because they had to fight their way off the school grounds in order to get home; a lot of our community members said the only thing they learned in that school was how to fight.
"When the first settlement came out, our community was enraged because a lot were left out of the process... Now we're going to begin to bring justice to them. How can we become self-reliant, self-determining, when those pains are still in each respective community right across our land? We have to deal with it once and for all."
'We will speak out': Atleo
Citing Prime Minister Harper's use of the phrase "kill the Indian in the child" in his Parliamentary apology in 2008, the newly re-elected spokesperson for the 633 First Nations across Canada said he is himself a descendent of residential school survivors and hopes Canadians will understand the impacts of the program on today's Indigenous people.
"All these systems -- the day schools [and] the residential schools -- were an overt effort to kill the Indian in the child and pull people from their culture, their language and their families, and attempt to... pour a whole different culture into our people," National Chief Shawn A-in-Chut Atleo, head of the Assembly of First Nations (AFN), told The Tyee. "We're here together to say, 'Never again will we allow this to happen.' We will speak out against ignorance, misinformation and racism.
"Personally, I was confused like a lot of us kids were -- why are the adults hurting each other? Why do we have the rates of violence we do? Why were people burning eight to a home, having fallen asleep because of drunkenness? Why were my friends going to jail? Why were they killing themselves and each other? I didn't understand."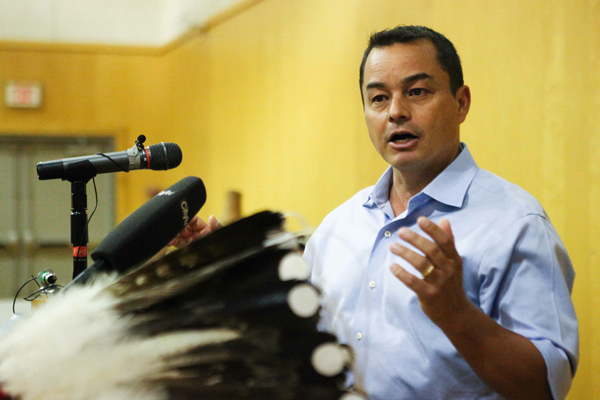 The AFN's representative in B.C., Regional Chief Jody Wilson-Raybould, said that filing the class action lawsuit alongside other leaders was an emotional experience. She said that the case will help First Nations heal from the abuses they experienced.
"This is a hugely important day [towards] righting a wrong and bringing justice to our people," she said. "The experiences of our people in residential schools in this country have left a huge negative mark on our people and our past. [This] is an important part of our individual and collective healing process as Aboriginal people. 
"I know that we have the solutions; I know that we have the answers... We will ensure that no one community, no one nation and no one individual is left out and behind."
Lawsuit may expand
Although the government has not yet filed its response to the lawsuit -- which seeks unspecified damages for "breach of Aboriginal rights," "intentional infliction of mental distress," "negligence giving rise to spiritual, physical, sexual, emotional and mental abuse," and a failure to screen staff or respond to abuse disclosures -- the plaintiffs' lawyers told The Tyee they expect the government will not back down easily.
Were it up to the citizens of Canada, National Chief Atleo believes, justice would be granted and reconciliation between Canadians and Indigenous nations could begin.
"Who in their hearts would not want to see justice done when they come to understand the wrong that was perpetrated on our people?" Atleo told The Tyee. "I don't think there is a kind-hearted person in Canada or the United States that would want to see proper redress, and education turned from a tool of oppression to a tool of liberation for our people.
"Education was used as a tool of hurt, of division, of harm, of deep oppression between First Nations and the rest of Canada... This is fresh memory for all of our people."
Although the current class action suit is restricted to two residential schools' daytime students -- the Sechelt Indian Residential School and the Kamloops Indian Residential School -- Atleo said he expects the case will gain traction amongst First Nations across the country seeking redress.