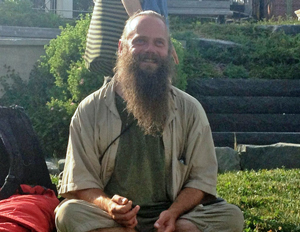 [Editor's note: This article originally appeared in The Independent.ca, an online paper serving readers in Newfoundland and Labrador. It is reprinted with permission.]
When something is out of sight, as the adage goes, it is easily put out of mind.
Fortunately, people aren't things, even if tucked away in back alleys and abandoned buildings, where a growing number of Canadians are seeking refuge and a place to sleep.
According to estimates by the Sheldon Chumir Foundation, there are between 200,000 and 300,000 homeless people in Canada, the range indicative of the difficulty in carrying out accurate surveys to assess a problem with an "invisible" nature.
One homeless man, David Arthur Johnston, has taken up the task of making the invisible visible again, devoting his life to defending homeless people's right to shelter and a decent place to sleep.
The 40-year-old Victoria, B.C.-based social justice activist was in St. John's, Newfoundland on July 14 for the final stop of his 2012 Canadian Tent City Speaking Tour. Johnston set out from Victoria in early June and hitchhiked across Canada, making stops along the way to share a personal story with big implications, one the media gives little attention to even as homelessness rates continue to rise alongside growing inequality.
He told a group of about a dozen people at Harbourside Park in St. John's about a 2008 ruling by the British Columbia Supreme Court that affirmed the right of homeless people to set up tents and sleep in public spaces. He also shared copies of the court documents from the case and offered information on making similar legal challenges in other provinces.
Sleep as a human right
Johnston and his co-defendants successfully argued their case pursuant to Section 7 of the Canadian Charter of Rights and Freedoms, which guarantees the right to life, liberty, and security of the person.
Two expert witnesses, Dr. Stephen Hwang of the Department of Medicine at the University of Toronto, and Brooks Hogya, a survivalist and wilderness guide, testified that the prohibition of rudimentary forms of shelter, such as tents, has an adverse effect on the health and well-being of homeless people. Prohibition of quality sleep was, thus, a denial of Section 7 rights since sleep is an essential life-sustaining act. The judge presiding over the case agreed with the opinions of the expert witnesses.
"In Oct. 2008," Johnston said, "the B.C. Supreme Court Justice Carol Ross came out with the ruling that said the city [of Victoria] bylaws were not constitutional in their absolute prohibition of homeless people setting up tents."
Despite the belief that Canadian towns and cities have adequate shelters and social services that provide accommodation to people without homes, Justice Ross noted in her 2008 ruling (Victoria v. Adams), "There are at present more than 1,000 homeless people living in the City [and] at present 104 permanent shelter beds in the City, expanded to 326 when the Extreme Weather Protocol is in effect."
There were, in this light, contributing practical factors besides expert testimony that led Justice Ross to decide in favour of Johnston and the co-defendants.
"On the day of the ruling," Johnston continued, "tents went up in a bunch of places and a tent city started in the city's most pristine park, Beacon Hill Park. Three days later, the city, with the advice of the Crown, started a policy that said there was to be no tents during the day, and so they came in and shut down the tent city."
"We got arrested but those charges were dropped because the policy wasn't an actual bylaw. Then they changed the bylaw and we got arrested again."
Johnston was subsequently put on trial in provincial court and found guilty of violating the city's "7-7 policy," which banned tents in public places during daytime hours.
"We appealed the daytime restriction and we lost in [B.C.] Supreme Court. And then we appealed that to the B.C. Court of Appeal... and I lost that one because they said I hadn't provided enough evidence about people needing to sleep during the day. The argument against me was, 'Well, they can sleep in the library if they need to,'" he recalled.
"The next court step was the Supreme Court of Canada, which seemed, or was, impossible. And so I went and got arrested again with the big dramatic reason of, well, if I have no other option I'm going to starve to death in jail."
Prison protest
Johnston estimates he has served over a year behind bars, in each instance for breach of court orders prohibiting him from setting up a tent in any public park in Victoria.
"Essentially, I'd force their hand," he said. "I'd set up a tent under a tree and wait until I got arrested and charged, and then I'd breach that and do a day in jail, and breach that and do seven days, and breach that and do 20 days, and breach that and do 30 days."
Johnston refused to eat each time he was jailed, electing instead to go on hunger strike. But he jokingly downplayed his time as a prisoner.
"The other inmates show me a lot of respect because of what I'm doing," he said. "They don't treat me as though I'm some sort of hippy protester. It also probably doesn't hurt that I give away all my meals."
His longest hunger strike, and longest incarceration, was serving 36 days of a seven month sentence, only being released because of an appeal filed by his legal team.
Homelessness only part of the issue
It's not difficult to see that David's campaign is about more than homelessness and sleeping in tents. Surely, if it was simply a matter of finding a place where he and other homeless people could set up tents without being arrested, there were better places to go, like outside city limits.
The underlying issue is perhaps best understood through another of Johnston's quirks: his refusal to actively participate in the money system. He does not engage in commerce, in any typical sense, and says he has not handled currency (except to ceremoniously tear bills in half) for almost a decade. He has sustained himself mainly through "freeganism," an alternative strategy to living based on limited participation in the conventional economy. In practical terms, this means bartering labour for food, gathering readily available legumes and berries, or reclaiming food from dumpsters.
David describes his non-participation in the conventional economy, whether in terms of shelter or food, in relation to his understanding of freedom.
"Freedom means the necessities of life are free, and to have a monopoly on any necessity of life is slavery. It's forcing you to pay to live. All the people I love, my parents, my grandparents, all these people worked really, really hard to get just a tiny little bit of freedom, but that tiny little bit still wasn't theirs, because the minute you stop paying taxes you'll see how much you actually own it."
The most common off-hand retort to his ideological stand -- "get a job" -- is one he answers with ease. "I have a job, and it's one I could never take a vacation from in good conscience because I know there's still work to be done. So essentially I don't get my own life until the job is done, and the job is not going to be done in my own lifetime. It's an old stoic cowboy thing. If the job takes a thousand years then the job takes a thousand years... but once you accept that then you're sort of moving with the confidence that maybe we'll make it and so it won't take a thousand years."