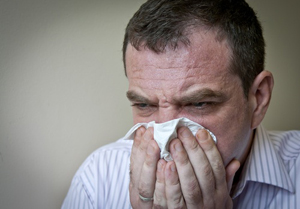 Most of us know we have immune systems. They operate like cops in a totalitarian racist state, attacking anyone they don't recognize as "one of us." Sometimes they stage police riots and beat up law-abiding cells and tissues, creating "auto-immune" conditions like lupus, celiac disease and Crohn's disease. They also hate transplanted organs, however needed such immigrants may be.
Triggering an immune response is like mobilizing an army after enemies cross the border. The body pays a price for it: fever, diarrhea, dehydration, muscular pain. Usually it's a price worth paying, but sometimes the response turns into a "cytokine storm" that only makes things worse and may even kill us. Just as diplomacy is cheaper than war, avoiding infection in the first place makes evolutionary sense.
Still, we wouldn't be here if we didn't have immune systems. They've evolved over millions of years as we and our ancestors battled countless micro-organisms. But it hasn't been a purely internal war. Evidence is emerging that we have also evolved socially to minimize the threat of infection -- with political implications we are just beginning to understand.
In the present age of antibiotics and medicare, we've forgotten how rare health has been in most of human history. Infection risk is something we've lived with -- and feared -- as long as we've been a species, if not longer. Health has been more of a goal than a condition. Even terms like "hail" and "salute" have their roots in ancient words for "health" -- a kind wish for those we meet. When we greet each other, we ask, "How are you?" The answer had better be "I'm well," because we still feel anxious about the threat of illness.
Mark Schaller, a professor of psychology at the University of British Columbia, has been studying the way people behave when they're sensitized to the possibility of getting sick. Even in today's very healthy Canada, we tend to feel vulnerable to infection. News reports describe outbreaks of flu and measles; public service announcements urge us to get vaccinated.
The behavioural immune system
When we feel vulnerable, we fear others -- especially strangers, but also our own people if they don't "look right" because of disease. Schaller cites studies showing that women in their first trimester of pregnancy, when their immune systems are suppressed, feel "exaggerated ethnocentrism and xenophobia." This is just one example of what Schaller calls the behavioural immune system.
Recently The Tyee talked with Schaller about his research, and learned that investigation into this field is very recent. "It's been known in animals like ants and chimpanzees," he said, "but we haven't studied it in psychology until about 10 years ago."
His own studies, largely based on UBC students, have found remarkable results. "Many traditions and rituals and norms serve as buffers against disease," he said. When made to feel vulnerable to disease, his subjects tended to support attitudes and behavior that conform to those traditions -- "which means that nonconformists can pose a health hazard."
In one of his articles, Schaller says the behavioural immunity system is activated when we get a cue -- someone's coughing, an odour, or a skin condition. "When a superficial cue connoting infection risk is detected," he writes, "it triggers a cascade of adaptive psychological responses." These responses can include simple physical avoidance, as well as social condemnation of anyone who might be seen as a health hazard.
Schaller mentions a study at UBC where a control group was reminded of hazards unrelated to disease. Another group of students was reminded of infection hazards. Both groups were then asked to discuss the value of encouraging immigrants from countries they knew (like Poland and Taiwan) versus countries they didn't (like Mongolia and Peru). The students sensitized to infection preferred immigrants from familiar countries.
Infection by association
We can all think of comparable responses. During the SARS outbreak in 2003, for example, countless Canadians associated the new disease with Chinese people and avoided them. Then prime minister Jean Chretien and his cabinet felt obliged to dine out in a Toronto Chinese restaurant to show that simply mingling with Chinese people was perfectly safe.
Beyond simple xenophobia, Schaller has shown that just looking at pictures can trigger an immune response. In one experiment, Schaller's participants watched different slide shows. One showed weapons. The other showed people with symptoms of disease -- coughing, or with pockmarks or skin lesions. Blood tests taken before and after showed no difference in those who saw handguns. But those who saw symptoms of disease showed a stronger immune response (production of the cytokine interleukin-6) to bacterial infection.
Asked about the political implications of his research, Schaller said: "Outsiders are likely to be ignorant of our cultural norms that keep disease at bay. We prefer conformity to those norms."
One norm is that everyone should look more or less "normal." People who are obviously sick may provoke disgust and avoidance, but so will people who are merely suspected of illness on grounds of national origin (like the Chinese during SARS) or supposedly unsanitary behaviour, or obesity.
Prejudice against the old
Schaller has also found that if you feel vulnerable to disease, you're likely to have prejudiced attitudes toward old people. They don't match the "species typical" appearance of a demographically young population: their faces are wrinkled and blemished, they have big noses and ears, and they are often physically frail. This is enough, Schaller argues, to "trigger an implicit aversive response."
When it comes to sexual relationships, Schaller suggests that the behavioural immune system helps us decide who's attractive and who isn't. We assume that good looks mean good health -- and that any offspring with a good-looking mate will also be healthy.
Schaller cites an experiment in which "romantic interest in physically attractive... opposite-sex individuals is exaggerated" when participants feel threatened by infectious disease. But they stick to safe partners: "People (especially women) seem to be less tolerant of sexual promiscuity in cultures with high rates of disease." And cultures with high rates of disease tend to support "collectivistic" values that promote conformity to existing traditions.
The behavioural immune response, Schaller says, saves us a lot of physical energy. But it's biased toward "minimizing false negatives." That means assuming that anyone who looks different, or who's associated with a disease, really is contagious and needs to be avoided or driven away. But in a species as gregarious as ours, that also means giving up opportunities to mingle, play, share food, have sex and enjoy life. And it seems to require a sense of vulnerability that many people lack.
Hostility towards nonconformists
Consider, after all, the parents who don't get their kids vaccinated, or the casual sex that can lead to HIV, chlamydia, syphilis, and now a drug-resistant gonorrhea. Health ministries around the world spend fortunes trying to warn their populations about dengue, cholera and bird flu, but their warnings fail.
Many of us, however, do heed the warning. We disapprove of vaccine-hostile parents, horny idiots who don't use condoms, and ignorant peasants who drink contaminated water and eat mysteriously dead chickens. That is, we confirm Schaller's argument that vulnerability leads to collective hostility against nonconformists.
Evidently we're doing so not because we're educated and socially responsible, but because evolution favoured such behaviour in our ancestors. Often they made horrible mistakes, abandoning sick people who could have been saved, or murdering people who'd done nothing wrong except to be outsiders (like the massacres of Jews during the Black Death in the 14th century). Maybe our ancestors were wrong, but their strategy kept them alive long enough to produce descendants -- us.
Schaller also notes that the behavioural immune response may have been adaptive long ago, but it can backfire today: "Persistent priming of immune responses can have detrimental effects on individuals' immune functioning." As well, because it minimizes false negatives, the response can entrench prejudices against people who are healthy and no threat at all. They simply look different or don't behave as we do.
Schaller told The Tyee: "It's often overlooked that evolution has given us a predisposition to learn. How we learn depends on our environment and our culture." He found that test subjects from Asian backgrounds didn't show the same outcomes on measures of prejudice as subjects from European backgrounds.
"And we really don't know why those differences emerged," Schaller said. "All we can do is speculate. So, even if the behavioural immune system is rooted in ancient evolutionary processes, its implications are likely to be highly variable, depending on cultural background and on the specific experiences that people have growing up."
That suggests we need a culture that looks more attentively at inner problems instead of at pockmarks and rashes and wrinkles. It also suggests that social problems like ageism, racism and sexism will persist until we recognize them for what they are: survival mechanisms that have outlasted their usefulness.